Best Solar Generator Reviews & Buyer's Guide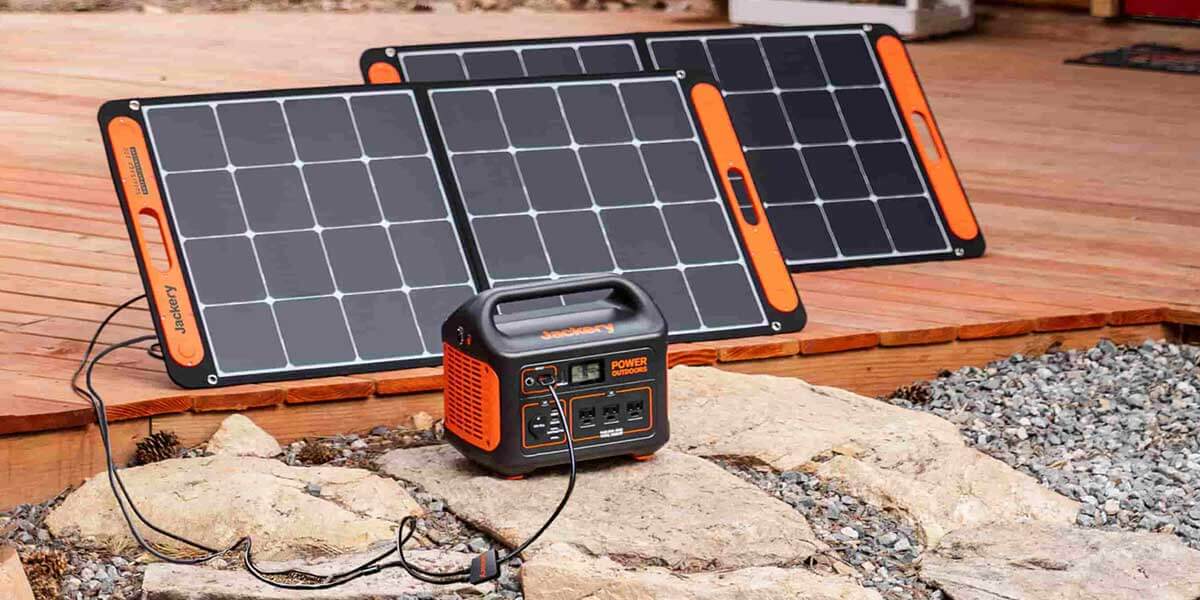 Having backup power in case of a massive power outage is essential. We are always connected to the grid. But that becomes impossible in case there's no electricity. Having a backup power supply in case of power outages is essential as more and more people rely on these technologies to survive, thrive, and stay connected with the world.
Gas generators often get the job done. But when there's a lack of fuel, you're just as toast like everyone else around in your block. This is where solar-powered generators come in handy.
Propane or gas generators have several drawbacks attached to them. They are contaminating, noisy, and have to rely on fuel for functioning. When caught up in emergencies like floods or hurricanes, you may not be able to access a fuel source, ultimately making your gas generator useless.
Thanks to innovative technologies that combine solar power with lithium-ion or lead-acid batteries, people don't have to worry about constantly refueling their generators. They can now obtain a green energy backup source anytime they want with the help of solar generators. Therefore, let's take a look at some of the best solar generators currently present in the market.
This article will guide you through the complete working of a solar generator. Similarly, we have also listed some of the top solar generators along with their detailed specifications to help you make the right choice.
What Are Solar Generators?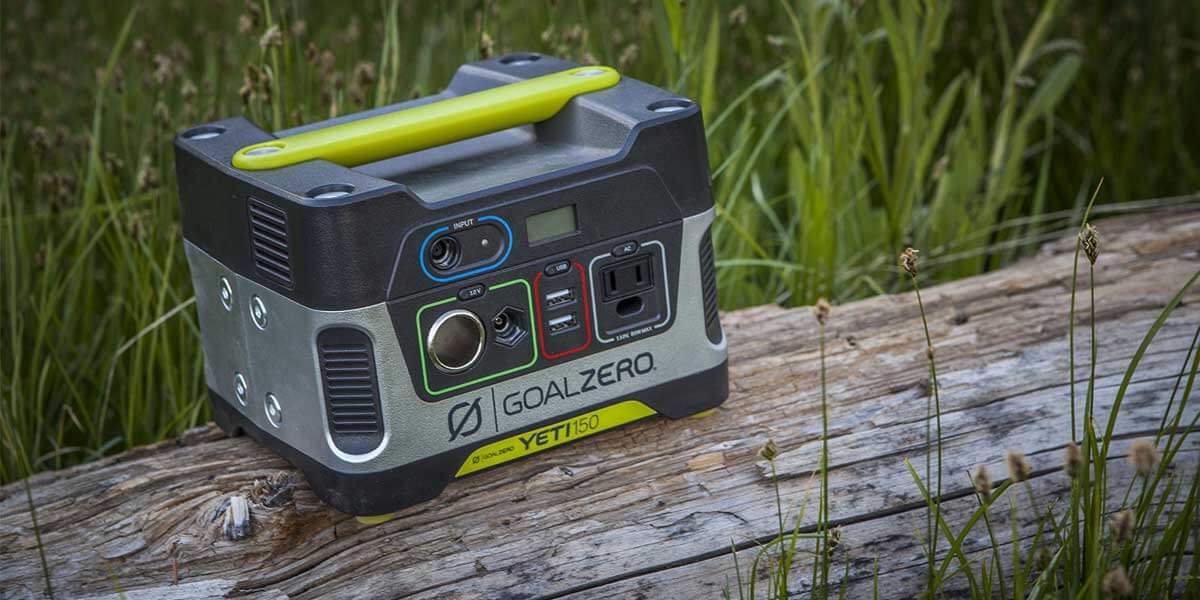 Solar Powered Generators provide off-grid energy consistently for long periods of time without requiring anything other than just sunlight.
Suppose you are looking for a practical off-grid living alternative or are just looking to have a backup power supply in your house. In that case, solar generators provide a green solution that is highly effective than propane or gas generators. This is because solar generators harness the sun's power instead of using fuel as their raw energy source. 
If you see closely, you'll notice that a solar generator is a complex electronic box that comprises of three primary components;
A charge controller to control the flow of energy coming in from the portable solar panels
A battery to store the power that comes in from the solar panels, and
An inverter to convert the energy from the battery to various AC devices paired with the generator.
Solar generators are not only used to power home appliances such as solar fans, solar indoor light, solar computers etc., but they are incredibly responsive in providing a reliable backup source of power for critical medical devices as well.
Similarly, these solar powered generators can also be used for recreational activities such as fishing, camping (Check out our article on the best Solar shower while camping), or RV trips. When it comes to these activities, you can always think about investing in a portable solar system. 
Best Solar Powered Generators
A solar generator integrates the charge controller, battery pack, and inverter all together into a compact system to convert solar energy into an electrical current. This means that a solar-powered generator does not have to rely on fuel or other non-traditional energy sources to generate electricity.
Here are some of the best solar-powered generators:
This user-friendly, versatile, lightweight, and easy-to-use power generator is one of the finest models currently available in the market.
It provides the perfect companion if you wish to go camping and is also a great source of backup power in case of power outages.
The Jackery Explorer weighs only 13 lbs and has a rigid built-in carry handle, making the backup power source easier to take from one place to another.
Also, it comes with multiple features such as 3 USB outputs and an AC wall slot to charge your smartphones, iPads, iPods, laptops, and several other small to medium-sized electronics. Besides, an LCD screen displays real-time charging, discharging, and overall remaining battery percentage. This means you will always know how long the generator can go on.
The Jackery Explorer 500 is equipped with a 518 watt-hour (24Ah, 21.6V) lithium-ion battery pack and also has a built-in MPPT controller. In case the Explorer runs out of battery, it can be charged effectively using an efficient solar panel. 
Pros
Built-in MPPT Controller
LCD Screen Display
Lightweight And Portable
Cons
Single AC Wall Output
Also Read: Best Solar Powered Security Camera
In a state of emergency or blackout, the need for power to keep things running and charging is necessary. This high-capacity power station comes equipped with a massive 1,500 Watt-hour lithium-ion solar-powered LG.
It is also one of the biggest solar-powered power stations with a pure sine wave inverter, providing a max output level of 1000 watts. It weighs at around 38 pounds and has a solid handle on top, making it portable.
Similar to the Jackery Explorer, the Maxoak Bluetti EB150 has an LCD on the front that indicates your current battery level and the amount of Watts going in through the AC and DC walls.
Additional features include a power button, a DC ON, and an AC On for the inverter. It also comes with a cigarette lighter, 4 USB ports, 2 110 VC ports with a maximum output of up to 45 watts.
This solar-powered generator can be charged in the sun using efficient solar panels and takes around 8 hours to be fully charged when plugged into a wall socket. Because of its high 1000 W AC, this Power Station is specially designed for a high-power devices such as blender, Drill, hair Dryer, and many more such devices. 
Pros
Built-in MPPT Controller
LCD Screen Display
Lightweight And Portable
Cons
No Quick-charge USB Support
The Goal Zero Yeti 500X is a portable power station that will take care of all your small to medium-sized powered devices and keep them charged whenever you need them the most.
This is explicitly designed to pack 20% more power into a 20% smaller and lighter shell than its predecessor.
The Yeti 500X is the perfect solution for longer camping trips, backyard parties and also proves as a good backup-power source in case of emergency.
It comprises a lithium-ion battery with a 505 Wh storage capacity making it capable of providing a minimum of 8 charges on a laptop and up to 10 hours of runtime on portable fridges, TVs, and pellet grills.
The Yeti 500X is exceptionally lightweight, weighing at just 13 pounds, and is completely capable of powering a wide range of devices with multiple port options, including a 300 W AC Inverter, a 60W USB-C power delivery port.
The Goal Zero Yeti 500X represents the latest in fast-charging technology and is over three times faster than a standard USB-C port. Besides being an output, this USB-C port also serves as an input, providing another way of charging your generator.
There are two 2.4 AMP USB ports, a standard 18 W USB-C port, a 6 MM 12 Volt port, and a 12 V carport with up to 10 AMPs of the regulated output. There are two 8 MM charging ports if you need to charge the YETI 500X, one at the front panel and the other at the rear. 
Pros
Multiple Charging Options
LCD Screen Display
Durable Build
Cons
Not-reliable for long-term usage
Poor charge efficiency
If you find yourselves constantly traveling and in dire need of an excellent portable solar generator, the AIMTOM SPS-155 has you covered.
This powerful generator includes a variety of outputs such as a 100 Watt AC Outlet, three 5 Volt USB ports, three 12 volt DC ports, and one cigarette lighter socket.
It will recharge all your devices such as your smartphone, tablet, laptops, cameras, and even a CPAP machine. It works best with small home appliances below 100 W.
Besides, advanced battery management safeguards all your devices from short-circuits, over-charging, over-voltage, and over-heating. 
The AITOM SPS-155 is built with a heavy-duty plastic shell that lasts in challenging and rugged environments and is ultimately dustproof and impact resistant. There are three charging modes available.
You can recharge this portable generator by using a solar panel (sold separately). It will be charged completely in 8 hours when plugged into a wall socket ( adapter included). Also, you can charge this in your car by using the included car charging adapter.
Another notable feature is the AIMTOM's powerful power capacity of 42000 mAH and 155 Wh, making it the perfect backup power source for your home, travel, camping, and many more situations. 
Pros
Powerful Power Capacity
Multiple Charging Modes Available
Advanced Battery Management
Cons
Solar Panel Sold Separately
Also Read: Best Solar Gate Openers
The Rainier R150i Portable Power Station is a compact yet rugged grid portable power station that can help charge all your small to medium-sized devices such as GoPro S, smartphones, drones, lights, and even speakers.
Its core specifications include a 155 W wattage, 110V/100 W AC outlet, and a lithium-ion battery.
The Rainier R150i Portable Power Station is engineered without an engine for clean power and gives out no fumes, no noise, and requires no fuel to make it an ultra-versatile silent power source.
This lightweight power station weighs at a 4 Lbs and is ideal for indoor and outdoor backup home use.
With solar panel capability, the Rainier R150i Portable Power Station works in unison with any solar panel that has a DC 13V25V3 Amax port. This station is ultra-compact and fits easily into a bag or your vehicle storage compartment.
The advanced battery management system protects your devices from short-circuit, over-heating, and overloading. It conveniently comes with an LCD flashlight for low-light environments making it the perfect companion for all your adventures. 
120V Household Outlet, Three USB Ports, and Three 12V 5.5mm DC Outputs makes this perfect for charging small sensitive electronic devices.
Pros
Many AC and USB Port
Ultra-Compact
LCD Flashlight And Display
Cons
Solar Panel Sold Separately
No-Add Ons included
You can easily take the BUTURE 266 Wh solar generator to stay powered on the go easily. This lightweight outdoor generator weighs only around 6.35 lbs making it easier for you to take this along on cottage trips, excursions, or anywhere you might need power.
What makes the BUTURE 266 Wh a more intelligent choice is that it features the updated lithium-ion battery cells, making it powerful enough to charge smartphone 20+ times, a laptop 3-4 times, a 32" TV 4 times, and still have enough to power a CPAP machine thrice.
With this, you can charge all your minor to medium-sized devices such as the smartphone, laptop, iPad, iPod, portable fridges, TVs, and many more.
Also, the rated power is 300 W, while the peak surge is around 350W. This portable powering station is explicitly designed for every outdoor electronic you need while camping, hiking, or during an RV trip.
The BUTURE features 2 AC outlets of pure sine wave 110V, one 12V/10 A DC outport, two 5V/2.4A USB-A ports, one quick charge 3.0 USB-A one 60W PD USB-C IN&OUT port. The portable power source can be fully charged in only 6-7 hours via being plugged into a wall outlet.
Pros
Lightweight
High-Durability
LCD Flashlight With SOS Design
Cons
Solar Panel Sold Separately
No-Add Ons included
The Tacklife P50 500 Wh portable power station comes equipped with pure sine wave AC outlets which provides you with an excellent wireless charging pad for outdoors camping and during power outages.
Like the BUCHER 266, the Tacklife 500 WH portable station doesn't require fuel or gasoline and provides a noise-free solution that makes your outoodr more comfortable.
The Tacklife 500 Wh comes equipped with 2 AC, 3 DC, and 4 USB outputs. With its 300 W power capacity, you can simultaneously charge multiple devices such as your innovative phone, outdoor camping and, laptop, iPad, tablets, goPros, drones, and so on. 
You can charge this portable power station using solar panels and keeping it under direct sunlight. Another way of charging this portable power station is by plugging it into a 40 W ac AC wall socket, and it'll be fully charged within 5 hours.
The pure sine wave dual AC outlets allow for a more stable and reliable power connection during camping, hiking, and other outdoor adventures. Also, the Tacklife 500Wh comes with an advanced battery management system that keeps your device from overloading, overheating, and protects it against short-circuits. It also has a 10W wireless charging design realize charging phones without an adapter.
Pros
Lightweight
Advanced Battery Management System
Pure Sine Wave Dual AC outlets
Cons
Solar Panel Sold Separately
No-Add Ons included
Also Read: Best Indoor Solar Greenhouse
Best Solar Generators – Buying Guide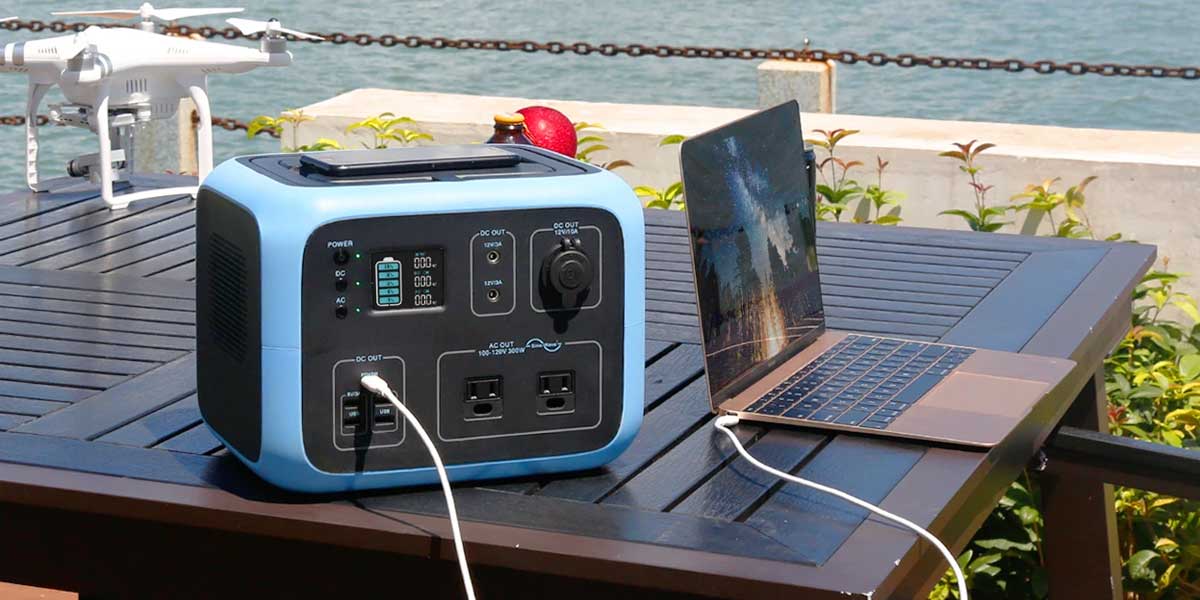 A solar generator can get you out of many sticky situations. Similarly, they will always keep you connected to the grid even during the roughest of climates. However, there are a few things you must consider when buying a solar generator.
When choosing the right solar generator, you need to clear up your can choose a generator. Once you have figured out your intended use, then you can move on to selecting a unit with a suitable size, power, and capacity. 
Here are a few of the parameters you must consider when buying a solar generator
1. Purpose
Everyone has a different reason for getting a solar generator. Similarly, it is vital that you, too, have your purpose cleared out before purchasing. Note that solar generators are the perfect companions for those who love to travel and want to stay connected to the grid even in the remotest locations.
However, some require a solar generator to serve as a backup power supply in their home during power outages. If you want a generator for travel, choose one that will allow you to charge devices on the go.
2. Solar Panels
The majority you can select of the solar generators that have more than one way of charging them. One of the most convenient ways of charging a solar generator is by keeping them under direct sunlight.
Using the solar panels, your solar generator will be charged within 4-5 hours. However, several solar generators do not have attached solar panels and are sold separately. Therefore, always look for a generator that has solar panels as an additional add-on.
The solar panels used in conjunction with a portable solar generator are mobile and easy to manipulate. You should also check whether the solar panel uses polycrystalline or monocrystalline. To learn more about what they are, read our article on Polycrystalline Vs Monocrystalline Solar Panels.
3. Battery Capacity
Solar generators come equipped with either lithium-ion or lead batteries, capturing energy through the solar panel for later use. This battery storage capacity allows you to run the generator at night/day without limited sunlight.
More the battery capacity, the longer will use the generator last. However, the more devices you charge using the generator, the faster the battery will run out. If you have appliances with larger watts, you will need a generator with a larger battery capacity. The more watt-hours your power station has, the longer you can run your devices.
4. Battery Type
When it comes to buying solar generators, you can either have them with lithium-ion batteries or lead-acid batteries. The only significant advantage one has over the other is that lead-acid batteries are much cheaper than lithium-ion batteries. However, lithium-ion batteries hold a considerable advantage over the typical lead-acid batteries.
Lithium-ion batteries are 95% efficient, whereas lead-acid is just 50. A lithium-ion battery has a longer lifespan as compared to lead-acid batteries
5. Inverter Rating
There are mainly two types of currents found in every solar generator, AC and DC. While DC flows only forward, AC flows both forward and backward. An inverter rating translates how many watts a solar generator can harness at a time. For example, a 2000 W inverter is capable of drawing that amount of wattage in AC power.
6. Portability
Solar generators come loaded with dozens of features. Portability is one of the critical features. If you plan on carrying the generator with you on hikes and camping trips, you need a lightweight generator.
Many of the current solar generators fit easily into a bag or in the storage compartment of your vehicle. The modern solar generators also have a carry handle which makes it easier to carry them around. 
Also Read: Best Solar Shower To Use While Camping And Trekking
Final Thought
We hope our article was able to walk you through everything you need to know about solar generators. Solar powered generators always come in handy as these little companions can be used when you are in a pickle and they are a lifesaver for people who love to live their life on the road but have forgotten to bring their chargers along.
Solar generators can also keep your car's accumulator going when it's out of fumes and they can also be used to restore pretty much any electric device back to life.