Best Solar Power Fans for Camping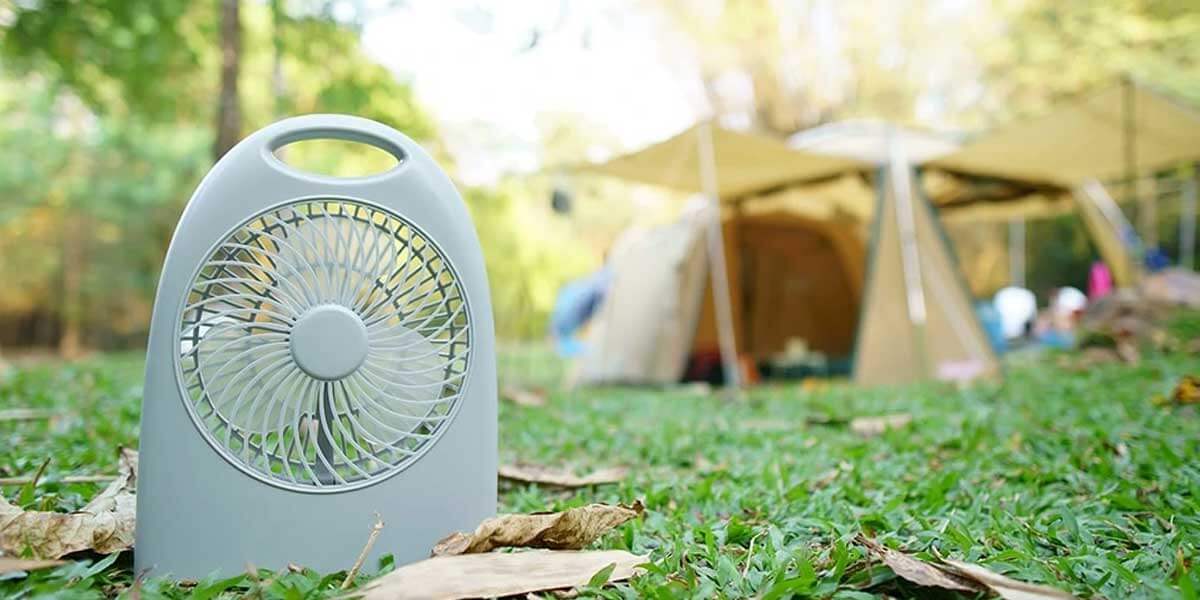 Camping trips are fun, especially with our loved ones. Every one of us likes to go on camping trips, hiking, or just on an RV adventure. This is because such trips give us a change of scenery and drain away from the stress from our hectic everyday lives. For RV and campers you can either consider solar kits from Zamp or GoPower. The rapid evolution of technology has brought us closer and has helped us connect with people across the globe. As a result, it is now possible to stay connected with the outside world no matter where you are.
When on a camping trip, we tend to carry several electronic gadgets with us. All these devices need to be charged, which is why we carry multiple power banks. However, what we don't realize is that all these utilities just add to the extra weight. But without a power source, it is challenging to keep your appliances charged. Although, shifting from the traditional sources of energy to solar power can help us keep our devices charged for more extended periods.
This is because solar power harnesses the power of the sun, which can help keep our devices charged. Shifting to solar power ultimately keeps us from worrying about battery discharge and there is no need to carry several power banks with us. Also you can consider carrying solar charge controller which keeps batteries from overcharging. Especially if you want to live off the grid, then you'd indeed require devices that can be charged from solar energy. To help you keep all of your devices powered up and keep your backpack (some of the best solar charger backpacks) lightweight.
If you find yourself camping in particularly hot and humid areas, you will need something for added ventilation. This is where a portable solar-powered fan comes in handy. In this article, we have listed some of the best solar-powered fans for camping. In addition, we have also included a buying guide that will tell you about the various features to look for when buying a solar-powered fan. Before we proceed, if you are an avid hiker or camper, you should also look at solar showers that are meant for hikers.
Our Top Picks – Comparison
Best Solar Camping Fans
Solar-Powered fans are a great way of ensuring sufficient ventilation in a hot and humid climate. Also, these fans are an efficient way of keeping the bugs away during the night. However, as more companies have now introduced their own solar-powered products in the market, it has become challenging to select the right product for your needs.
Therefore, we have listed the five best solar camping fans for you to buy in 2022
The BusyPiggy Solar Camping fan comes equipped with three LED light panels with four adjustable brightness modes. You can adjust the brightness to light up your tent or suit other campsite needs. Similarly, it also features a flashlight and an emergency light. In addition, it has a built-in double rechargeable battery that can work for at least 5-45 hours under a single charge.
Meanwhile, the BusyPiggy Solar Camping can also work via a USB cable powered by a laptop, charger, power bank, and so on. If your phone runs out of battery, you can charge it using the unique USB port attached to the solar fan. The BusyPiggy Solar Camping is lightweight, compact, and easily portable. This Camping Fan has 4 Wind Speeds and four lighting modes.
Pros
Double Rechargeable Batteries
Easy To Use
Lightweight
Cons
Issues With Reliability
Also Read: Best Solar Laptop Chargers
The Shuangjishan Solar fan for camping has four different fan settings, each suited to cater to different airflow needs. It comprises of 3 LED bulbs distributed evenly across the fan, with each bulb having three brightness modes
These fans are quiet but supply powerful wind to keep the area ventilated without disturbing your sleep whatsoever. The Shuangjishan Solar Camping Fan for Tent comes with a rechargeable 5000 mAH battery which can be charged using a USB cable, laptop, car charger, power bank, etc.
You can also charge it by keeping the panels under direct sunlight. This solar camping fan can last for 5-45 hours under a single charge. This camping fan can serve both indoor and outdoor purposes and can act as a power bank during emergencies.
Pros
Noise-Free Brushless Motor
4 Wind Level Settings
Lightweight And Portable
The Ansee Solar Camping Fan is made out of heavy-duty ABS plastic that makes it perfect for outdoor conditions. This multifunction solar camping fan comes with multiple utilities and can be used as fan, an LED table lamp, and as a spotlight torch.
It has an ultra-quiet brushless motor that provides a high windflow as quietly as possible. The Ansee Solar Camping Fan is extremely lightweight and easy to carry and can be used widely such as outdoor shade, camping, blackout emergencies, and transportation.
The double charge design helps with efficient charging. Also, it has a variable speed control switch at the front that allows you to adjust the fan speed as per your convenience. Meanwhile, the LED lighting angle is designed explicitly for user convenience while simultaneously protecting your eyes.
Pros
Multipurpose Solar Camping Fan
Double Charge Design
The Seddex Solar Fan is an excellent example of green energy and good quality workmanship. It is loaded with the latest technical power design, making it stronger than the standard 5 W solar panels. This solar fan is perfectly suited for home offices, pet houses, chicken coops (Best Solar Chicken Coop Lights), tree house, RVs, and so on.
The Seddex Solar Fan provides efficient cooling and runs even faster under direct sunlight. It is made up of monocyrstalline material that can help it withstand heavy rains and other harsh climatic conditions. It comes with a waterproof solar panel.
Pros
Latest Technical Power Design
Light And Portable
Cons
Fan Is Not Waterproof
Unreliable
The Hereta Multi-Function Solar-Power Fan is a 5 Blade DC portable fan that can provide 7 hours of continuous operations in a single charge. This fan is uniquely designed to provide clean and sustainable energy.
It comprises of a lithium-ion rechargeable battery and has 26 LEDs that provide efficient lighting for upto 9 hours at a stretch. In addition, the 5 V power output is enough to charge your cell phone, power banks, and other small electronic appliances.
Also, the Hereta Multi-Function Solar-Power Fan comes with FM Input, USB, and TF card ports that lets you listen to music and radio for 6-8 hours. The AC-DC adapter provides emergency re-charging power battery.
Pros
5-Blade Portable DC Fan
Input USB And TF Card Ports
Perfect For Indoor Conditions
How To Choose The Right Solar Powered Fan For Camping?
Selecting the right product from a pool of options is challenging. However, you can narrow down your search if you map out the key features you want in your product. Similarly, there are certain features to be considered when buying a solar-powered fan for camping. These features can help speed up the buying process and won't leave you disappointed with the product.
Therefore, here are a few features to consider when buying a solar-powered fan
1. Dimensions And Weight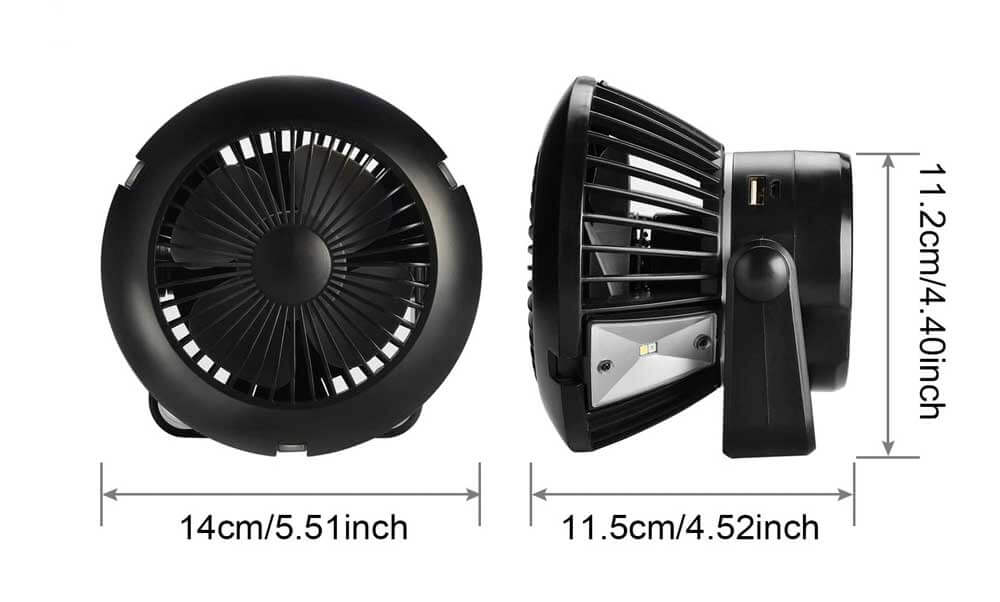 As the name suggests, solar-powered fans are the best utilities to be used during camping. Since you will be carrying this fan with you during camping, you want a fan that won't add extra weight to your luggage. Therefore, it is important that you thoroughly check the weight and dimensions of the solar-powered fan you wish to buy. Ensure that your solar-powered fan has a compact and lightweight design that'll easily fit in your backpack. If the fan comes with an attached solar panel, the fan can tend to be a bit heavy. However, if the panels are not included, then you can buy a portable solar panel for better portability. Also check our detailed guide on some of the best solar powered attic fan.
2. Voltage
The overall voltage rating is another critical factor to look for when buying a solar-powered fan. This is because the overall voltage rating determines the fan's performance during low-light situations. The voltage rating differs from one fan to another. Some fans have a lower voltage rating whereas some have a higher one. However, note that fans with a higher voltage rating tends to require maximum and direct sunlight to work.
3. Run Time
Solar-powered fans harness the power of the sun to store the solar energy in their batteries. For this, the solar panels need to be exposed in maximum and direct sunlight. This is because you will need the energy stored for later use. However, you must first lookout for the fan's overall run time. You need a fan that can run for longer hours. On average, you need to select a fan that can provide an approximate run-time of 4-5 hours under a single charge.
4. Portability
The solar-powered fan should be portable. This is because you will be needing to carry it from one place to another while camping. If your camping trip involves shuffling across multiple locations, you need a compact, lightweight fan that and can easily be taken from one place to another.
5. Durability
Every solar-powered fan should be a valuable investment. Therefore, your solar-powered fan should be durable and be able to brave rough climatic conditions. It should be able to withstand harsh winds, heavy rains, and other outdoor elements. As a result, you must buy a waterproof and dust proof solar-powered fan since they are made out of heavy-duty materials.
Also Read: How To Connect Two Solar Panels To One Battery
The Bottom Line
We hope our article was able to successfully walk you through how solar-powered fans. These solar powered fans are essential for maintaining sufficient ventilation, especially when you are camping in hot and humid areas. With solar power, you don't have to worry about your battery running out as long as the sun is out. These solar-powered fans are easy to use and can be tranpsorted without any wiring. Apart from removing the hot air from the vicinity, these solar fans are a great way of keeping the bugs away at night.