Best Solar Laptop Chargers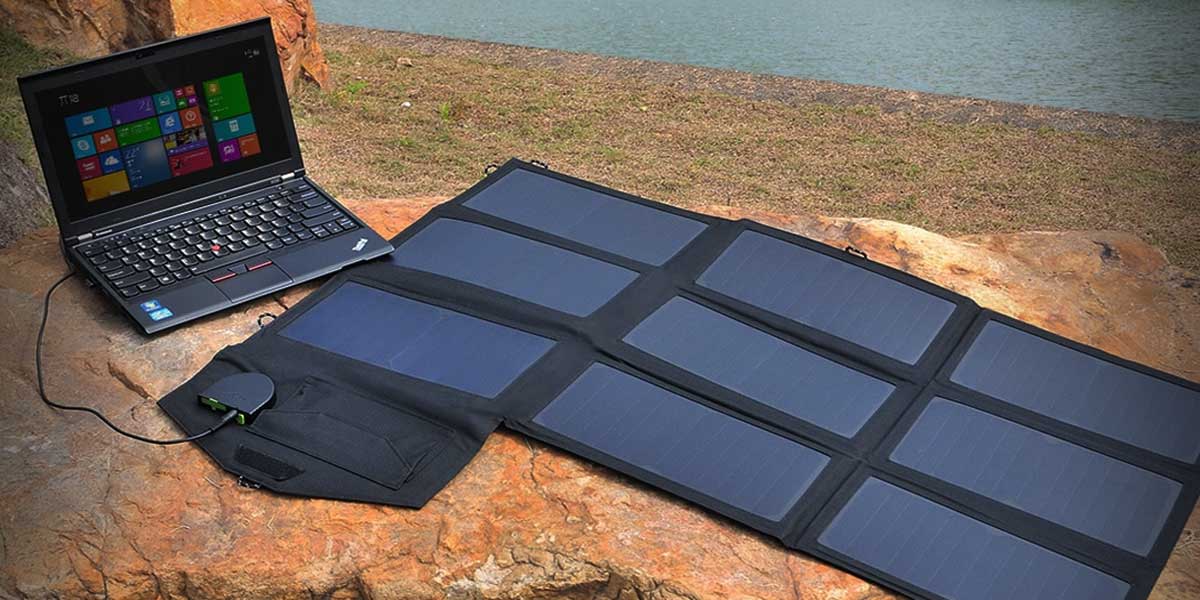 Over the years, there has been a massive advancement in the field of technology. As the world gets modern, it has brought people closer by the minute. With the liberty of portable electronic devices, it is now possible to stay connected to the grid at all times. All we need is a laptop, power, and internet access to communicate with people around the globe.
The majority of the people work as they travel using nothing but their laptop and Wifi. However, at times they find themselves in places where power outlets are scarce. Every electronic device, including a laptop, needs to be charged from time to time.
However, solar laptop chargers are a great solution to take care of your recharging needs every time you run out of battery. Not only your laptop, but these laptop chargers can be used to charge multiple devices such as your smartphone, iPad, power banks, cameras, and so on.
In an effort to save energy and increase their efficiency, many major companies have shifted towards using solar energy. Similarly, by harnessing the sun's power, these companies have launched their own solar-powered devices. Over the years, most of the Earth's population have shifted towards using more conventional sources of energy, which is why the demand for solar-powered devices is rising.
With multiple companies offering the best of solar products products such as solar pool rings, solar watches, solar keyboards, solar laptop chargers etc., making a choice is exceptionally challenging. However, to make things easier, we have compiled together a list of the best solar laptop chargers for you to choose from.
This article will walk you through some of the best solar laptop chargers available in the market, along with their detailed specifications.
5 Best Solar Power Laptop Chargers
While a power bank usually gets the job done, there are a fair amount of limitations when it comes to storing power in it. This can make it challenging for you to keep all your devices charged, especially when outdoors. However, a solar charger is the best option in these situations.
With a portable solar charger, you can always keep your devices charged even when off the grid.  A solar laptop charger stores enough battery to charge your laptops, smartphones, GoPros, cameras, gaming systems, and so on.
Here, we have come up with the best solar laptop chargers for you to buy
The Nekteck 21 W solar charger comes packed with a 20W solar panel, a rugged exterior, long-lasting flashlights, and large handles, allowing for easy portability.
The 10,000 mAH capacity makes it the best solar laptop charger under any condition. This easy-to-use solar charger is equipped with intuitive features that make it adapt to every environment.
The Intelligent Charging Technology provides the utmost protection from overcharging, overheating, overcurrent, overvoltage, and short circuit.
The rugged exterior and well-rounded edges protect it from drops, bumps, dents, and other environmental damage. The Nekteck 21W solar charger is entirely shockproof, dustproof, and waterproof. It is fitted with silicone plugs that protect the ports from water and other damaging elements. It comes with a large handle at the top, which makes it easier to attach it to a belt loop or backpack strap for solar charging on the go.
Pros
Easy To Mount
Waterproof
Damage-Resistant
Intelligent Charging
Cons
Max Wattage Unrealistic
The Jackery SolarSaga 100W solar charger comes with a portable solar panel fitted with Type C and USB-A ports. It is designed to work in temperatures ranging between -10℃ to 65℃.
This highly durable solar panel is perfect for carrying around during outdoor adventures, hiking, camping, and RV trips. The two USB ports can help charge different devices at once. The Jackery SolarSaga 100W Portable Solar Panel guarantees 23% efficiency.
The solar panel is made out of heavy-duty ETFE materials allowing it to withstand extreme weather conditions while delivering a higher light emittance. This solar panel is easy to mount because of the convenient bracket.
Pros
Damage-Resistant
Easy To Mount
Durable
Cons
Does Not Support PD Charging
Not Waterproof
The X-Dragon 40W Solar Panel Charge is massive in both capacity and size. It comes with the exclusive SolarIQ technology and is fitted with a smart IC chip that protects against overcharging, overvoltage, overheating, and short circuit while delivering the ideal current of up to 3 A under direct sunlight.
The X-DRAGON 40W Solar Panel Charger is able to charge all connected devices efficiently even if one side of the panel becomes shaded. This happens because the rest of the cell is still exposed to sunlight, allowing the panel to continue delivering the charge.
Under complete sunlight, the X-DRAGON 40W Solar Panel Charger can provide a continuous charge to two small batteries. The speed doesn't decline even when charging multiple devices at once. It comes equipped with a durable canvas material and durable plastic solar cells for high durability and longevity.
It has a dual-port output, a 5V 2A USB Port for charging 5V powered gadgets and an 18V 2A DC output for charging your laptop and other heavy-duty devices.
Pros
Easy To Mount
Dual-Port Output
Works Well In Partial Sunlight
IC Smart Chip
Cons
Bulky
Difficult Installation
The SOKOO solar charger comes with a 22W solar panel that can make full use of the sun's energy to charge your computer, laptop, iPhone, camera, and other electrical devices.
The SOKOO 22 W solar charger promises twice the efficiency of other foldable solar chargers in the market.
It comes equipped with a built-in intelligent IC ship that protects from overcharging, overcurrent, overheating, overvoltage, and short-circuit while simultaneously providing maximum charging speed to every connected device.
It is made up of heavy-duty polymers to protect your solar panels from extreme weather and has a zippered pocket to keep your equipment safe on camping trips. This foldable 22 W solar charge is small and thin, making it easy to carry it from one place to another. It comes with three different solar panels followed by 2 USB ports to help charge multiple devices.
Pros
Easy To Mount
Dual-USB Smart Charging
Super Portable
This dual-power sourced solar laptop charger also comes with a battery pack to charge your devices on the go. The Voltaic Systems Arc 20 Watt Rapid Solar Laptop Charger can fully charge a laptop in 2 hours and a smartphone in 1 hour.
The solar panels are made of heavy-duty EFTE materials design to last three times longer, making them waterproof, UV resistant, and ideal for outdoor activities. With the innovative pass-through charging, you can charge your device and the Voltaic V88 power bank simultaneously.
The Voltaic Systems Arc 20 Watt Rapid Solar Laptop Charger is fully compatible with most laptops, tablets, iPads, and Samsung Galaxies. The 24000 mAH battery provides 7 hours of charge to intelligent phones and doubles a laptop's run time.
It comes with an Arc 20W solar charger kit to help you keep all your devices charged when off the grid. The included V88 Laptop Battery not only stores power for your appliances but it makes sure they charge safely by providing consistent, regulated power.
Pros
Pass-Through Charging
Included V88 Battery Pack
Dual-Power Source
Travel-Friendly Design
Cons
Expensive
Difficult Installation
Best Solar Laptop Chargers – Buying Guide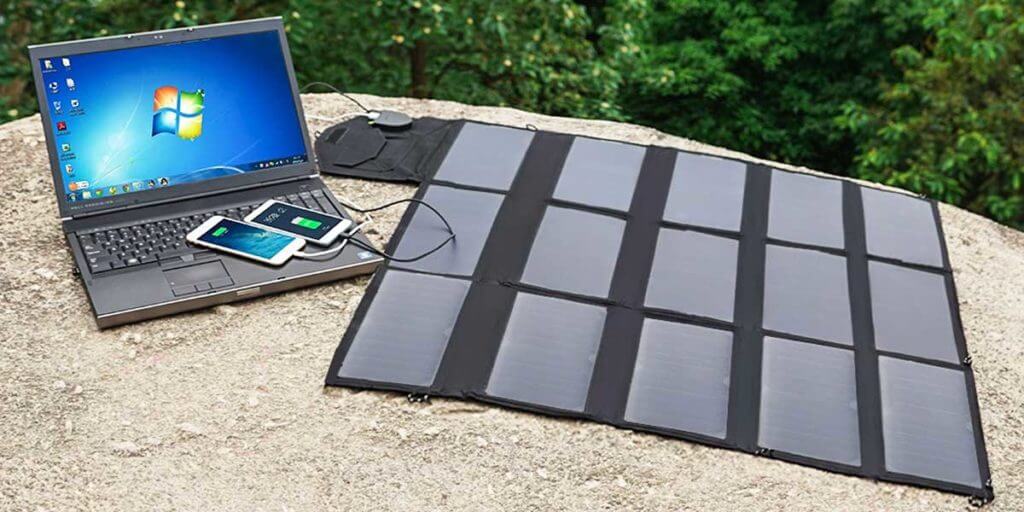 Choosing the best laptop charger from a whole pool of options is tough. However, there are a few parameters you must consider. These are the few elements that can help you shortlist amongst a whole variety of options. Here are some of the few aspects that can help with choosing the best solar laptop charger.
1. Watts
The power output is the most crucial element to consider when buying a laptop. Chargers with a highly efficient solar panel ultimately mean that they will deliver high power output. The power output capability varies from one charger to another. Not just the output, but the input power, too, needs to be considered. Some solar chargers come with built-in IC chips that protect from overheating and overcharging.
2. Charging Time
The time taken by these solar-laptop chargers to completely charge your laptop will vary from one solar panel to another. Some solar-laptop chargers take around two total hours to completely charge a laptop and 1 hour to charge a smartphone.
3. Surface Area
While a solar laptop charger will help keep your electronic devices charged, you have to ensure that it doesn't take a lot of space. If you are travelling, you will need to choose a charger compact enough to ensure that it fits into your backpack. Chargers with a high surface area will end up taking too much space.
4. Portability
The majority of the small solar USB chargers are designed explicitly to be carried along during camping trips, hiking, and other outdoor adventures. However, solar-laptop chargers are durable and weather-resistant, making them challenging. Therefore, ensure that your chosen laptop meets your requirements before you come around to make a decision.
If you go on regular hikes and camping sites, you can also use a solar powered backpack charger to charge your laptop.
5. Ease of Use
The majority of the solar-laptop chargers are easy to install and have a simple operation. All it takes is a minute or two to set them up under the sun, and they will start charging in no time. However, also consider other factors such as protection from overcharging and overheating, compact designs, and has multiple ports.
How Does A Solar-Laptop Charger Works?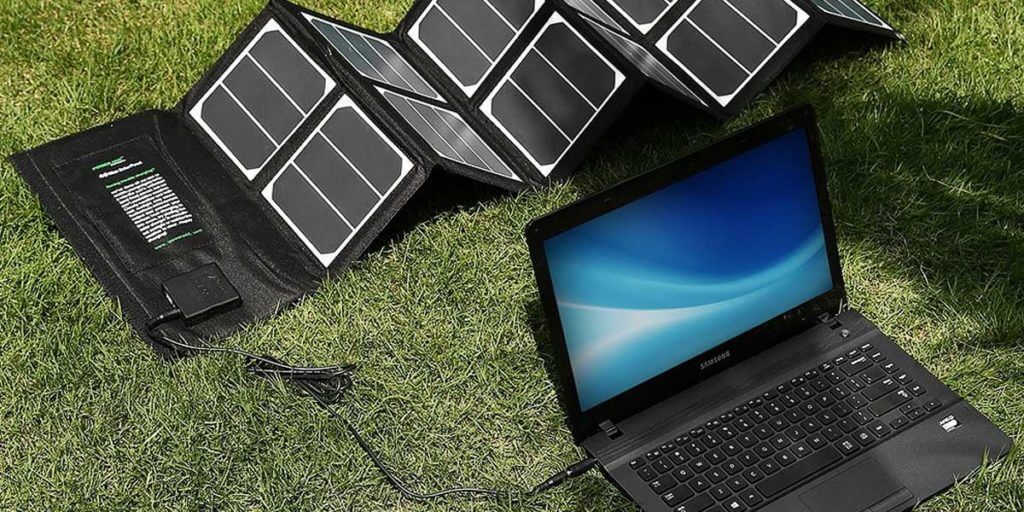 Solar charging is all about harnessing the power of the sun and storing it for later use. Every solar laptop chargers comes with an 18V DC output and comes with an adapter for charging. All you need to do is plug in the power cable in the laptop. Note that the adapter required may vary from one computer to another.
This is how a solar laptop charger works.
Place the solar panel in direct sunlight
Plug one end of the DC cord into the solar panel
Plug the suitable adapter at the other end of the cord
Plug the adapter end into your laptop
Note that your laptop needs to be plugged directly into the solar panel for the solar laptop charger to work. Another ideal way of charging your power bank is by using a power bank. A solar panel charges the solar bank, which can then be used to charge your laptop.
Solar-laptop chargers run from 40W to 80W and comes included with ten different connectors. These connectors are explicitly designed to cover most PC type. However, you need to buy a separate adapter if you have a MAC. If you want to use something as big as a desktop with solar panels, then you should look at our complete guide on solar powered computers.
Read our reviews on some of the popular solar products:
The Bottom Line
We hope our article was able to walk you through everything you need to know about solar laptop chargers. We have also included a buying guide at the end to help you with your choice. Although solar laptop chargers are pretty straightforward, it is always better to familiarise yourself with some aspects before you make a purchase.
Solar-laptop chargers can be slightly expensive but come loaded with dozens of features. Since we use a laptop every day, you must purchase a long-lasting and highly durable charger.