Best Solar Keyboards for Windows & Mac – Reviews and Buyer's Guide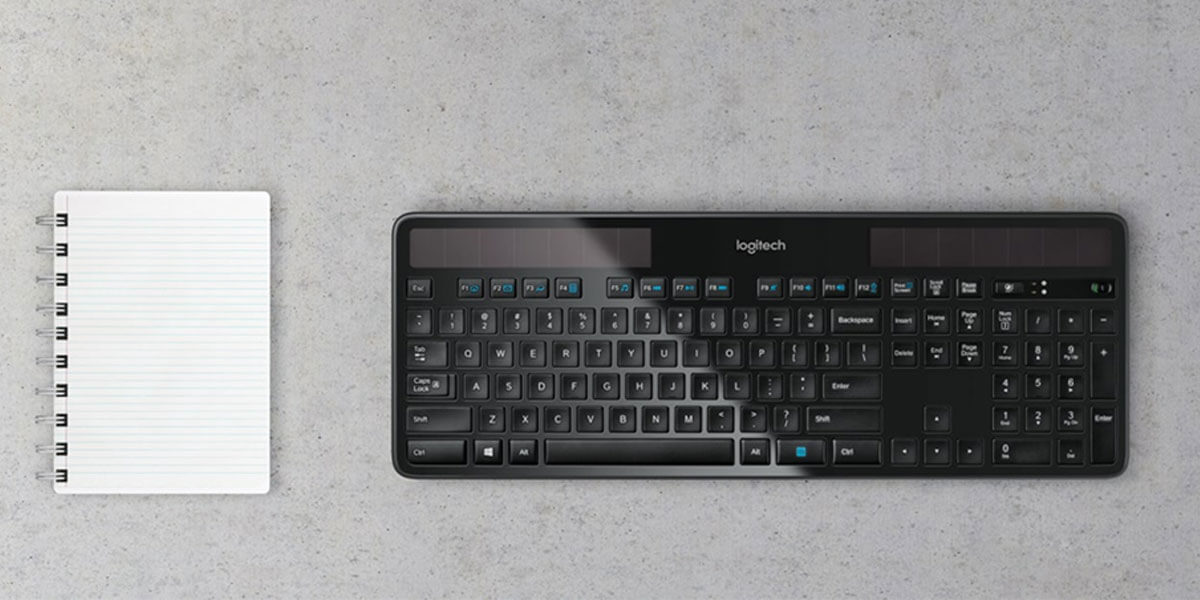 A keyboard is an integral part of every PC setup. A good keyboard can improve your productivity and a poorly designed one can make you tired fast during your hours-long coding session and ruin your workflow.
But it's not possible to find a perfect keyboard which is suitable for everyone. Everyone has different expectations from their keyboards. Some love the clicky sounds whereas some prefer a quite and noise-free keyboard. Some prefer RGB lighting, and some don't. 
Over the years, many have made the shift towards using solar-powered keyboards to reduce their carbon footprint. As the name suggests, solar-powered keyboards are wireless computer keyboards that use the sun as their energy source to keep the batteries charged. As compared to other wireless keyboards, you don't need to replace the discharged batteries regularly.
The days of your desk filled with heavy computer peripherals and accessories are long gone. With time, computers have become more compact and stylish, and there are barely any wires to been seen around.
In an era of wireless connectivity, a wired peripheral will only clutter your desk space. This is precisely why people have slowly started opting for Wi-fi Internet and Bluetooth Connectivity.
With everything going wireless, keyboards are no exception. People nowadays prefer using wireless keyboards and especially those that can help with energy savings. Although the demand for solar-powered keyboards is reasonably limited, there are still plenty of energy-saving options in the market.
In this article, we will list out some of the most powerful solar-powered keyboards in 2022. This article will walk you through the specifications in detail in order to help you make a decision.
5 Best Solar Powered Keyboards
A keyboard is one of the most important when it comes to assembling a PC. With the number of options available, it is tough selecting a new keyboard for the system. However, choosing a wireless keyboard that uses solar power to charge the batteries does narrow it down a bit. Therefore, here are the five best solar powered keyboards for you to buy in 2022.
You can bid farewell to all your battery hassles because with the Logitech K750 Wireless Solar Keyboard, you can keep your keyboard charged for three months by charging it under any light source.
Its ultra-thin and sleek design significantly adds a stylish look to your desk. In addition, the Logitech K750 Wireless Solar Keyboard comes equipped with the concave-key cap which allows for faster, quieter, and efficient typing.
With the 128-bit AES encryption, the Logitech K750 Wireless Solar comes with the highest level of security.
The lightweight, streamlined design looks good with your laptop or desktop computers. This 2.4 GHz wireless keyboard allows for reliable connection using a tiny Logitech Unifying Receiver, which stays in your system.
The Logitech K750 Wireless Solar Keyboard is designed explicitly for Windows Vista, Windows 7, Windows 8, and Windows 10. The light-powered keyboard automatically charges itself under any light source. With the Logitech Solar App, it is also possible to monitor the power level. 
Pros
Programmable F-keys
128-bit AES Encryption
Unifying Receiver
Reliable Connection
Cons
Not Supported For Mac
No Palm Rest
Expensive
Also Read: Polycrystalline Vs Monocrystalline Solar Panels
Just like the Logitech K750 solar, you need not worry about battery issues when it comes to the Arteck Full Size Wireless Solar Keyboard. You can charge it using any light source (even a desk lamp) while you work or when you aren't.
The Arteck's full rechargeable battery lasts for six months if you plan to use it for 2 hours every day. This easy-to-install keyboard requires you to only insert the nano USB receiver into your system, and you're all set to use the keyboard.
The keyboard's ergonomic design with stainless metal and painted front panel give you a heavy-duty feeling.
In addition, the Arteck Full Size Solar Keyboard comes equipped with a concave-key cap, which allows for faster, quieter, and efficient typing. With the Windows-dedicated hotkeys, you can keep all your most-used functions and media controls closer than ever.
This keyboard comes equipped with a lithium-ion rechargeable battery that provides six months of use once fully charged. 
Pros
Smooth Design
Easy To Carry
Ergonomic Keyboard
Easy Connectivity
Cons
Limited Compatibility With Mac
Expensive
Less Durable
With the Macally Bluetooth Wireless, you will never worry about charging your batteries again and again. This solar powered keyboard charges under both natural and indoor light.
It also comes with a reliable Bluetooth connection thus saving your desk from cable clutter.
The Macally Bluetooth Wireless Solar keyboard comes equipped with dozens of features such as solar charging and comprises of a 600 mAH battery that can last upto 150 hours in total darkness.
This also comes with a ergonomic design which makes typing quiet and fast while simultaneously preventing wrist sprains. The ultra-thin design adds greatly to the sleek look of your desk. Meanwhile, it has 21 Apple shortcuts that allows you to control your system easily.
The superior bluetooth connection eliminates the need for dongles or receivers making it super easy to pair. It supports a strong connection to up to 30ft. Made exclusively for Mac, this doesn't require any buggy software to get started. 
Pros
Smooth Design
24-month warranty
Ergonomic Keyboard
Long Battery-Life
Cons
No USB RF Dongle
Expensive
After having a wireless keyboard for Windows, Logitech has finally made a Mac exclusive wireless solar keyboard with over 5 colour variations.
The K750 comes without the hassle of changing your batteries after a specific interval. You can charge this wireless solar keyboard under any light source to keep it running for at least 3 months under total darkness.
Similar to the Macally Wireless, the Logitech K750 Wireless Solar Keyboard also features an ultra-thin design that adds a sleek look to your work desk.
Instead of Bluetooth, this is powered by it's own 2.4 Ghz Logitech Unifying Receiver which you can install in your Macbook or iMac. 
It also comes with the Logitech Solar App that allows you to monitor your keyboard. The Logitech K750 Wireless Solar Keyboard is explicitly designed to work with the drivers on the Mac and you need not install from Logitech.
In addition, the Logitech K750 Wireless Solar Keyboard For Mac comes equipped with the concave-key cap which allows for faster, quieter, and efficient typing. The USB unifying receiver works with all Logitech devices and stays in your laptop and connects additional compatible wireless devices.
Pros
Exceptional Battery life
Cost-Effective
36-month Warranty
Cons
No wrist-support
Bulky
Also Read: Complete Guide on Solar Powered Televisions
A good keyboard is one of the most integral components of every setup. Whether you use it for gaming or put it through hundreds of work hours, a good keyboard can largely ease the way you work.
The Macally Wireless Solar Keyboard comes with a built-in 600 mAH lithium-ion battery that lasts up to 150 hours under complete darkness.
The Multisync Bluetooth compatibility allows for 3 Bluetooth devices to be connected simultaneously.
Also, the Macally Wireless Bluetooth has an ultra-slim versatile design  with over 110 keys, 20 shortcut keys, presets, and a number pad. 
It's ultra-thin design adds a sleek and sophisticated look to your workspace. For easy and highly convenient typing, the Macally Wireless Bluetooth Solar keyboard comes with concave keycaps and scissor flexors that have an ultimate responsive touch.
This keyboard offers seamless connectivity and compatibility that connects easily with every Bluetooth compatible technology such as gaming consoles, Mac, PC, Smart TVs, and so on. The Macally Wireless Bluetooth Keyboard is explicitly designed with 16 Apple specific keys and additional multimedia keys for both Windows and Android. 
Pros
Compatible with Mac and Windows
Long-Lasting Battery
12-month warranty
Note: If you want your whole setup to be solar powered and not only your keyboard, we would recommend you to read our article on the best solar powered computers.
Which One Should You Buy?
We hope our article was able to guide you through each and every solar powered keyboards in detail. Apart from conserving energy, solar powered keyboards give you immense comfort while you work as it saves you from the hassle of constantly replacing your batteries periodically.
Solar-powered keyboards can be charged under both natural and indoor light and saves your desk from cable clutter. Majority of the solar-powered keyboards are compatible with the drivers on your PC/Mac and need to require any additional software or cables.
All the 5 solar powered keyboards we have mentioned above come with their own sets of pros and cons. However, all of these are equally effecient in their own way and offer a variety of specifications for you to work on. We have mentioned all the specifications in detail so that you can make the right choice and get the one keyboard that suits your requirements.