Best Solar Rings for Pool [2023 Updated] | Reviews and Guide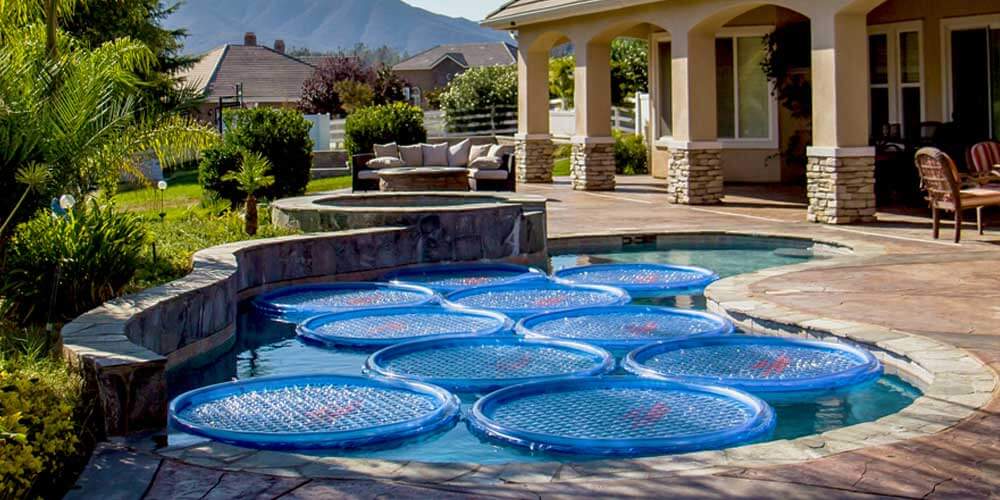 If you're someone who enjoys the comforts of a pool in their backyard, then you may often be stumped as to the maintenance of it. Cleaning the pool, keeping the water warm – all while being free of toxic chemicals is no easy feat.
If you have been searching for ways to keep your pool warm without having to burn a hole through your finances, solar rings for pool heating might just be the perfect solution for you.
Solar rings for pool heating, otherwise known as solar heating pads for pools, solar pool floats or solar pool disks are an extremely affordable solution to keep your pool water warm well after the sun has set.
However, as with any other product out there, the market is flooded with options and alternatives. What do you look for, when buying solar pool heating pads? Are some options better than others? We've covered it all in the following pool ring reviews! Read on to discover the best solar rings for pools in 2023.
What are Solar Pool Rings?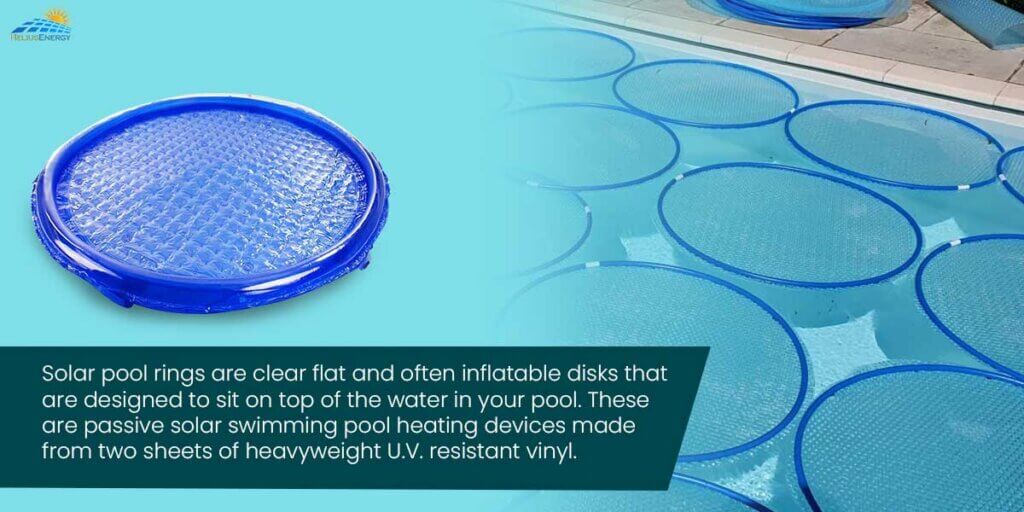 Firstly, you might be wondering what solar pool rings are. They resemble either squares or circles of sheets adjacent to each other to cover the entire area of your pool. And as mentioned before, these are responsible for keeping your pool warm using solar energy besides keeping it free of debris.
They also happen to be extremely affordable, so you can now enjoy the luxuries of a warm pool without having to invest in rather expensive pool heaters at all. Solar pool rings manage to keep your water warm with the help of simple science, which makes it free of chemicals as well.
How do Solar Pool Rings Work?
The process of how solar pool rings work is actually pretty simple. Covering the surface area of your pool with these solar rings is an excellent method to get the best out of them. Once covered, these solar pool rings work their magic by heating your pool water. The two layers of UV-resistant sheets are made of vinyl and are equally important in the heating process.
The top layer traps in sunlight and concentrates it on the bottom layer – the latter, on the other hand, converts the sunlight into heat and projects it into the water. It's as simple as that! So you can now save up on money that you would have otherwise spent on expensive pool heating devices and the resulting electricity bill. With solar pool rings, you can warm your pool whenever you want with natural sunlight and no toxins!
Solar Pool Ring Reviews
When you travel down the best solar pool rings rabbit hole, you will probably realise that this is the most popular product. I found these rings really useful and perform exactly what they claim to do: insulate the pool and keep it warm long after the sun has set.
Pros
When properly inflated, it is easy to clean and will not sink.

The 6-pack rings can cover nearly 80% of the pool's surface.

Saves electricity by eliminating the need to use heaters.
Cons
Magnets may not be strong enough to anchor rings for very long

The rings may not retain the air inside and may deflate in 2 to 3 days.
Because they are placed on the pool's surface with intervals between them, heat is allowed to escape and the temperature is maintained throughout the day. They're held together by magnets and inflated to float on the pool's surface.
Since they are circular, I was not able to cover the entirety of my pool which is rectangular. So you will end up leaving some space in between the solar rings.
While I do not recommend this product be used in place of a solar cover but some people do and claim that it is a cheaper alternative. However, for maximum results and efficiency, I would recommend that it is essential to get a solar cover in addition to them.
Solar rings are used to heat the pool and avoid the water from evaporating. These solar mats differ somewhat from solar rings for pools. They are available in numbers of one, three, or six, depending on the size of your pool. This is a 6-pack solar ring and I found it adequate for a medium-sized pool.
Pros
Overall, it was quite simple to put up in the pool.

The oval form and design made it look appealing when floating in the water.

They are easily inflated, so you don't have to exert much effort to keep them aloft.
Cons
They could be a little tiny, so double-check the measurements and get as many as you need.

It is slightly more expensive than the competition.
The twist-and-fold mechanism of these solar pool mats distinguishes them and helped me in handling and storing them when needed.
The pool ring's aesthetic value is also enhanced by its oval form and blue hue, which I think complements the overall appearance of the pool. It's incredibly simple to close, which may be an issue with other solar rings.
Their oval form is well adapted for the dimensions of any pool, allowing for convenience during installation!
This is another popular solar ring for pool heating. If you're searching for solar pads for pools that are simple to install and put up on the surface of your pool, these solar rings could be the one for you.
Pros
These rings have drainage webbing built into them, allowing water to flow through and keep them floating no matter what.

The design is very robust which keeps it intact in tougher weather situations.

Can get as large as 61 inches in diameter.
They're also more robust in harsher weather than other solar rings – whereas some may need to be fastened down with other things, I was able to keep them anchored with just the magnets included with the package.
You may pick between a single heating ring, three, six, or even nine for bigger pools. I used one pack to use it for a small inflatable pool which I have in the backyard. I would recommend measuring the measurements of your pool ahead of time so that there are no surprises after the purchase.
I also found them quite easy to store and maintain, and they won't cause you any problems when it comes to cleaning your pool. All I had to do was shift the solar circles as needed!
These items differ slightly from standard solar rings for pool heating. These are square-shaped, instead of round or oval-shaped. It gives them a bigger surface area and guarantees that the heating squares cover a wider area of your pool.
Pros
A big surface area eliminates the need to purchase a large number of heating squares all at once.

Apt for square or rectangular pools.

You don't need to inflate them, so that's one less step in the setup procedure.
Cons
It can become harder to maintain and manage them because of the square shape and non-inflatable design.
I was impressed with its surface area and simplicity of installation which I think are maybe their finest features. Unlike other sun rings, these do not require inflation and can be used immediately.
Depending on the size of your pool, you may buy them singly or in packs of 3, 6, 10, or 12. They significantly minimise evaporation and chemical loss, both of which contribute significantly to temperature regulation in your pool.
Manufacturers claim that they're supposed to be unsinkable and may be useful for all types of pools, but I found it to be true in normal weather conditions. Looking at the overall design, I think the lack of inflation does help in keeping in good shape for long.
They also offer a 3-year guarantee, so you're not stuck with a product you don't like.
This is another fantastic device that you should absolutely think about when it comes to pool heating. They are UV-resistant and vinyl-coated, ensuring that the product does not flake off after only a few uses.
I found them to perform precisely what traditional solar pool rings are meant to do: they prevent evaporation and trap heat in your pool, allowing it to stay warmer throughout the evenings and nights.
Pros
It covers most of your pool and is apt for a rectangular or square pool.

Very simple to remove and reinstall.

The grid on the inside of the solar ring contains a hanging grommet, which makes it more durable.
Cons
Magnetic anchors are provided to keep them in place.
These are square-shaped and fit perfectly in my rectangular pool without leaving much space. I was amazed by the fact that even though square-shaped, they are simple to install and may be done by one person.
These solar rings can also be adjusted to work with automatic pool cleaners, so you won't have to remove them when it's time to clean your pool. These rings' coverage is also exceptionally efficient, outperforming most round solar pool heating rings.
Solar Pool Rings – Buying Guide
Now that you have a brief idea of what solar pool rings do and the different features of solar pool discs available, which one do you think is the most suited to your needs? Consider all features of your pool and the solar pool floats you're planning on buying in order to make the right decision.
What Should You Look For In a Solar Pool Ring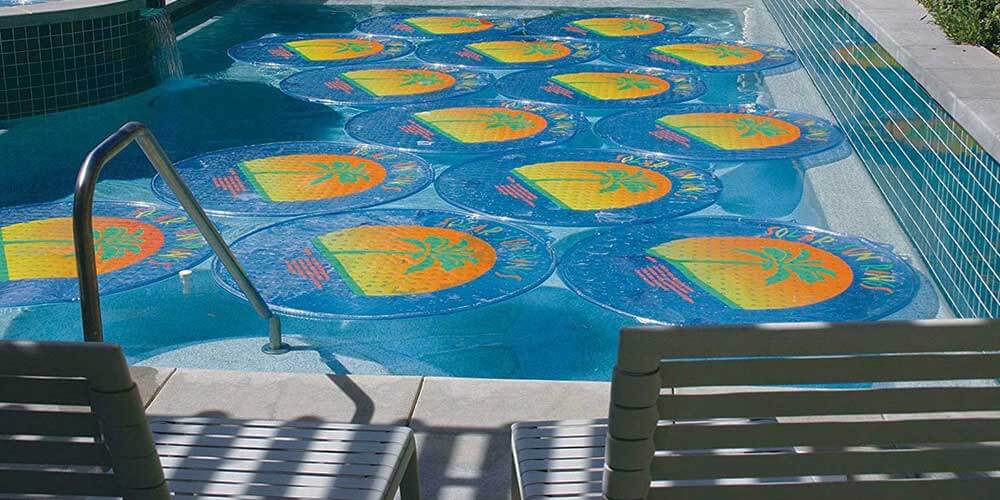 There are a few things that are important for consideration when you're looking to buy solar rings for your pool. Having all of these factors in mind will only help you in buying the best solar ring possible for you.
1. Size of and Shape of Your Pool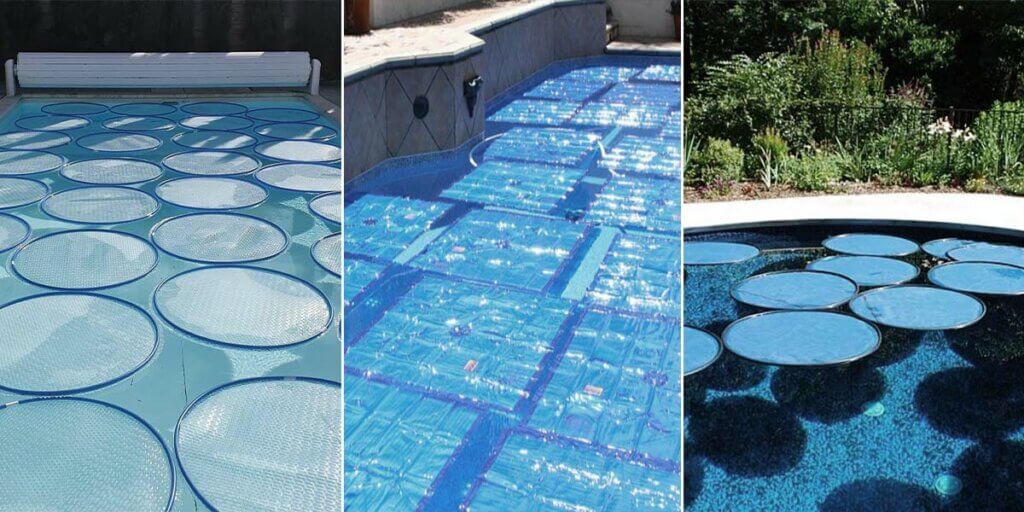 This is a very important thing to keep in mind when you're investing in a solar pool float for your pool. The size of your pool is what the quantity of your solar pool ring purchase depends on, so be very careful while measuring the dimensions of the pool.
If your pool is a little bit on the smaller side, then you should invest in smaller pool rings and position them next to each other, connecting them with magnets. If your pool is larger, make sure you're investing in bigger pool rings with heavier insulation as well so that you're not buying too many at once!
2. Heating Power
An important part of shopping for solar pool rings is checking their heating abilities and their capacities for heating. Invest in a solar pool ring that can keep your pool warm for longer and has greater abilities for insulation – you will have to check this when you're buying the pool ring!
Pick a solar pool ring that is optimized for your pool exclusively – since some have higher heating powers, they can keep your pool warm at all times! So if that's the comfort you're looking for, you should definitely go for these.
3. Affordability
Since solar pool rings are affordable, it simply won't do for them to be even pricier than the usual pool covers (clear or blue solar pool covers). As said before, the size of your pool comes into play here – make sure of the dimensions of your pool when you're purchasing the solar pool rings so that you can gauge how many to purchase.
If you get them all together as a set, it will be significantly cheaper than buying them all individually. This will require some planning, but it's an extremely crucial step to owning the heated pool of your dreams.
Also Read:
4. Warranty
It is also important to keep in mind the warranty period when you're purchasing solar pool rings. You don't want to invest in something that is not durable and will flake out after a few usages only, so this step is very crucial as well.
Take special care in factoring in the warranty period that the manufacturer is offering on their product as well. The higher the period of warranty, the more trustworthy and durable the product may be. It also guards you against being stuck with a faulty product that does not do what it's supposed to. So while this may seem a precautionary measure, it is actually indispensable to the whole purchasing process.
Final Thoughts
Now that you have an overview of the best solar pool rings and a guide for how you should pick the one that is best suited for you, it is time for you to finally make the purchase and enjoy the luxuries of a temperature-regulated pool. By now, you must acknowledge the fact that these are must-haves for all those who have the luxury of owning a pool and frequently make use of it as well.
Floating solar pool warmers are also cheaper than other alternatives that insulate heat for your pool water – and they're also significantly more efficient, provided that you invest in ones that are most suited to the needs and outlook of your pool.
Whether you're buying circular solar pool rings or solar pool mats, you will definitely not regret this purchase if you plan things out beforehand. Our advice would be to carefully consider the features of your pool and compare them with the specifications of the few best solar pool rings!