Top 10 Best Solar Pool Ionizer In 2023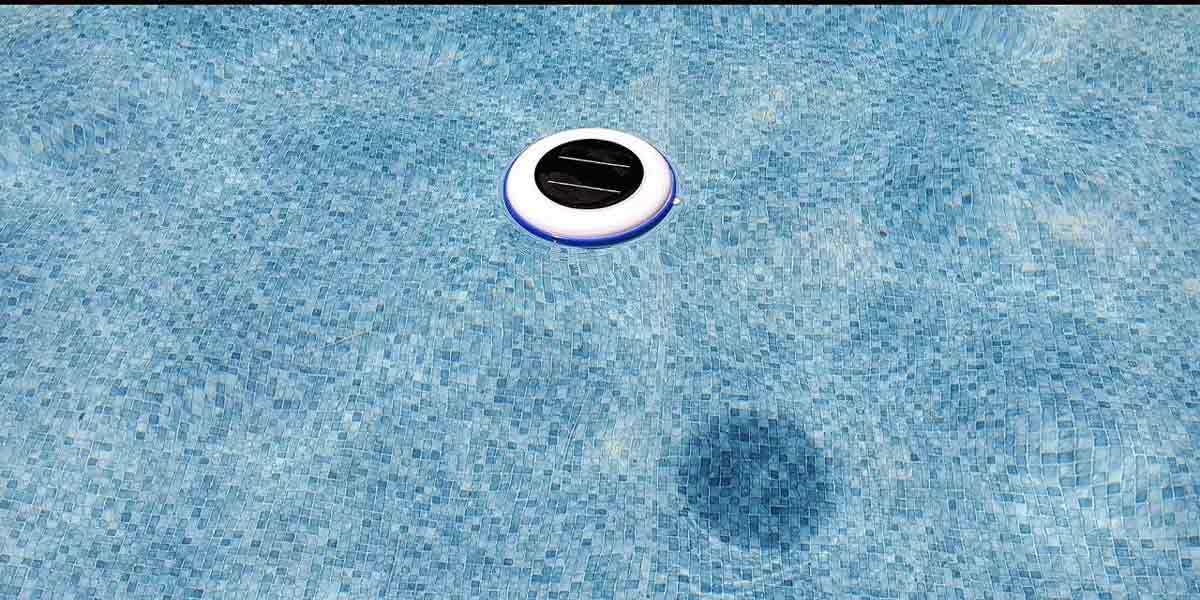 You all must be fond of the fun and relaxation you experience in the pool. But, the after-effects of chlorine often upsets you. Though chlorine is added for purification, it has several harmful effects on the skin. Besides Solar pool appliances such as solar pool heaters and lights, you need to have a Pool Ionizer at your rescue in such a scenario!
Pool Ionizers work well, but no one wants to increase their electricity consumption by using them; hence you prefer the usage of chlorine. Fortunately, with Solar Pool ionizers, you can reduce your power consumption.
Now, Choosing a Solar Poo Ionizer can be challenging, especially if you are new to the solar-powered world. This is why we present you with a list of the best solar pool ionizers.
How Do Solar Pool Ionizers Work?
A Solar pool ionizer is a device designed to float inside the pool. While floating in the pool, as the upper Solar panels are exposed to sunlight, the panels trap the solar energy and convert it into electricity. The electricity generated is used by the metal electrodes present under the water. These electrodes produce mineral ions that are produced inside the water.
The mineral ions generated by the Solar Pool ionizer pass through the outer permeable membrane of the algae and other microbes and intervene with their enzyme balance. This then inhibits bacterial growth and disinfects the water present in the pool.
Depending upon the quality of ionizers, the ionized water decreases the impact of any disinfection products by up to 85% and lowers the need for maintenance.
Ionization has numerous benefits; that's why the technology is even employed in spacecraft. The mineral ions generated in the water remain active for several weeks, but contaminants often turn the water turbid. Therefore, minor quantities of chlorine are used to clear the water.
Our Top Picks – Comparison
Best Solar Pool Ionizers
My personal experience and scouring through countless online solar pool ionizer reviews make me believe the following is the list of best solar Pool Ionizers in 2023 –
Do you want the perfect blue, clear pool without algal growth or any impurities? Do you want to save on your finances during the same time? If your answer is "YES" then, the Remington solar pool ionizer is the one that you need. It uses a technology that's been proven for about 20 years and purifies up to 22,000 gallons of water.
Moreover, you will not need to use calcium hardness because of its chlorine-free sun shock pool technology. You do not need any additional pool cleaning services when the solar pool ionizer is installed and exposed to sunlight. The best part is that it's nickel-free though it contains copper anodes for cleaning. Copper is further responsible for maintaining the quality of water.
Pros
Reduces the use of chlorine by up to 80% and protects your eyes, skin, and nails.
Automatic Pool Cleaner and Ionizer, suitable for all kinds of pools.
Free 30-days trial.
12 Months Warranty.
Value for Money.
Easy to clean
Maintains pH of water.
Cons
You cannot have a stabilizer in your pool.
You have to clean the coil.
Not suitable under all environments.
It rusts and falls apart after some time.
If you are searching for a solar pool ionizer of supreme quality, then you do not need to look further than the No More Green Technologies Orginal Solar Pool Ionizer. This solar pool ionizer comes with a lifetime warranty which is one of the biggest benefits of buying this product.
This solar-powered ionizer reduces chlorine usage by up to 85%, and it covers about 35,000-gallon pool water. It comes with a free buddy band that protects your pool and solar ionizer from scratches, damage, and other unwanted events that may ruin your pool or ionizer.
Moreover, it is BPA Free and hence safe for you. The ionizer even works when the Solar cover is over it. It also works with a plaster pool. The additional point is that it works even under high-end screens in sophisticated pools.
Pros
It kills algae and prevents further algal growth in the pool.
Lifelong Replacement Warranty.
A Buddy Band that protects the pool solar ionizer.
Cleans the pool by using up to 85% less chlorine.
Easy installation.
Cons
Questionable durability.
Copper anodes corrode with time.
Leaves copper-colored stains at the bottom of the pool.
Do you want an ionizer that cleans your pool in no time? Do you want to use a Solar pool ionizer that is budget-friendly? A product that resonates with all types of pools is a boon. The XtremepowerUS 90120 eliminates several molecules like calcium and reduces the growth of microorganisms like algae. It purifies up to 32,000 gallons of pool water.
It effectively works well for screened and shaded pools also. It reduces chlorine usage by up to 85%, thus protecting your skin and eyes. Overall, a secured pool helps prevent any problems. Lower chlorine intake and Solar powered technology help to save your funds. It works even when the skies are dark and full of terror!.
Pros
Reduces the amount of chlorine intake.
Purifies Algae and prevents algal growth.
Limits the growth of microorganisms and eliminates unwanted minerals such as calcium.
Effective against small pools.
Cons
The ozonation doesn't work as expected.
Does not give clear water.
The unit condenses from the inside.
Often it does not work under technical faults.
Briefly answer to yourself what type of pool solar ionizer you are looking for & when you answer these queries, analyze the best one for you!
Do you need a pool ionizer that lasts longer than other models? Then the Copper Flo pool ionizer is all you need. It reduces chlorine intake by up to 85%. It also stabilizes the pH of water. CopperFlo Pool Ionizer further ensures that it does not harm your pool. It works even in saltwater pools and does not require batteries to function.
You will also get a buddy band for free that will help protect your ionizer and pool from dents, scratches, and other kinds of damage. The engineers have manufactured the product so brilliantly that it will last longer than many other solar pool ionizers you will find in the market. The product is worth every penny spent, beneficial, and easy to maintain. CopperFlo Ionizer also provides deals for its copper anodes Replacement and cleaner kits.
Pros
Cleans up to 45,000 gallons of the pool water.
Reduces up to 85% Chlorine.
Has a Lifetime Replacement Warranty.
Long-lasting copper anodes.
25% more ions.
Cons
Does not work effectively on a large pool.
Not worth the money.
Does not clean algae effectively
Do you want a product that works well for your small pool? If yes, then Hilltop Solar's this product can be best for your pool! Moreover, it also reduces chlorine intake by approximately 80%. It is even suitable for fiberglass swimming pools.
The best part is that you can even use it when your sand pool pumps off and the ionizer is in the pool. It generates about 7.0 volts of electric power. It is even suitable for saltwater chlorine pools. It can even work in the winters if sunlight is available.
Pros
It has an inbuilt LED that lights up when it is working.
Rooted with two threaded baskets and two anodes.
It works even for shaded and screened pools.
It saves approximately $900 and saves your time as it is easy to Clean.
Cons
No easy return policy for the product.
It does not prevent algal growth, as reported.
Copper plates corrode over time.
The swimming pool develops numerous stains.
Water easily flows into the photocell, and the product stops working.
Also Read: Solar Pool Cover Bubbles Up or Down?
Do you want to keep your pool or spa pool clean? I mean, who would not like this to happen? If you are one of those who wish their pools or spa to be cleaned throughout the year, then Suntouch Treasures can provide you with the right product. It has made a renowned brand that procures your product from US Based Customer Service by providing a lifetime replacement warranty. It can work for pools that support 85,000 gallons of pool water.
If you throw any harmful chemicals in the pool, it will still purify them for you. You don't even require batteries if the product is exposed to adequate sunlight. It saves your money, as you do not have to spend it on buying hazardous chemicals that cause impurities. It is non-toxic and makes the pool safer for kids also.
Pros
Keeps water clean, clear, and purified.
Prevent algal growth and also kill the existing one.
Uses approximately 85% of the chlorine intake.
It is Compatible with small and freshwater pools and even for spas.
Cons
Not durable.
Leaves a copper ring around in the pool.
The copper cylinder needs to be cleaned frequently.
Copper element degrades in a very short time.
Did you know that Ocular Infection is the most common disease that people suffer from chlorinated water? If yes, then it's safe to say that you are aware of the harmful effects caused by various chemicals used to clean a pool.
EAAZPOOL has developed a Solar Pool Ionizer to bring cleanliness to the pool and provide safety from numerous chemicals. It not only purifies your pool water but also sanitizes it. It reduces the chlorine intake up to 85% and creates about 25% more ions that help maintain alkalinity. It is durable and hence saves your maintenance costs.
Your skin, hair, and bleached face are also well protected if you use a Solar pool ionizer. It will save you around 300 dollars each year, and you will not have to use chlorine in your pool once you start using this product.
Pros
It helps you to get rid of the algal bloom in your pool.
Uses lesser chlorine.
Value for Money.
Easy to install.
The manufacturer provides a brilliant customer care service.
1-year Replacement Warranty.
Cons
It is not long-lasting as described.
It does not float properly but often sinks in the pool.
It develops a Crack even when the band is on.
It is often overheated due to poorly built technology.
The Sunsest ionizer is the one you should use as it has a large solar panel compared to other units and traps more energy. Eventually, it will help you save the 100 to 200 US dollars you usually spend on chemicals. Apart from swimming pools, it is also suitable for other pools and fish ponds. It also comes with a six months warranty. It works well for 22,000 gallons of the pool.
It reduces the number of shocks and also comes with a free shocker. The Sunsest Solar ionizer also maintains your pool's pH well, hence keeping the water quality in check. The durability of the product is good. Often the manufacturer takes an extra mile to drop the solar ionizer with safety.
Pros
Solar energy-powered ionizer and water purifier.
Reduces chlorine intake.
It has a higher volume Solar panel.
LED indicator that enables you to turn off & on the solar ionizer.
Worth every penny.
Easy to install.
Easy to use.
Cons
It has a complicated user manual.
Do you want to balance the water mineral ions of your pool or bathtub or any other small reservoir? Then, this is the one for you! It balances the ions and minerals of your pool and maintains your pool's pH. It completely inhibits algal growth. It generates power for itself, thus saving money and electricity.
It cleans up to 35,000 gallons of the pool for you. The package also includes some test strips for free to test. However, you are advised to maintain your standard pool maintenance procedure as mentioned in the User Manual that comes along with it. A buddy band also comes along with the product.
Pros
Reduces chlorine usage by 80%.
It helps to keep your pool water clearer.
Needs no batteries to function.
It can be used for swimming pools, water fountains, spas, hot tubs, and koi ponds.
It has a durable copper electrode for the durability of the product.
Cons
It is not suitable for saltwater pools.
It will require almost two weeks to start functioning efficiently.
So, this could be your go-to product if it matches your budget. It has superior quality copper anodes that ensure the product's durability and hence keep your water clear. You can even get the copper anodes replaced. It is an eco-friendly product that does not harm the planet's life and resources.
It is even suitable for ponds and fish tanks apart from pools. It does not harm the fishes or any other underwater animal while the ionizer maintains a perfectly stabilized pool throughout the day. It can purify up to 20,000 gallons of the pool.
The package contains an ionizer, a user manual for your reference, copper anodes, a basket, a plastic wing bolt, copper pool testing strips, and a cleaning brush. "You can rely on the product even though it is newly launched."
Pros
Keep your pool water crystal clear.
100% Eco-friendly product.
It reduces chlorine intake by up to 90%.
Cons
It has no cons reported as of now!
Also Read: Best Solar Pool Rings
How to Choose The Best Solar Pool Ionizer in India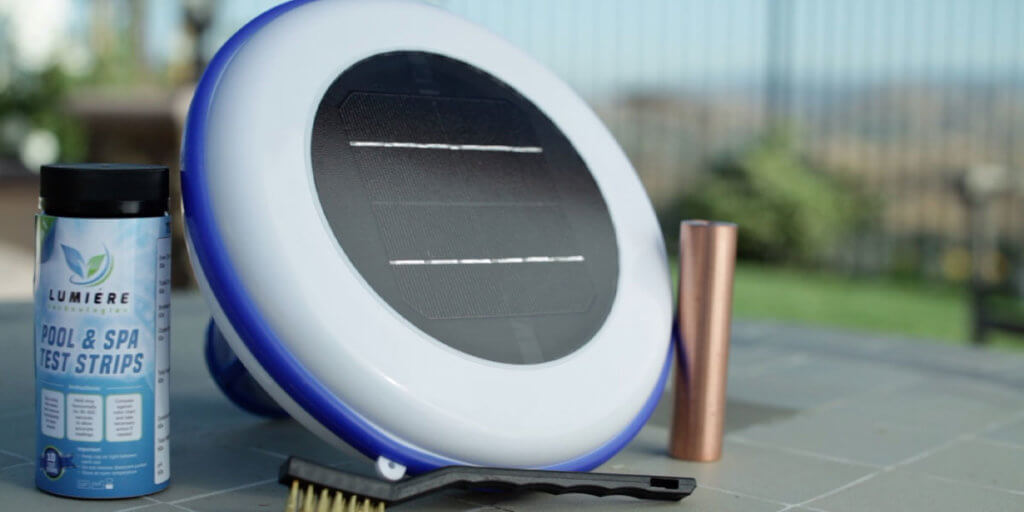 While amongst so many top-notch Solar pool ionizers, you might be finding it difficult to decide how to decide a particular one. So, here we present your some preferences according to which you can choose:
1. Pool Size
It Is most important to consider the pool size while selecting a Solar pool ionizer. All the pools have a certain capacity and so do the ionizers that purify. For instance, if you have a pool of fewer than 10,000 gallons, it is wiser to invest in an ionizer that cleans water up to 10,000 or around. Buying a one with less capacity will not help you get rid of algal growth and microbes while, if you buy the one with a larger capacity, then it might be an unnecessary investment.
2. Types Of Solar Pool Ionizers
Solar pool ionizers are generally of two kinds:
Copper Ionizers: Copper ionizers kill algae particularly. However, it is also known that the copper mineral ions generated help eliminate other microorganisms like bacteria, fungi, and viruses apart from algae.
Silver Ionizers: Silver Ionizers kill and prevent bacteria in the pool. It happens less effectively and requires a longer time than the former one. However, Silver Ionizers are pretty much beneficial than chlorine traditionally added to commercial swimming pools.
3. Solar Pool Ionizer Anode
Copper and silver Ionizers can be used with little amounts of added chlorine or bromine to disinfect your pool water. However, pool ionizers having copper is the most beneficial way to purify and disinfect your water without causing any damage to water pH and thus protecting your skin and eyes.
4. Solar Pool Ionizer Maintenance & Warranty
You are the buyer, and you have to decide whether you want the one with a warranty or not. We, as experts, will recommend you buy one that has a good warranty with it and needs lower maintenance. Since you buy it for your pool, you must get a product that works as specified. Several solar pool ionizers offer a lifetime Replacement Warranty also.
Also Read: Complete Guide To Solar Pool Heater
The Conclusion
Your preferences will decide the best pool ionizer system as per your prerequisites. It is essential to consider your preferences and buying angle from particular aspects that will help you decide. Some of our recommendations are:
Costly but effective: Sunsest Solar ionizer is a bit costly than the other units, but on the same side, it is effective in disinfecting the water.
Least Chlorine Requirement: Josh's Solar Swimming Pool Ionizer cuts down the maximum use of chlorine. It cuts down the chlorine requirement by up to 90%.
Warranty: No More Green Technologies Original Solar Pool Ionizer is preferred from the warranty's perspective. It comes with a lifetime replacement warranty, so you never regret it after buying it.
Pool Capacity: Suntouch Treasures Solar Pool Maid Ionizer is also the best for large pools. It disinfects water of up to 85,000 gallons. It is the most suitable for large-sized pools.
Trustworthy: Remington Pool Ionizer has been the most trustworthy solar pool ionized for a long time. The brand has built trust with its consumers by providing efficient and superior quality services.
According to Solar pool ionizer reviews, Josh's Solar Swimming Pool Ionizer is the best as per customer reviews. It has 5.0/5.0 stars in total. It is not much renowned and tries as the product is newly launched.
FAQs