Best Solar Heater for Inground Pool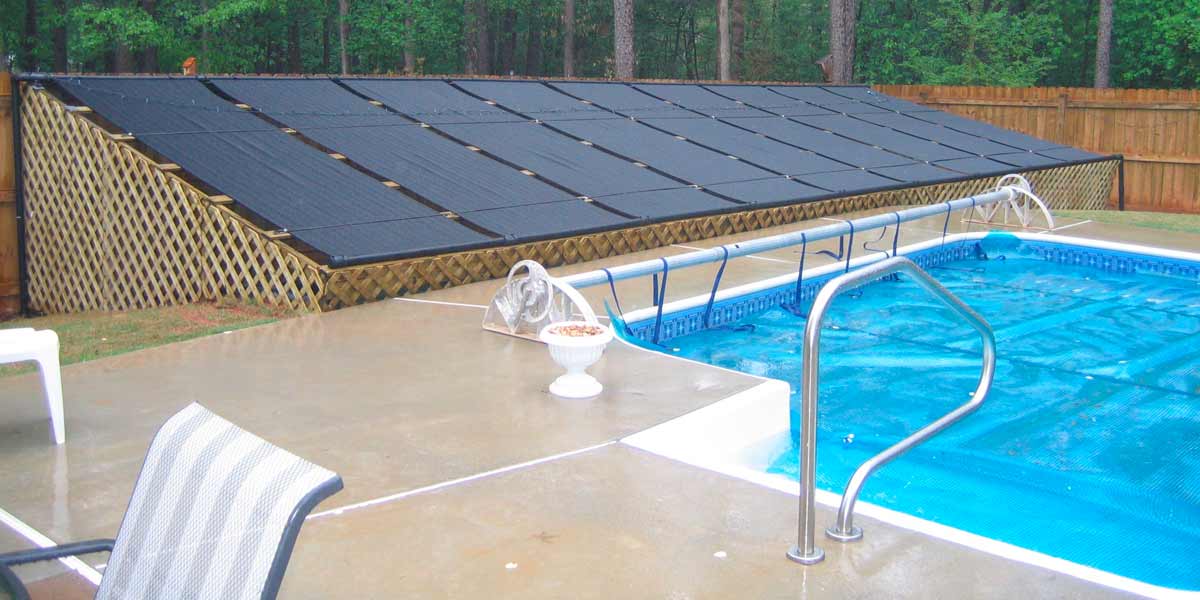 A pleasant swimming session is sometimes all we need to relax and enjoy ourselves. To add to the pleasure, a heating system can be used to keep the temperature of the water balanced at all times. Pool heaters help keep up the fun by preventing the temperatures from getting icy cold and keeping the water cool (or warm if you want), and refreshing at all times.
Solar pool heaters are environmentally friendly and cost-effective compared to other pool heaters. Finding out the best solar heater for your pool can, more often than not, be an excruciating job since the market is flooded with solar pool heaters of all kinds. Here is a list of some of the most sought-after solar pool heaters for inground pools to help you figure out the best one for your pool. However, before you go through this list, we would recommend reading our article "Complete Guide To Solar Pool Heater"to help you a choose a good solar pool heater.
Our Top Picks – Comparison
Best Solar Pool Heaters for Inground Pools
This solar pool heater offers a cost-effective solution for heating your pool to a temperature ranging from six to ten degrees. It is highly effective for inground pools and can be installed either on the ground or the fence. Its meshed cover is suitable for trapping even the smallest debris and ensures a clean and contamination-free swimming pool.
It has a unique patented design that allows it to gain maximum exposure to the sun and offers optimal heat absorption. Its threaded headers provide flexibility when connecting to in-ground pools, and the interlocking channel attaches individual panel sections together, which provides greater flexibility.
The individually fed collector tubes offer superior water flow for easier draining during winterization & reduce back pressure on the pool pump. It is a conveniently engineered simple design and is sufficient for effectively heating your pool.
Pros
Simple DIY installation process
Very lightweight, offers easy mounting
Uses existing pool pumps
Flexible material
Affordable and cost-effective
Cons
Not compatible with large pools
Not very durable
Requires separate installation equipment
This solar heater for inground pools works well and is reliable in all conditions. It has an excellent gradual heating system and can increase the pool temperature by up to five degrees in a few days. It has a unique curvy shape that ensures that it receives maximum exposure to the sun. It also comes with a cover that helps in trapping the heat gained during the day.
It has been designed with adjustable legs that can be moved according to the sun's position. Its curvy panel is made from durable black plastic, which resists continuous exposure to the sun. The threaded ports offer versatile plumbing options, and the ports can be treated to aid in the cleaning process. This solar heater is very flexible and durable and is therefore very efficient.
Pros
Adjustable legs
Panel traps heat
Maximum exposure to the sun
Cons
Legs can be brittle
Won't heat the pool overnight
Hoses are difficult to fit
This rectangular in-ground pool clear solar pool offers a blanket-like coverage, thereby heating your pool faster. It has a comprehensive range and can employ solar heating to raise the pool's temperature by 15 degrees Fahrenheit. Its blanket-like cover is laced with air bubbles that act as an insulating layer and shield your pool from calm winds and the cooling effect.
The solar blanket is laced with innovative cells which ensure that the pool stays warm through all types of weather conditions. It helps reduce evaporation, which, while being environmentally beneficial, also saves our time. Additionally, its blanket is clear (Clear vs Blue Solar Pool Cover), which allows more solar heat to reach the pool's depths, heating it thoroughly.
This solar pool heater also has exceptional durability since it can withstand the deterioration that results from exposure to the ultraviolet rays of the sun and the chemicals of the pool and can thus outlast most other in-ground blankets on the market. It can be a great, cost-effective option for in-ground pools.
Pros
Minimizes heat loss with energy conservation
14-mil, dense construction keeps pool appreciably warmer year-round
Superb durability
Cons
Imperfect fit
Limited warranty and may not cover custom cut job
This system captures the free heating emanating from the sun's rays and effectively raises the pool's temperature. The pool's water is pushed through the panel tubes to be warmed by the sun and is then returned to the pool. Its tube web design allows maximum sun coverage, heating the water quickly.
Its design also offers rigid flexibility with the panels expanding and contracting with the changing temperatures, which prevents the panels from breaking down over the season and helps them last for a long time. It also adds extra durability with the fiberglass over-molded header.
This pool heater uses an existing filtration system and can raise the pool's temperature to around 6- 10 degrees F. It is a universal pool heater that works for both large and small pools. Additional solar panels can also be added in large pools or for faster heating. It has an easy installation process that can accommodate around four panel systems at a time. It is an easy and cost-effective solar pool heater for inground pools.
Pros
Easy to set up
Heats the water quickly
Extends the swimming season
Cons
Not very durable
Susceptible to leaks
It takes time to heat
Also Read: Everything You Need To Know About Solar Powered Pool Pumps
This is a pool blanket composed of a sturdy film of compact bubbles (Solar Pool Cover Bubbles Up or Down?) . These bubbles help collect and retain the heating, thus ensuring a warm pool at all times. The blanket keeps floating on the surface of the pool while the sun acts as its warmer. It offers a comfortable swimming experience while preventing excessive water loss by keeping the thermal cover on during the swimming sessions.
This solar pool heater has no energy wastage since it utilizes the bubbles to transfer thermal energy to the pool. It is available in a wide range of sizes and keeps the pool warm using the sun's rays. It also prevents pool water evaporation by using a solar cover and reduces pricey chlorine decomposition caused due to sun exposure.
It is easy to fit around by fixing along the pool's diameter. There is also no requirement of using any additional pool heating system since this pool heater uses the sun's light by pumping heat in the pool utilizing each bubble.
Pros
Dense and lightweight for easier pulling
Minimal water evaporation
It can be trimmed to fit
Cons
Can't prevent the material from slipping into the pool through the sides
Comes off easily
Expensive
These inground pool heaters are the perfect choice for anyone looking for excellent heating options. It is made using pre compounded polypropylene which increases resistance to the U.V. rays of the sun and thus improves its service life. It has an elaborate manufacturing process that eliminates all the quality issues present from before.
It is manufactured using high-grade materials, making it highly efficient, making it last in all types of weather, and withstanding harsh or extreme conditions. Each panel is ensured to be free from any and all kinds of manufacturing defects and is put up against more than 40 quality control inspections before it is turned out as the final product.
It can withstand the freezing weather and will not be affected by corrosion or scale deposits on its walls. It is constructed in a tube-and-web design that allows the expansion and contraction as the panel heats up and cools down, extending its service life. Due to its high quality, it keeps on working for an extended period.
Pros
Works extremely well
Reliability and longevity
Premium quality
Cons
Needs high temperature
Limited effectiveness
This rectangle solar pool cover is made using vinyl resin which protects it from U.V. rays and prevents decay and fading from the effects of the sun. It can also be used with a pool heater to make it more energy-efficient. Its rectangular shape offers thousands of tiny air pockets that capture the sun's rays and convert its energy to provide heat to the pool. The thick cover makes the pool even more comfortable and retains its warmth even during nighttime.
It has an easy installation process that requires cutting the cover according to the dimensions of the pool. It also helps in keeping the pool clean by keeping the debris out. It has an aluminized bottom to boost the heat transfer from the sun's rays to the pool water.
Its black underside reduces the pool water's evaporation and prevents chemical loss. It is around 12 mil thick and can raise the temperature of the pool up to 15 degrees. The thickness of its cover serves to insulate the pool and keep the water warm. The resin construction and reinforced seams increase the solar blanket's durability and make it long-lasting. It offers an excellent and cost-effective way to keep the pool warm using the energy from the sun.
Pros
Works on its own
Economical and environment friendly
Keeps heat in reasonably well
Cons
Bubbles are difficult to clean and come off easily
It takes time to raise the temperature
Heavy
This solar pool heater has excellent efficiency and can keep your pool warm using its unique solar collectors. It has a direct flow system and can keep the pool warm for a long time using the polypropylene heat collector. By utilizing the option of a solar blanket, it can easily retain more heat and deflect the cool winds.
The heater has multiple tubes which receive water flowing from the actual pump. It has a header hole for each heating tube. The patented web-designed panels ensure maximum exposure to the rays of the sun. It is made using tough and lightweight polypropylene material, making it resistant to corrosion or scaling.
It boasts various pool accessories which are perfect for any inground pool. It does an excellent job at heating by raising temperatures by more than 10 degrees. It can be placed anywhere on the ground or mounted on the proof. Its direct flow system ensures easy connection, and its connectors are also compatible with all types of models.
Pros
Lightweight
Uses existing pool pump
Compatible connectors
Cons
It requires an additional installation kit
Not very easy to install
Vulnerable to leaks
The XtremepowerUS Inground Swimming Pool Solar Panel Heating System can be one of the best picks because it is easy to install and can be installed easily on the roof. It is built using high-powered materials and can last in all weather conditions. The pool pumps the water, and the filter system circulates it through the solar panels, and after being heated, it is returned to the pool.
The quantity of the solar panels is dependent on the size of the pool and location. The construction of this solar heater is amazing, which makes it lightweight and flexible. Usually, it can raise the temperatures of the pool by 10 degrees, but it depends on the amount of sun exposure it gets in a day.
This product uses propylene, and its panels are lightweight and flexible. It is very cost-effective and requires low maintenance. Its panel tube construction provides a large surface area and optimizes the heat transfer from the sun to the pool. A diverter kit is necessary to keep the heater from being destroyed. It rolls up like a yoga mat and is thus simple to roll up and store. It gives extensive storage options.
Pros
Releases no greenhouse gas
Low maintenance
Low cost
Cons
The heater can break down easily
Not suitable in extreme weather situations
Also Read: Top 10 Best Solar Pool Ionizer in 2022
How To Choose The Best Solar Heater For Inground Pool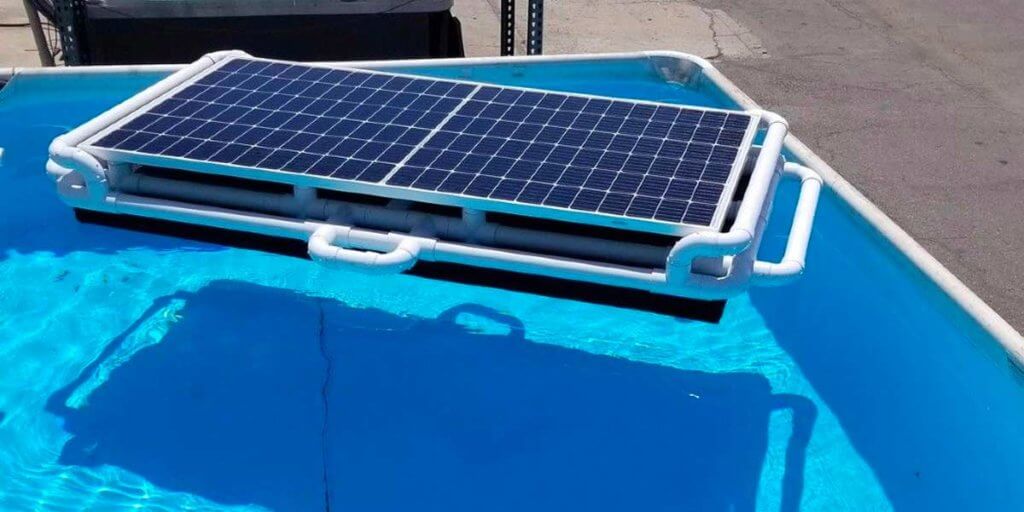 Choosing just the right solar heater for your inground pool can be a rather challenging and complex task. Certain things need to be looked into before setting your mind onto a particular solar heater. Determining these things will help you choose the solar heater according to your needs.
1. Solar Pool Heater Dimension And Size
When it comes to choosing the size of the solar pool cover, it should be approximated according to the dimensions of the pool. Since many covers can be trimmed to size to be shaped according to the dimensions of the pool, buying a larger size is better so it can be cut later.
In the case of large pools, multiple solar panels will also be required, increasing the space needed for installation. Generally, for solar panel installations, the solar cover should equal 50% – 100% of the pool's surface area, which is sufficient for keeping the pool well heated.
2. Solar Heater Type
There are usually two types of solar heaters:
Flat Plate Collectors (FPC) are being used since the 1900s and are a time-tested technology. It consists of an insulated metallic box that is insulated and weatherproofed and contains a dark absorber plate under cover of the toughened glass. The absorber plate made of copper is coated with a selective coating which increases the absorption of solar energy. Vertical riser tubes are attached to the absorber that carries the water to be heated.
Evacuated Tube Collector (ETC) is a relatively new technology and entered the market in the 1970s. It contains two black tubes inside a glazed, insulated box. Each tube further contains an outer glass tube and metal absorber tube, which is attached to a fin. The coating on the fin absorbs solar energy and prevents radiative heat loss. This type is used more frequently in commercial applications.
If Flat panel collectors are damaged, they will continue to function and can be repaired, or at times the entire flat-panel must be replaced. On the other hand, Evacuated tubes are sealed with a vacuum, which gives them their high heat retention properties, and without this vacuum, an evacuated tube collector performs very poorly. If a tube loses its vacuum, it is generally very easy to correct and can be done quickly by simply replacing the tube.
For customers who need boiling water, evacuated tube collectors will be a better option as they raise the temperatures up to 200 F as compared to the Flat panel collectors who raise it to around 130-140 F. Evacuated tubes also perform better in cases of very cold and cloudier situations whereas the flat plane collectors won't work there.
3. Solar Pool Heater Strength And Efficiency
Determining the heating strength is crucial before choosing the right pool heater. This can be established by checking how much time it can heat a certain pool's square footage. Everyone's heating needs are different, and thus you should go with a heater that heats up to your desired temperature and can be installed the way you want.
The efficiency of the solar pool heating system can be measured through its thermal performance rating. The efficiency of the solar heater also depends on how well it heats and at what time. The long-lasting and durable materials are what make the solar heater more efficient. The design of the heater is also a factor in determining its efficiency. The patented design that comes with a panel design of the web helps retain more heat and is thus more efficient.
4. Climate Requirements For Solar Pool Heater
The climate requirements usually depend on the amount of sun exposure that will be available. Certain solar heaters require constant sun exposure, while others require less exposure to the sun and get destroyed on excessive exposure to the sun.
Such things need to be determined before opting for a particular solar heater and adjusted according to the location and the amount of sun exposure. Usually, it's essential to make sure that the installation options allow you to take full advantage of the positions of the sun.
5. Durability And Warranty Of Solar Pool Heater
It is essential to establish the durability and warranty of the solar heater to get the complete services for the money paid. Solar pool heaters often tend to have a short lifespan because of the constant exposure to the sun and its intense heat. When choosing the solar pool heater, it is best to select the ones with U.V. protection and design features that help them last longer and handle extreme weather conditions.
Considering the warranty is also essential since the water comes with a lot of pressure, resulting in malfunctions. Hence the heater is more liable to break, so you should know the warranty with which it comes. It's always safer to be well versed with such technicalities of the system.
6. Installation And After Sales Service Of Solar Pool Heater
The installation process of a solar pool heater involves several factors such as solar resources, climate, safety issues, and others. While the installation processes are simple and can be done easily, it is still advisable to do it by a qualified contractor or professional. A professional will help you choose and install the correct solar pool heater according to your needs.
After the installation process, proper maintenance requirements should be met since it will help run the heater smoothly for 10 to 20 years. The solar collector requires little maintenance, and only the filtration system and chemical balance need to be looked into. Other parts, such as collectors, may also need proper cleaning.
Also Read: Best Solar Pool Rings
Conclusion
A solar pool heater for inground pools is a cost-effective and good investment since it is an environmentally friendly and energy-efficient way of heating the pool. It is a highly efficient way of utilizing solar energy and increases the use of a swimming pool during different seasons.