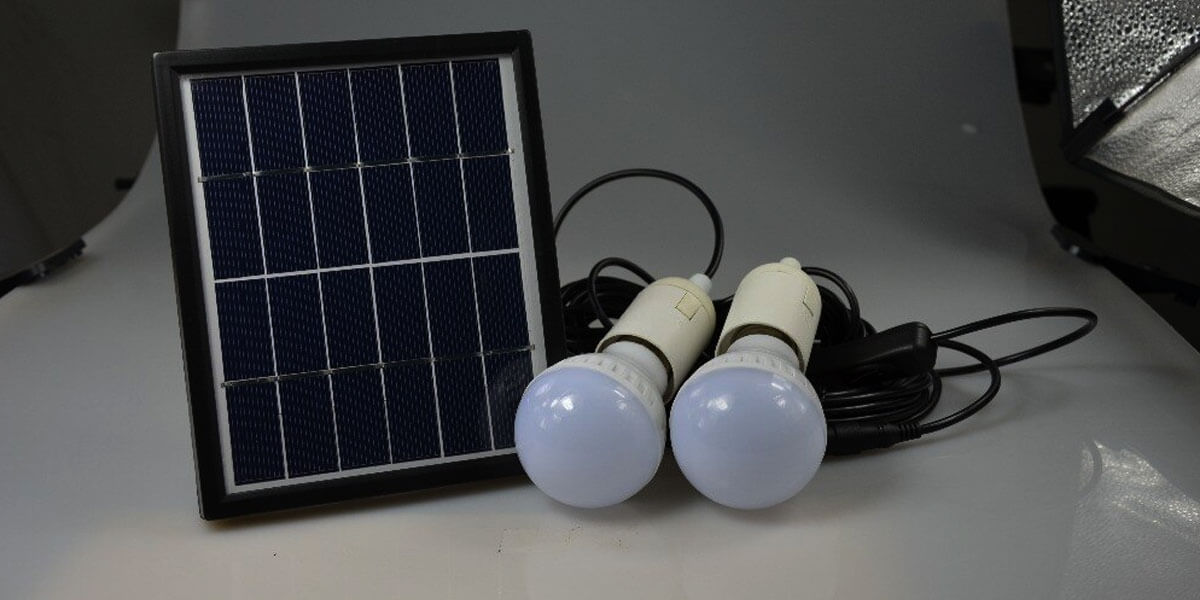 In our previous articles, we have covered many solar outdoor lights such as the solar tree uplights and the solar gutter lights, but what about Indoor solar lights?
Lighting is one of the most important aspects to consider when building a desirable home, this is something that people forget when they are rushing after tables, chairs, cushions, couch, fans etc. The lights are the most critical thing that can make your house stand out.
Indoor lighting is an excellent way of lighting up the area. And if you are looking for an efficient way of lighting up your house, then indoor solar lights are a great solution. These lights are easy to install and provide a highly cost-effective solution that will give light for several hours. These indoor solar lights fit perfectly in your hall, shed, or garage and require no batteries or fuel to keep running indoors and outdoors.
However, buying the best products can be challenging. At times, we often end up buying products that aren't worthy of our hard-earned money. If you are one of them, we have you covered.
In this article, we will be listing some of the best indoor solar lights you can buy, along with their detailed specifications. Also, this article will walk you through all the parameters that you must consider before buying indoor solar lights.
What Are Indoor Solar Lights?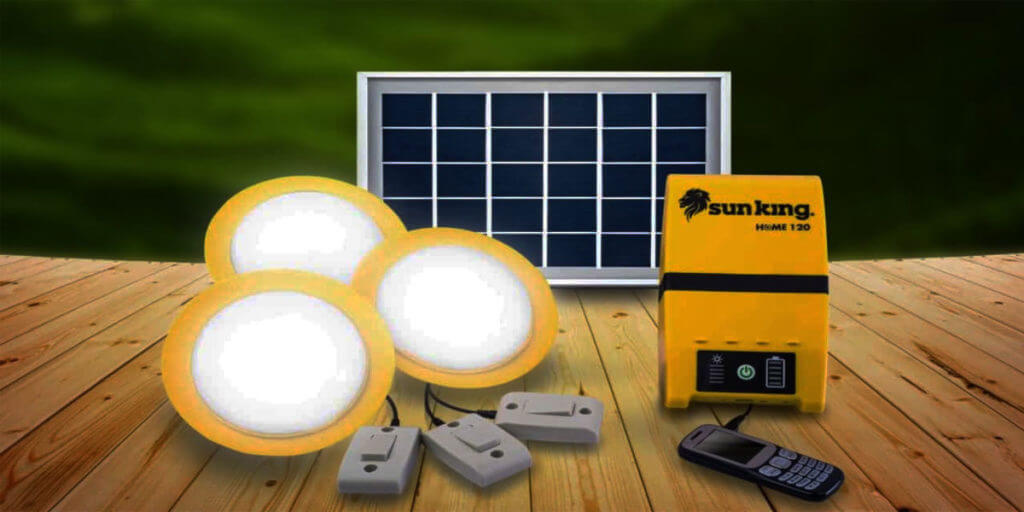 We have all heard of LEDs that offer a seamless experience. However, not many are familiar with indoor solar lights. Before we move forward, you must know what indoor solar lights are and how they work.
In simpler words, indoor solar lights is a pre-made system comprising of a small solar panel that is attached to one or more LEDs. These LED lightbulbs have integrated battery as all the electricity.
To use the solar light, the only thing required is to install a solar panel right next to the window to keep the battery charged to ensure that the solar light goes on all night long.
As the name suggests, these lights harness the power of the sun to deliver an efficient and long-lasting glow into your homes without adding to your utility bills. Since they depend on the sun, these solar lights are a great solution during power outages and work great when installed in low-light areas.
How Does An Indoor Solar Light Work?
As we mentioned above, solar lights harness the power of the sun to provide light. They convert solar energy into electricity using solar kits or panels responsible for producing power for your indoor solar light. These solar panels must be installed in areas with maximum exposure to sunlight, such as your roof or outside the window. The more exposure to sunlight, the higher the brightness and runtime of these indoor solar lights will be.
These indoor solar lights consist of batteries to store solar energy throughout the day. These lights then utilize the stored energy to keep your house lit at night. These indoor solar lights are a great fit if you wish to install them in your shed, garage, porch, coop (chicken coop), camping tent, or even in a dark backyard.
Our Top Picks – Comparison
7 Best Solar Lights
This article covers 7 of the best indoor solar lights you can install in your house with great ease.
The KK BOL Solar Portable LED Light Bulb is an excellent alternative to your standard light bulb. It features dual-charging options (AC and DC), meaning you can charge it using the solar panel and the USB port.
The KK.BOL Solar Lamp Portable LED Light Bulb is equipped with a lithium-ion battery and is designed to last longer and offers a service time of up to 5000 hours.
Though small in size, these bulbs are 150 lumens and perfect to be installed in sheds, garages, or other low-light areas.
It takes around 5 hours to be fully charged and can run for 7 hours under one complete charge. It comes with a sturdy waterproof solar panel made up of a high-quality casing that protects it from damage and denting. The solar panel can fully charge the battery under adequate sunlight.
Pros
Dual Charge Option
Portable
Lightweight
Also Read: Best Solar Flashlight To Buy Online
The Flyhoom Solar Powered Light bulbs are fitted with two different types of hooked lids that allow them to be installed in any environment.
This one comes equipped with 4 different modes, high/medium/low/SOS that offers a brightness of 180lm/100lm / 40 lm / 100 lm and has a run time of 6H / 10H / 15H / 6H respectively.
The Flyhoom Solar Powered Light Bulbs are designed to work under any weather conditions and can be installed in the shed, garage, chicken coops, and even indoors.
They come with an auto-off timer and are known for ensuring long-lasting performance. It comes equipped with a 1200 mAH lithium-ion battery and has features designed for easy portability and suspension, allowing you to hand it wherever you want. This efficient design comprises of 3 pcs solar panel, a 1200 lithium-ion battery, and 16 pcs LED beads with 420 lumens.
The Emergency Lighting feature will turn on the bulb automatically whenever the power is cut to the bulb. Similar to the KK Bol, the Flyhoom Solar also has a dual-charing mode (AC and DC), allowing you to charge it under direct sunlight and by home electricity.
Pros
Dual Charge Option
Portable
Lightweight
Cons
Not Waterproof
Expensive
The Kyson Solar Powered LED shed light is the perfect blend of efficiency, style, and elegance that significantly adds to your room's overall décor your room.
It comes with a remote control that allows you to easily control the light from up to 5 m of range with a pull cord for easy use.
The lightweight design allows for easy installation without needing any tools whatsoever. The LED wall light is ideal for lighting up your outdoor space, shed, garage, chicken coop, and low-light areas.
The solar panel comprises a high-quality light casing made of stainless steel with a plastic shade. Though the Kyson Solar Powered LED shed light is small in size, they provide the optimum illumination and is packed with versatile features. It comes with a 400 mAH battery that lasts between 8-10 hours on a single charge.
Pros
User-Friendly
Portable
Simple Design
Cons
Short Pull-Cord
Not For Large Sheds
Over the years, Kyson has proven itself to be one of the significant players in manufacturing solar lights.
Throwback lighting infused with modern technology has been the highlight of Kyson all these years. With Kyson, you get both traditional solar lighting as well as the old-light feeling.
This indoor solar barn light features an industrial design and comes equipped with the classic Edison light bulb that creates the perfect atmosphere of days gone by.
The replaceable E27 Edison Light Bulb provides just enough light to illuminate dark areas.
The Kyson Indoor Solar Barn Light is equipped with an external solar panel on a 3m lead cable followed by remote control up to 5m range and pull cord for easy use. Kyson's solar-powered LED indoor barn light is perfect for lighting up dark areas for additional security.
It can also be used indoors for extra lighting if deem necessary. The solar panels are made up of heavy-duty ABS plastic and polysilicon that offers the utmost protection from rust, dust, and harsh climate. The 3.7 V 2000 mAH battery provides up to 16 hours of lighting in one charge.
Pros
Easy-Installation
Remote Control
Durable
Also Read: Best Solar Atomic Watch
The new design emergency power supply helps your keep the lights on during natural calamities and weather extremities.
This is a completely off-grid power system that allows you to combine charging and lighting with anti-reflective and high-transparency solar panels.
The GVSHINE Solar Panel Lighting Kit comes with a single 14V 40W flexible solar panel, one DC solar system, two 2W LEDs, and 2 iOS and Android charging adapters respectively.
Also, the multiple outlets allow for several LED bulbs to operate simultaneously. The 5 V 2A output serves as a universal charging port with which you can charge your cellphone, power banks, fans, and so on.
This lightweight design can be installed indoors and outdoors in your patio, backyard, garden, shed, coops, garages, and so on.
Pros
Multi-Purpose
Highly Waterproof
Ideal For Emergencies
The Roxy-G2 Solar Outdoor/Indoor Lighting Kit has advance dimmerable functions with 150 lumen light output. The ROXY- G2 are explicitly designed to provide high-intensity lighting in low-light areas with their capability of delivering a 150 lumens fixture.
It also comes equipped with a built-in darkness sensor that adjusts automatically to the surrounding light.
The Roxy-G2 Solar Outdoor/Indoor Lighting Kit is ideal to be installed indoors, garages, sheds, cabins, porch, backyards, patio, and so on.
The 3 level brightness helps meet all your lighting needs. The Roxy-G2 Solar Outdoor/Indoor Lighting Kit comes with a 2400 mAH lithium battery, 9 pcs high powered LED. The textured solar lens allows for optimum brightness, minimum light, and enhanced light projection.
The aluminium PV frame solar panel allows for the solar panel to be mounted in places with maximum sunlight exposure. The solar panels are made up of high-quality ABS plastic and light casing that protects against environmental damage and denting.
Pros
Photo-Sensor For Auto On/Off Function
3 Levels Of Brightness
PV Solar Frame
Cons
Requires Bracket Installation
The Greenlight Planet Home 120 Solar Lighting System is perfect for both your indoors and outdoors needs. They are an excellent alternative for other off-grid solutions to be cumbersome with.
The included control box can be used to charge other devices such as your cellphones, digital electronics,  power banks, and many other such devices.
Every light contains a separate switch to control every light. This durable and rugged solar lighting kit can withstand any weather.
The  Greenlight Planet Home 120 Solar Lighting System can run for up to 24 hours in a single charge.
With a 200 Lumen each, you get a good 600 lumens for the three lamps combined. This makes it perfect to be installed indoors and in sheds, garages, coops, backyards, gardens, and so on.
The dual-charging options let you charge this under direct sunlight and also by plugging it into the nearest wall socket. The Greenlight Planet Home is destined to run for over 16 hours with 4 hours of charging under direct sunlight.
Pros
Separate Switches For Each Lamp
Control Box
Dual Charge Options
Also Read: Best Solar Powered Televisions
What To Look For When Buying Indoor Solar Lights?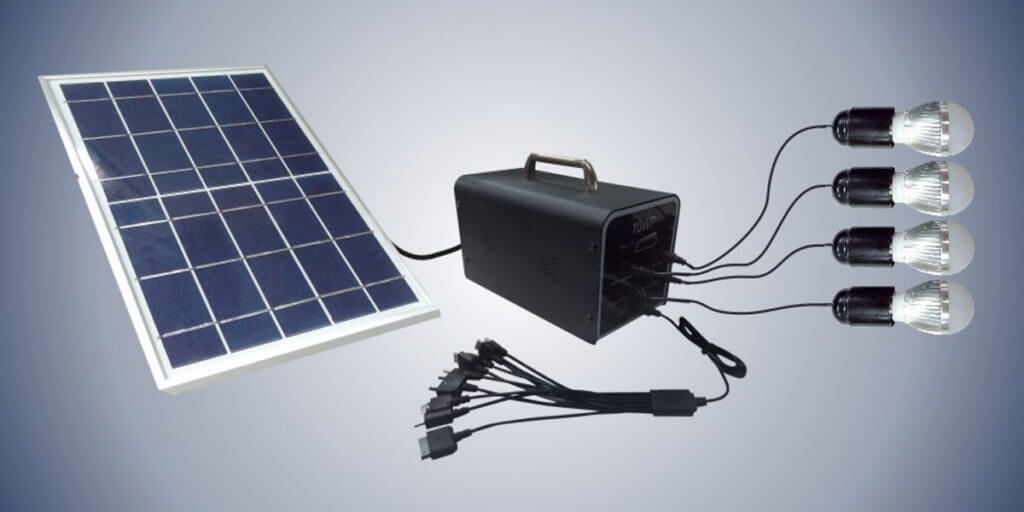 In this buying guide, we will walk you through the different parameters to consider before buying indoor solar lights.
1. Lumens
Lumens is a measure of how bright the light glows. Lumens generally range from 1 to 10 in case of ambient lighting and tend to go over 1500 if you are looking for flood lights. On average, most of the lights mentioned above are 150 lumens that are equal to a flashlight or a headlamp.
When buying an indoor solar light, always estimate the lumen count and check for yourself if the light is bright enough as per the lumen count.
2. Solar Panel
Some of the solar lights come inclusive of solar panels. However, the majority of the times, these solar panels will be sold separately as portable solar panels. Check to see if these solar panels can be easily installed outside your window or in a place with maximum sunlight.
Also, check to see if these solar panels can be removed from one place and reinstalled again in another. Always select a solar forum that comes with a high-quality casing/coating and has weather-resistant and anti-scratch properties.
3. Run Time
The Run Time refers to how long the solar light will last before the battery needs to be charged. These solar lights come in different battery sizes. An average solar light has an active run time of 6-7 hours. However, the run time depends on the battery size as well as the brightness of the morning.
If you plan to use the light for just a few minutes every day, you can buy any one of the solar lights we mentioned above. But if you plan on using a solar night throughout the night, you'll need to purchase one with longer battery life.
4. Charge Time
On average, indoor solar lights require around 7-8 hours of charging to charge completely. However, some solar lights tend to have significant battery life and could take more than 10 hours to be fully charged. So, always select your indoor solar light based on how much you plan to use it.
5. Durability
You need your indoor solar light to be last for years. Since there no wiring electricity needed, these solar lights are highly durable. On a single charge, these units can provide light for up to 16 hours. The overall build is highly durable and safe to use.
Always check to see the comprehensive warranty that comes with your chosen unit. Also, ensure that you buy only those lights that are made up of high-quality materials that aren't easily damaged on dented. The more durable your indoor solar lights, the more money they will save you down the line.
Also Read: Best Solar Gate Openers
The Bottom Line
We hope our article was able to walk you through everything concerning indoor solar lights. The buying guide will give you a clearer idea of exactly what you should look for buying indoor solar lights. Indoor solar lights offer excellent lighting and convenience since they are straightforward to install. Though they may be slightly dimmer than regular lights, they provide the perfect lighting in dark places.
Indoor solar lights are a cost-efficient way of saving money on utility bills. At the same time, these are excellent in working as a backup power source during power outages. In our article, we have reviewed some of the top-selling products worldwide and which are rated highly by customers worldwide.