Best Solar Deck Lights To Buy In 2023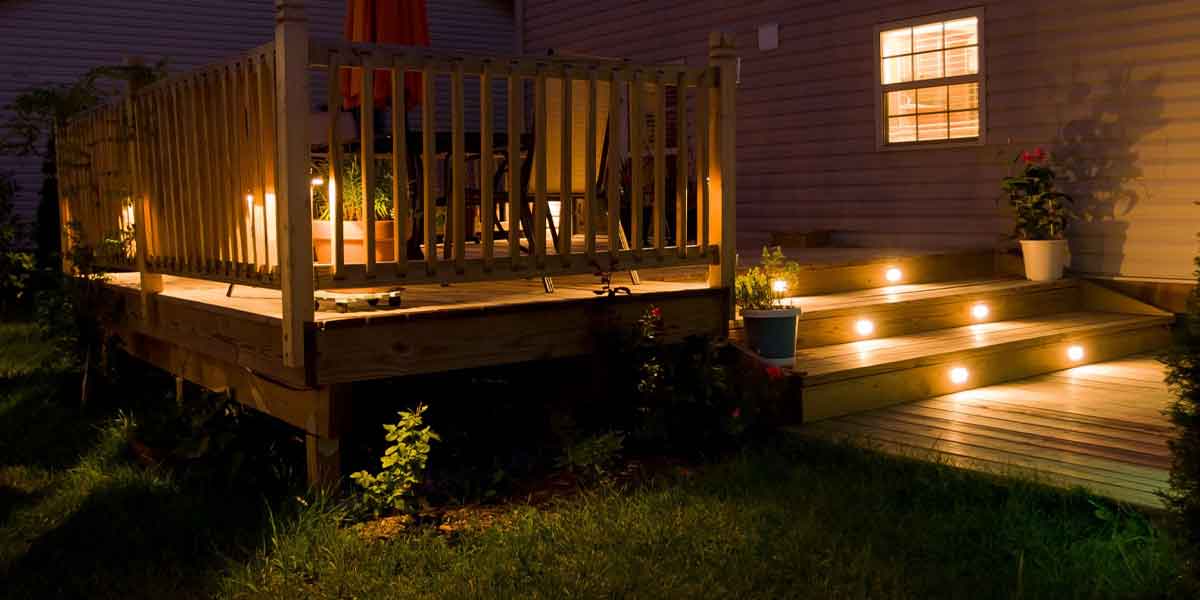 A few decades back, the only possible way to enjoy the final hours of the day was to sit in the darkness or get blinded by the dazzling floodlight. When you are trying to make a romantic ambience out of your late hours, both of these can be tremendous moodkill.
Fortunately, those days are far gone; now, you can get outdoor solar deck lights to keep your home and outdoors cozy and ambient.
How do solar powered LED deck lights work, and what are the parameters to judge them by? In this article, we will go into that and many more such questions. But first, let's look at the 10 best solar deck lights in the market that you can get your hands on.
Our Top Picks – Comparison
Bottom Line
Pros
Cons
Spec
Best Solar Deck light 2023
1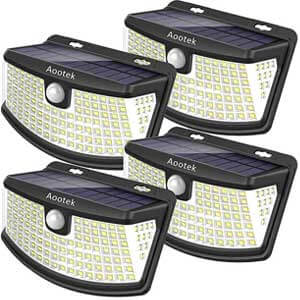 Check Prices
The body being made from high-impact ABS plastic with the panels sporting high efficiency monocrystalline silicon, this one's a combination of durability and top-tier performance.
✅
High quality certified by FCC, CE, RoHS, MSDS, UN38.3, etc
✅
Very practical design
❌
Weather might take a toll on the appliance.
Unit LED : 4
Solar Panel Type : Monocrystalline Silicon
Intensity Settings : 2
Working time : 12 hours on 'Low Light' & 6 hours on 'High Light'
Waterproof : Yes
Best for Small Plants
2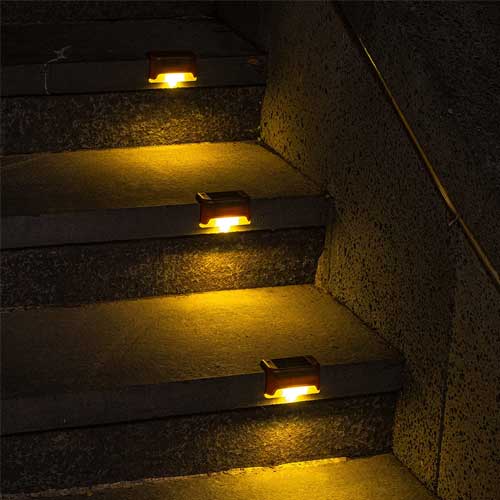 Check Prices
Designed to penetrated soft soil and illuminate vertically upwards, these may not be the best solar spotlights for trees but they still go a terrific job if you have an area in your garden with small plants and bushes and shrubs.
✅
These solar lights are suitable for small gardens.
✅
Bright output for their small size
❌
Light output is inconsistent.
Unit LED : 8
Solar Panel Type : Monocrystalline Silicon
Intensity Settings : 1
Working time : 10 hours
Waterproof : Yes
Must consider
3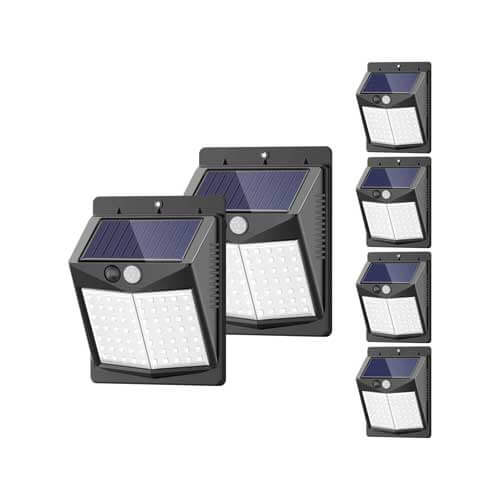 Check Prices
What I like most about this design is the fact that both, the solar and panel and the bulbs are separately adjustable. The solar panels can be adjusted up to 180° for optimal sun exposure and the bulb to 90° for desired illumination angle.
✅
IP64 waterproof rating, resilient to outdoor conditions
✅
High efficiency monocrystalline silicon panels
❌
The low setting is very dull in brightness.
Unit LED : 4
Solar Panel Type : Monocrystalline Silicon
Intensity Settings : 2
Working time : 6 – 9 hours
Waterproof : Yes
The Best Solar Deck Lights of 2023
I highly recommend the motion-activated lights by Aootek. These contain LED lights and a huge 15.3-inch top-quality solar panel for seamless and effortless energy charging.
These solar deck lighting options offer 3 lighting modes- a security light for everytime the motion sensor detects anyone walking past (it turns off automatically once the person leaves), one bulb emitting luminosity overnight, and lastly, one smart brightness control that stays on throughout the night and becomes brighter once it detects someone.
Pros
IP65 waterproof rated

12 hours running time

Extreme brightness

Extra security motion sensor
With a heat proof and waterproof IP65 body, these solar panel deck lights are terrific for multipurpose uses. Its installation is straightforward and it serves both aesthetic and security purposes.
The Solpex solar lights for decks have new and updated designs with a color-changing cycle to throw in some pizzazz to the outdoor deck area.
Now you can create a party ambiance by simply placing them on your patio, porch, lawn, or wherever you like!
Pros
Easy to install

Waterproof

Made of hard ABS shell 
Its automatic operation is extremely handy- all you have to do is pull the insulator tab out to start using it. On sunny days, keep it under direct sunlight and let it charge fully in just 4 to 5 hours. It will automatically turn on after dusk and turn off during dawn, so you can afford to forget about switching them on or off!
Made of a tough and durable ABS shell, the solar panels of these outdoor solar deck lights are weather resistant and structured to withstand wind, rain, and mild snow. They are easy to install – you can install each solar deck light anywhere, just remember to keep them secured with screws.
Yet another 2200mAh solar powered LED deck light, these have a running time of no less than 10 hours, and even then they don't give up their brightness.
With IP65 water + weatherproof materials which can withstand extreme weather and light hits, their high lumens along with the high running time and water protection make these lamps a great fit for outdoor solar deck lights.
Pros
IP65 waterproof rated

10 hours of running time

2200mAh rechargeable lithium battery
The additional security motion sensor makes the whole experience complete and takes out the most value out of the solar lights. Unfortunately, this doesn't have a warranty apart from the mere 30 day return policy.
The bright white solar deck lights on the OTHWAY product are quite the eye candy. Although they have a fairly high brightness level, they will not harm your eye.
Unfortunately, they come with a mediocre 600mAh battery only, which decreases its running time to only 4 to 8 hours. Thus, it might not be the most suitable for any low sunlight area.
Pros
IP65 waterproof rated

Year-long warranty

Extra security motion sensor
Cons
Low capacity,  not suitable for low sunlight cities
Nonetheless, they are fully charged in 6 hours only, and of course their brightness is very high. Their added security motion sensor along with the extra 1-year warranty are the main components that compensate for the average running time.
These solar powered LED deck lights have 100 LED beads to offer the most ambient brightness. They can meet both your lighting and security needs.
You can have them mounted on an outdoor wall or the backyard, frontdoor, garden fence, pathway, stairs, and more.
With these small solar deck lights, your safety is guaranteed 24/7, especially due to the built-in sensor, PIR monitor in night time, motion detection in a 125 degree range and up to a distance of 10 to 16 feet, and similar security features.
Pros
Wireless motion sensor light

2000 lumens bright

IP65 waterproof rated
These solar lights for decks are IP65 waterproof and durable, having been made of high-strength ABS material. They are waterproof, heat proof, dustproof, frostproof, and in general, durable enough to withstand extreme weather and still last for years.
It also has easy installation with no wires or adapters. Simply screw them in (included) or use a 3M adhesive tape (not included) and you are good to go for the next 12 hours!
These deck lights make for stunning lawn and front or backyard decorations. They are available in a pack of 6 so spread them around and let them light up your whole decking area.
You will see 2 lighting modes- warm white light and RGB functionality (changes color). They turn on automatically and stay on all night till sunrise, so no more worries about manually switching them off.
Pros
3 light modes

IP65 weatherproof rating
Cons
The quality of white light is sometimes inconsistent
These also have an IP65 waterproof + weather-resistance rating, so be sure of their long-lasting nature. Their highly efficient solar panels work without electricity and take in the sun's rays to charge themselves. The panels have a battery life of 8 to 10 hours and they can convert up to 19.5% of the rays to utilize for energy, promising a long standby time.
Want the best premium solar lights for decks? I recommend these solar panel deck lights from Greluna. Its stylish design looks great in yards and the added IP65 waterproof rating promises that it will last long, regardless of the weather.
The upgraded LED lights let you choose from 2 different modes- warm white light or RGB (color changing with 7 different colors).
The former is great for everyday use while the color-changing is suitable for parties or backyard festivities.
Pros
2 light modes

Weather Resistant

Rechargeable lithium-ion batteries
Cons
The quality of white light is sometimes inconsistent
They come with a generous solar panel that can charge the battery for 8 to 10 hours of use. These come in a pack of 8 and have an automatic operation for your convenience.
The batteries will fully recharge in 6 hours. These are constructed with high-quality ABS materials, so they are both strong and durable. Extremely easy to use, simply leave them in direct sunlight to absorb the solar rays and charge themselves up.
They are perfect for a wide range of places to inject color into your yard. The lights are also versatile- put them on fences, walls, front and backyards, decking areas, and many other places.
JSOT is an Amazon retailer for outdoor solar deck lights technology, committed to leaving a positive impact on the environment. Their solar powered LED deck lights are available in packs of 6 or 12.
Their most prominent feature is their stainless-steel structures which can be comparatively more resistant to temperature changes or corrosion.
The design is modern yet extremely durable, making them suited to modern households and accompanying decks.
Pros
Stainless steel design

Silicone solar panel case gives added waterproofing.

 Resistant to corrosion and temperature changes
Cons
Tiny screw heads – fragile and susceptible to breaking during installation.
The solar deck lighting is water and weather-resistant, with an IP44 rating. The accompanying solar panels are covered in waterproof silicone cases, adding some extra protection against water submersion. They come with 2 mounting options- install them with the included screws or use a strong-hold double-sided tape (not included) for surfaces which can't accommodate screws.
The best solar deck lights must be effective and extremely easy to use, and these solar powered LED deck lights from VOLISUN offer just that.
These eco-friendly solar panels utilize the sun to recharge in the daytime to operate well when dusk falls.
Pros
Each one provides bright lighting for illuminating dark areas

IP67 waterproof rating

Built-in large battery capacity
Each of the solar lights has 6 LED lights providing a warm ambient glow for instant illumination. The lights feature an integrated 600mAh battery. One solar charge takes 6 to 8 hours in direct sunlight. They have an IP67 waterproof rating, so you don't need to worry about them being ruined by rain or wind. The metal frame is premium quality, super strong, and durable.
The installation of these solar deck lighting options is quick and easy. Install them anywhere, as long as they are exposed to sunlight. There is no need for wires and there will be zero electricity bills to fret about.
The package includes screws to fix them whenever you want. Approved by the FCC, they have a net weight of just 0.65 pounds, making them ultra-lightweight and very easy to handle.
If you are looking for the most durable lights on the market, these Siedinlar outdoor solar deck lights are your go-to product.
They can even be run over by a car or a truck and they still won't break, being resistant to pressure up to 20 tons. Siedinlar offers the highest water + weatherproof materials rated IP68.
Pros
1 Year warranty

Up to 15 hours of running time.

Resistance to pressure (up to 20 tons) 
Cons
No security motion sensor
With 15 hours of high brightness runtime for only 6 hours of recharging, they excel with their materials, panels, and batteries. The 1-year warranty makes them a catch. They are durable and stylish, but note that they don't come with a security motion sensor.
Buying the Best Solar Powered Deck Lights – A Comprehensive Guide
What are the Benefits of Installing Solar Deck Lights?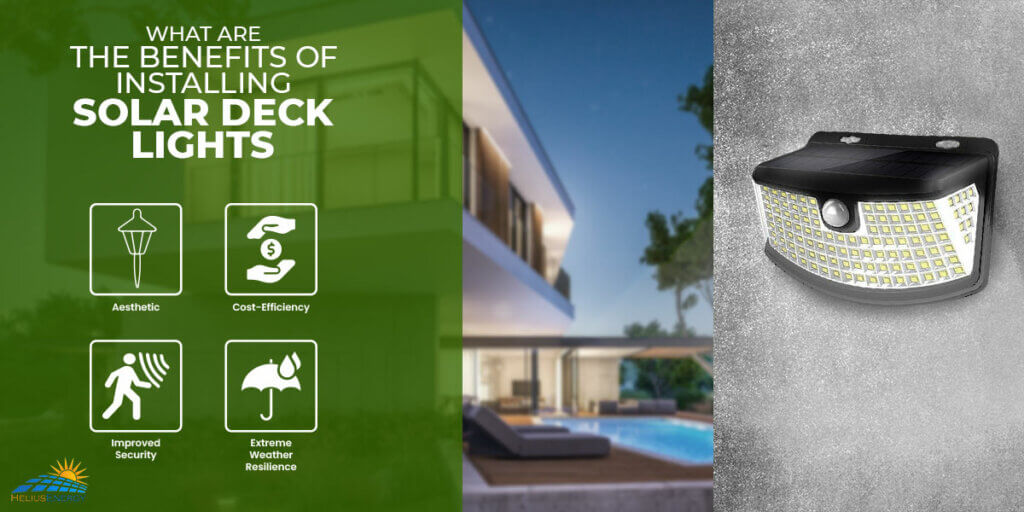 1. Aesthetics
While outdoor solar deck lights are mostly meant to keep your outdoors well lit, and preferably with security concerns taken care of, through motion sensors, there is one important aspect that must make the cut when you are buying solar powered LED deck lights.
Your lights must look great in the outdoor area. Aesthetics is essential to the purchase of any decorative item, and this is no different. Make sure the lights you finally decide on are aesthetically up to your taste and liking.
2. Cost-Efficiency
Solar lights for decorating decks are a great investment- not only do you get free light at night, along with the aesthetics, but you only pay once for all benefits. Let the hefty electricity bills be a thing of the past, for solar powered deck lights don't need any payment once it's bought.
3. Improved Security
Not only do you get to decorate your house in a more stylish way, but with these outdoor solar deck lights, you also get added security. They come with motion sensors to detect any movement outside your home. When they sense motion, they turn on automatically, scaring off whoever trespasses.
4. Extreme Weather Resilience
Since the solar lights will be outside, high weather resistance is crucial for it to cope with wind, rain, and other weather conditions. Weatherproof solar lights also mean the solar panel will be protected.
When the panel gets wet, the brightness levels are affected and you will not get the most out of the purchase. Therefore, waterproofing is essential to prevent short-circuits of its electrical components. Heat resistance is also important so that these lights aren't damaged due to excess heat in summers.
Factors to Consider While Buying the Best Outdoor Solar Deck Lights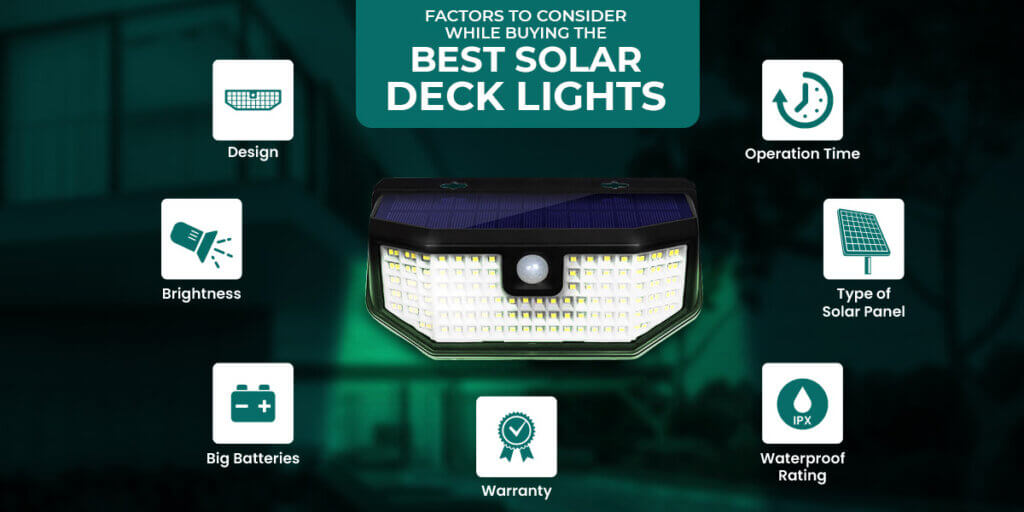 1. Design
Solar deck lights are available in different designs and styles. As their technology improves, an increased number of designs are manufactured and released, and you would usually find a set of lights that will match your existing outdoor decor.
Some solar lights have beautiful designs, adding a decorative touch to your decking area.A clean and minimalistic design for solar lights would look perfect for modern households. For traditional and rustic styled homes, however, different color options and moods might help.
2. Brightness
Brightness can be divided into two: area of effect, in the sense where you might only want to light up the entrance of the garage, or simply concentrate on a certain spot.
Consider the way solar deck lights illuminate an area using reflectors; the amount of light put out by the deck light, is another thing to think of, wherein you can go for increased lumens for a high-intensity bold appearance, or less lumens for a relaxed appearance.
3. Big Batteries
The sun's rays will shine directly on the solar panels, and that will power up their built-in batteries. Solar lights need batteries since they will offer the essential power required for the deck lights to function.
It can be essential to check the lights' battery levels prior to purchasing new solar deck light sets. For prolonged periods, choose a larger battery capacity that has a higher mAh rating.
Diverse deck lights will be equipped with various types of batteries- lead-acid, lithium iron phosphate, or lithium-ion batteries. Out of these batteries, lithium-ion will last the longest.
4. Operation Time
Always opt for high running time + charging time as minimum as possible. Most high-quality solar powered LED deck lights' batteries provide light for 8 to 14 hours, with charging hours of 5 to 8 hours. Attempt to get a balance between both charging and running time.
5. Solar Panel Type
The top quality solar panels offer high durability that is capable of withstanding harsh weather and generating bright light. They are available with a shield to protect them from impact as well as some blows, even though it is best never to hit it. Always opt for a high wattage and voltage solar panel, and remember, the higher the output the better.
6. Waterproof Rating
Outdoor solar deck lights with an IP weather resistance rating of IP44, 45, and 65 are the best in class. These ratings offer the protection each light needs from rain and similar adverse weather conditions.
7. Price and Warranty
The product you are going to get is decided by how much you can spare. Don't buy the cheapest solar powered LED deck lights you find on the market, just to find out later it doesn't work.
Alternatively, going for the most pricey solar deck lights and finding out that the extra specifications it offers could be done away with as well, is not good either. Plan ahead, and plan carefully.
Conclusion
That's all there is to know about the best solar powered LED deck lights currently available on the market. Make sure you check for dust, rust, water, and heat proof lighting options, and always opt for warranties. Durability triumphs it all, and aesthetic comes right thereafter. Make sure you are sure of what you want, and it will make your decision easier to make.