Best Solar Driveway Lights of 2023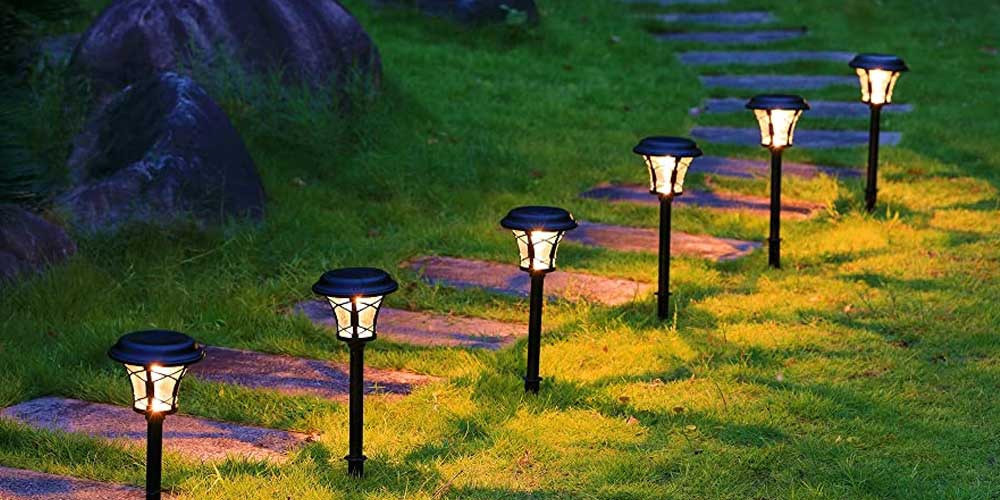 Outdoor solar lights are a great, economical, and environmentally friendly way to brighten up your garden or patio. Solar lighting can give the right lighting solution and entirely transform your outdoor environment, whether you have a large yard, a spacious garden, a modestly sized patio, or a little but pleasant balcony.
There are many different types of solar lights on the market, such as solar deck lights, solar tiki light, solar spotlight each with its own set of functions and styles to suit your needs. However, with more options than ever before, deciding where to begin can be difficult. Solar powered driveway lights are the most cost-effective and energy-efficient way to illuminate the outdoors.
Solar lights for driveway entrance provide aesthetic appeal to your property, as well as safety and security, and they don't require any electricity to operate. They're simple to put on roads, walkways, walls, patios, decks, and lawns. This is why we present you with a list of the best solar lights for driveway entrance.
Our Top Picks
Bottom Line
Pros
Cons
Spec
Best Solar Driveway LIght 2023
1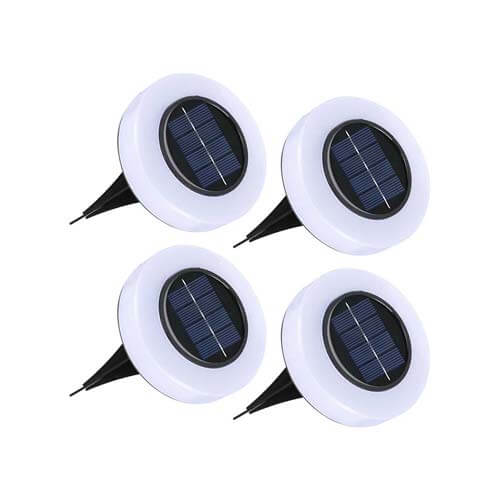 Check Prices
With 8-10 hours of runtime with 8 hours of sunlight, these solar driveway lights are undeniably cost-efficient and environment friendly. These boast a sturdy design made of stainless steel and plastic. Additionally, these lights are waterproof and approved for outdoor usage.
✅
Easy to Install
✅
IP65 waterproof rating
❌
Might not power through all day in bad weather conditions
Unit LED : 8
Solar Panel Type : Monocrystalline Silicon
Intensity Settings : 1
Working time : 8 – 10 hours with 8 hours of sunshine
Waterproof : Yes, IP 65
Also Great
2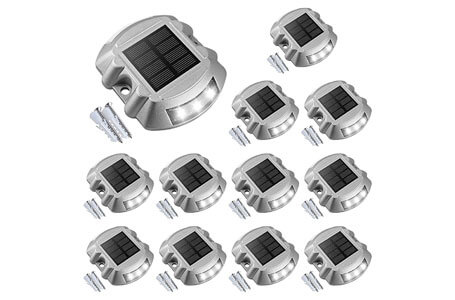 Check Prices
I like these ones for their compact design, eco-friendly rechargeable solar panels and automatic on/off based on the light outside. These flat solar lights for driveway include six LEDs that produce a high-intensity, continuous light.
✅
Acclaimed for bright output
✅
Automatic on/off aided with sensors
❌
Concerns with longevity
Unit LED : 6
Solar Panel Type : Monocrystalline Silicon
Intensity Settings : 1
Working time : Upto 72 hours
Waterproof : Yes, IP 67
Decorative glow
3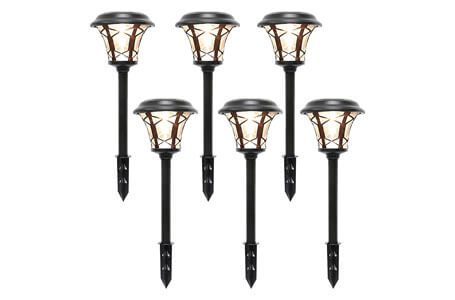 Check Prices
With an output of 25 lumens, as much as 10 times brighter than standard solar driveway lights, these are one of the brightest options to consider. Their attractive design, durable construction and resilience to extreme weather further makes them a desirable choice.
✅
Easy to Install
✅
High efficiency monocrystalline silicon panels
❌
Stakes may get damaged in unforgiving weather conditions
Unit LED : SMD LED
Solar Panel Type : Monocrystalline Silicon
Intensity Settings : 1
Working time : 6 – 9 hours
Waterproof : Yes
The 10 Best Solar Powered Driveway Lights
My plan was to use solar lighting around the trees and perimeter as part of my strategy for improving my backyard. I didn't want something flashy or distracting, so using something less profile, like HeliosGlow solar driveway lights made more sense.
POSITIVES
Charges even during cloudy days

Low power consumption 

The projected light is bright
NEGATIVES
Replacing batteries is not very user friendly
I noticed that these lights are powered by an AA rechargeable battery, which is a significant improvement over previous generations, which required a smaller AAA battery. Although, I did not find any manual for instructions to replace the batteries which might be a problem for a general consumer.
They are bright without being distracting, and they continue to charge despite the alternating sunny/rainy days. These solar lights do not need a lot of power so they can charge even during cloudy days and still remain pretty bright at night. It uses 1.2W of power to light up.
The build quality is good with the metal, and the top surface is properly sealed. It is waterproof which is important since these are used outside and rain should not affect them. The properly sealed top surface does a good job of repelling water from doing any damage inside.
The light is available in both warm and cold colors but in my experience, the cold color looks better and is brighter too.
| Features | |
| --- | --- |
| Unit LED | 2 |
| Working time | 6-12 hours |
| Waterproof | Yes |
VOLISUN is another brand which makes small solar lights for driveway. The best use of solar pathway lights with such design and orientation is using it to illuminate a path because of the specific features it has.
POSITIVES
A versatile method of installation and easy to install

Amazing build quality. Can be run over a car without damaging it

Good battery life
NEGATIVES
LED burnout in a couple of months

Quality control issues reported
I tried to pave a road on the light and it took no damage from being run over by a car. It is made of aluminium rather than plastic which is the reason it just bends but does not break under pressure. This feature makes it apt for using it on driveways and paths.
It was easy to install and I needed a few screws and a place to drill those screws. If you want to use it on solid concrete this light is better since it uses screws rather than stakes or other mounting methods.
The light is powered by LED bulbs which are really bright and the temperature is around 6000K which is brighter than normal cold or warm lights. It is IP67 rated which means it can withstand rain but it cannot withstand submerged water.
| Features | |
| --- | --- |
| Unit LED | 4 |
| Working time | 6-12 hours |
| Waterproof | Yes |
Unlike the two products listed above this, this one is more of decorative solar lights. Since it uses a stake to install and secure to the ground, you cannot use it on concrete. I found it easy to install it in the garden with the stake.
I was able to push it in with ease and secure it tightly. Could in fact be the best solar driveway lights for driveway entrance aesthetics-wise.
POSITIVES
Aesthetically appealing

Good light pattern covers a decent amount of ground

Consistently turns on and off according to outdoor light levels.

Very simple to assemble.

Is firmly planted in the earth.
NEGATIVES
The light intensity is low and could have been brighter
The lights used are of 25 lumens which I found to be plenty bright even during late evening when sun is setting down. The best part about this light is that the light is placed at a height of 17 inches which helps it to illuminate a wider area.
The build quality is decent and the decorative glass has a design on it which is cast on the shadow. I personally didn't like the pattern on the glass reflector because of the shadow it casts on the ground. Although this might come down to personal preference.
Overall, this is an amazing solar light which is decorative and perfect for gardens and driveways. It is one of the best outdoor solar lights for driveway.
| Features | |
| --- | --- |
| Unit LED | 4 |
| Working time | 7-15 hours |
| Waterproof | Yes, IP 67 |
This is another solar ground light which is for placing the lights on the ground. I found the installation to be quite easy and simple with the stakes. But, avoid plunging the stake too hard into the ground as it may break because of plastic.
POSITIVES
Easy to install

Steel housing and good build quality

Bright lights
NEGATIVES
The plastic stake can break off easily while mounting it

Can be damaged if run over by a car
The build quality of the lights is amazing since it is made of stainless steel. I did not see it being affected by rain or heavy dust but since the solar panel is on top and the housing is made of steel, it is better to not drive on it or step on it.
The LED lights were bright and lit up the driveway or any surroundings really well. Since they are ground lights, I noticed they work really well on a driveway or pathway. It should be noted that the lights are cold and not warm (yellow).
| Features | |
| --- | --- |
| Unit LED | 12 |
| Working time | 8-10 hours |
| Waterproof | Yes |
This one is also a solar light that is at height. It cannot be used on concrete since it is installed and secured with a stake. With the stake, I found it simple to place it in the garden.
I was able to easily push it in and fasten it firmly. Make sure to insert it with care though or the stake might break off.
POSITIVES
LED light placed at a height works really well in illuminating a larger area

Easy to install and secure

Inexpensive and great value for money
NEGATIVES
The plastic stake might break off if pushed with too much force

LED could have been brighter
The LED light is situated in a small housing at a height (14 inches) which I found to be plenty bright even late at night when the sun is setting. The housing works really well to protect it from dust or rain. There are no decorative elements on the reflector (housing of LED) which doesn't cast any shadows which I found to be better.
The best part about this solar light is that it is inexpensive and provides the best value making it one of the best solar-powered driveway lights.
| Features | |
| --- | --- |
| Unit LED | 16 |
| Working time | 8-10 hours |
| Waterproof | Yes |
These solar lights are one of the most expensive ground solar lights. With 9$ a piece, I see it as worth the money even if it is expensive. The build quality of this ground solar light is amazing.
POSITIVES
Bright LED

IP68 weatherproof rating

Great build quality with aluminum alloy
NEGATIVES
Prone to yellowing of light with exposure to the sun over time

Installation can be tough with screws and drill
It uses an aluminium alloy which works great in protecting it from accidental loads from a person or a vehicle. I found it works well even when I stepped over it and ran a car over it. It is also IP68 rated which is the best protection a product can get from rain and dust.
Unlike many solar lights, these use screws to tightly secure to the ground and can be used on solid concrete as well. The LED lights are really bright (6000 K) and illuminate the area well.
The light is available in warm and blue light but I found the white light to be the brightest and most effective in lighting up the area.
| Features | |
| --- | --- |
| Unit LED | 4 |
| Working time | 8-12 hours |
| Waterproof | Yes, IP 68 |
HappyBuy driveway lights are another ground solar light and because of their specific features, I found them best to be used along a driveway or a trail. The build quality is good with cast aluminium as the housing material.
I ran over the lights with a car but because of aluminium, it bent but did not break under heavy load. The lights are IP68 rated which is the highest rating a product can get.
POSITIVES
IP68 rating gives protection against rain and dust

Aluminium housing protects it from accidental load

Bright LED light
NEGATIVES
Uses screws for installation which can be difficult for some

The blue light isn't very bright
It was easy to install and I needed a few screws and a place to drill those screws. If you want to use it on solid concrete this light is better since it uses screws rather than stakes or other mounting methods.
The light is powered by LED bulbs which are really bright and the temperature is around 6000K but the lights are blue which can be used a decorative light. If you want a bright light for the driveway, I found it better to use the white light.
| Features | |
| --- | --- |
| Unit LED | 12 |
| Working time | 40 hours after 1 day of charging |
| Waterproof | Yes |
JACKYLED solar lights are very similar to the VOLISUN solar lights featured above. Although they are very similar in design I noticed the difference in brightness and overall quality of the product.
The frame is made of aluminium which protects the lights from accidental loads. Even though I stepped on it, it didn't damage the lights. Running a car over it also didn't damage it.
POSITIVES
Easy to install

Can be used on firm ground as well

Resistant to shock loads
NEGATIVES
It is a little more expensive than the other similar products
It was simple to put together, and all I needed were a few screws and a location to drill those screws. This light is preferable for use on firm concrete since it employs screws rather than stakes or other mounting techniques.
The light is powered by extremely bright LED bulbs, and it is really bright. When compared to the very similar product VOLISUN, I found this one a little less bright. Nevertheless, JACKYLED is an overall quality product with good brightness and resistance to load.
| Features | |
| --- | --- |
| Unit LED | 8 |
| Working time | up to 72 hours |
| Waterproof | Yes, IP 68 |
These are more expensive and decorative solar lights. The LED bulb housing is made of glass with a crackle effect for decorative lighting.
Also, what I did not notice at first glance was that the LED light was rotating which gave it a nice decorative illumination.
POSITIVES
Rotating LED light gives decorative illumination

The LED reflector housing is made of real glass

The crackled effect on the glass works really well in making the area brighter and decorative
NEGATIVES
Expensive

Glass is prone to breakage
The glass used is not a cheap fibre but real glass which makes it heavy but also prone to damage and breakage. The LED light used is bright but the glass housing makes it even brighter.
The light automatically turns off under daylight and turns on during the nighttime. The installation can be done by plugging the stake into the ground. I managed to force in a stake on the hard ground but it did not break with force. If you are looking at high-quality driveway solar lights, these are the best solar lights for driveways you can find.
This is a unique solar-powered light which also doubles as a motion sensor. I found this feature extremely helpful as it also adds to the security of my house. It is a "smart" light which can be connected to your smartphone.
When connected I received mobile notifications whenever there was any motion detected. I was also able to turn on or off the lights remotely with the help of the Ring app. It also works with Alexa for voice commands.
POSITIVES
Amazing build quality and simple design

80 lumens bright LED light

Works as a motion detector

Can be operated with a smartphone

Alexa enabled
The build quality of this solar driveway light is top-notch and I really liked the simple design of the complete unit. The LED light is mounted at a height which works really well on illuminating the area. The LED lights are super bright at 80 lumens which makes them the brightest solar driveway light on this list. If you are looking for a bright solar driveway light which also doubles as a motion detector, this is the best solar pathway light you can buy.
Buying the Best Solar Driveway Lights
What are Driveway Lights and Why Should You Have Them?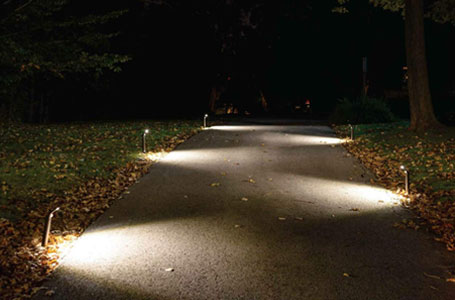 Driveway entrance lighting is one of the first things that greets you and your visitors, it's critical to have the proper lighting. Path and ground lights are great for creating a boundary and boosting visibility for parking and strolling at night.
Other solutions to illuminate the driveway while saving space include exterior wall lights and ceiling lights.
Take a look at these solar lighting for driveways ideas for the modern home if you're searching for some ideas to liven up your outside lighting. After dark, it provides extra security. It makes it easier for you to go around the outside of your house, and illuminates the house enough at night to prevent any mishaps.
Allows for navigation (seeing how to get from one location to another). When family and friends walk through the front door, they are greeted with a warm welcome. Interesting landscape or architectural characteristics are highlighted and drama is added.
Aids in the creation of welcoming and communal environments, such as a designated seating or entertainment area. Allows for nighttime outside cooking, which is especially handy during seasons when the sun sets sooner. Increases curb appeal—not just while you're living there, but also when you're ready to sell.
What to Look for in a Best Solar Driveway Lights?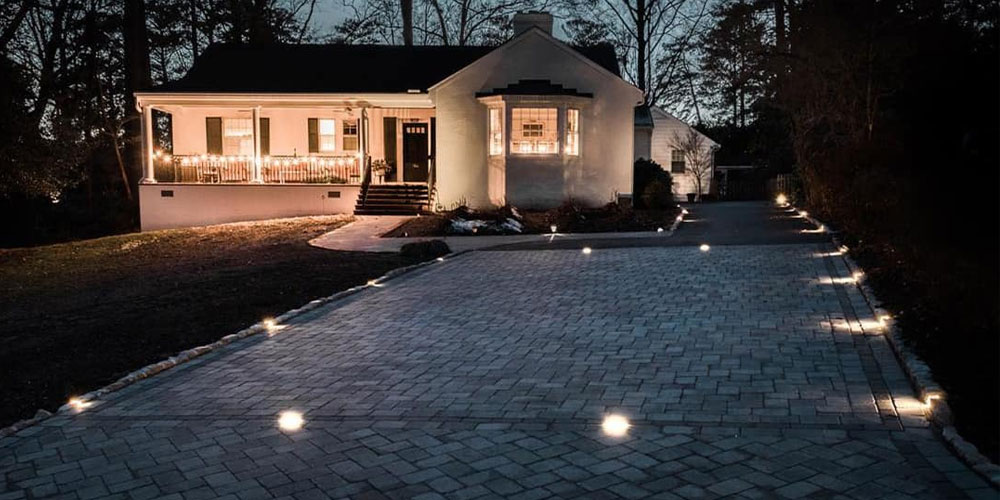 1. Design
Solar lights for driveway entrance are available in a variety of styles, including classic craftsman designs, ethereal orbs, and Victorian vibes. If you're looking for a high-tech lighting solution, we recommend motion-activated lights that flicker in a candle-like pattern.
Before purchasing best solar lights for driveway entrance or yard, it's also crucial to think about how they'll look. There are a variety of styles to choose from, and the most stylish models, such as the Home Zone Outdoor Solar Pathway Lights, will really improve the look of your home.
The majority of solar powered driveway lights are black, although they are also available in stainless steel, silver, and white. Choose a type that complements your outdoor décor and consider if you want solar lights that blend in or make a statement. Finally, think about how the lights will look in your yard during the day as well as how they will look at night.
2. Brightness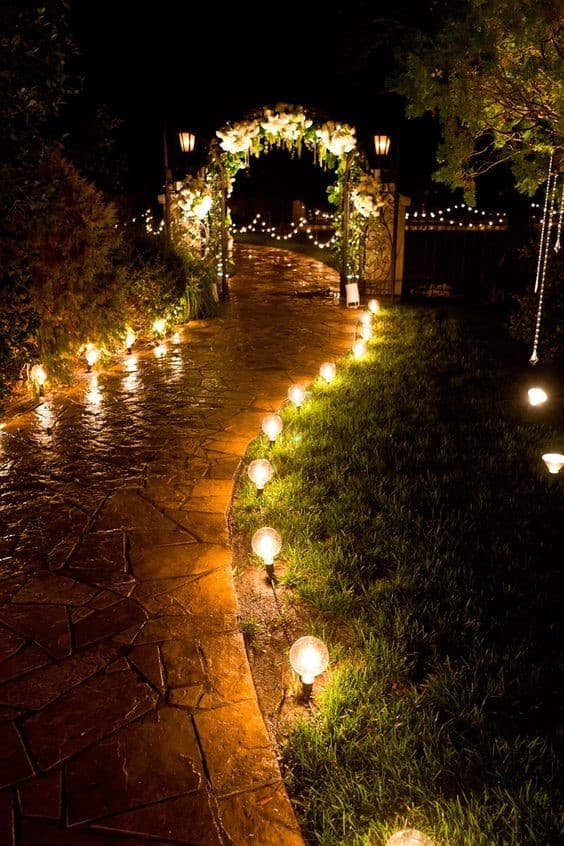 Lumens are used to measure the quantity of light emitted by lights, and solar path lights can emit anything from 5 to 350 lumens. The brightness of your solar light for driveway entrance will also be determined by your needs.
Brighter lights are clearly preferable for security and for ensuring that you can see where you're going as you go up your driveway or path.
Brighter lights, on the other hand, consume more energy and may not be able to fully charge on dreary winter days.
A floodlight or spotlight with a bright light of 300 to 350 lumens is necessary. Around 15 lumens will be enough for most driveway and path lights.
3. Big Batteries
Lithium-Ion, NiMH, Lead-Acid, and NiCad batteries are the four types of batteries used in solar lighting. Lithium-ion batteries are the most common among them since they have higher capacity while remaining compact.
If you're looking for a less powerful lighting alternative, NiMH batteries can be useful because they function at a lower brightness but use less energy, allowing you to go longer between charges.
If you're looking for a more powerful lighting solution, lithium-ion or lead-acid batteries are your best bets. These batteries are frequently seen in floodlights and outdoor lights that have a bright mode.
It's vital to think about battery capacity as well as which type of battery is appropriate for your outdoor solar lights. Battery capacity refers to the amount of electricity that can be stored in a rechargeable battery at full charge.The greater the capacity of a rechargeable battery, the longer it will last between charges.
The typical time between charges for outdoor solar lights is 6-8 hours, but this might vary substantially. When determining which option is ideal for you, think about how long you need your lights to endure.
4. Operation Time
The battery life, or running time, of your outdoor solar lighting relates to how long your lights will last between charges. When buying best solar driveway lights, make sure to check the product specifications to see how long the solar powered driveway lights will last on a full charge.
The length of time it takes for your solar lights to charge depends on whether the solar panel is in direct sunshine and how much strong sunlight your garden or outdoor space receives.
Some solar lights have a longer battery life than others, because features like color-changing bulbs or a strong light setting might cause the battery to drain faster. It's critical to consider how long you'll need your lighting to function.
5. Solar Panel Type
Monocrystalline, polycrystalline, and amorphous solar panels are the three varieties available. Monocrystalline solar panels are one of them, however they are somewhat pricey. Solar panels made of polycrystalline and amorphous materials are less expensive but less efficient.
Monocrystalline Solar Panels – Monocrystalline panels are the most efficient in terms of cell efficiency and the amount of solar energy they can convert into electricity. Their efficiency ranges between 15% and 21%. These panels are pricey, despite their effectiveness.
Polycrystalline Solar Panels — These panels have a 16 percent efficiency in energy conversion. Despite the fact that these solar panels are less efficient, they are inexpensive. Furthermore, the quality of their construction is excellent.
Thin-film solar panels are also known as amorphous solar panels. They are less expensive and have a 10% lower energy efficiency. It can even be lower in other circumstances
6. Waterproof Rating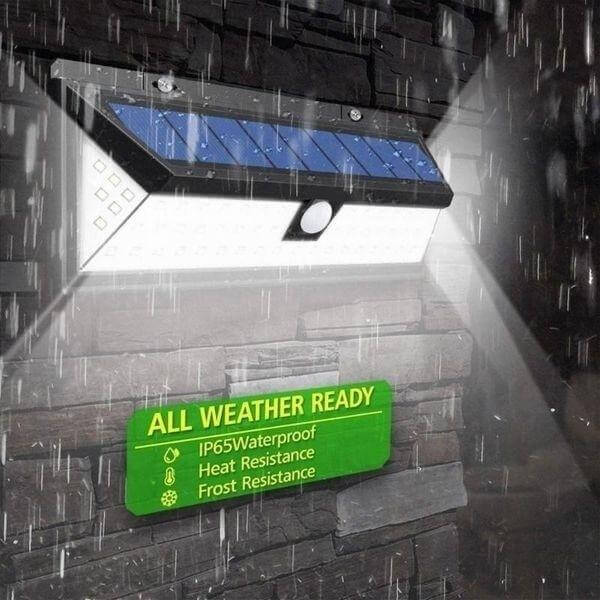 Because these solar powered driveway lights, will spend their whole lives outside, where they will be exposed to the weather, water resistance will be critical.
You'll want to be sure that the things you choose are water-resistant enough to last as long as you anticipate them to and that you receive your money's worth.
It's critical to make sure that any outdoor lighting you buy is wet-rated (meaning it may be utilised in locations that are directly exposed to rain) or damp-rated (for use in sheltered, but potentially damp environments).
Also, be mindful of any applicable municipal rules, such as Dark Sky compliance, which requires that your outdoor lighting be oriented downward to decrease light pollution into the night sky.
7. Price and Warranty
It goes without saying that the solar light for driveway entrance you choose will be influenced at least in part by your budget. Don't assume you need to spend the world to light your outside space: you can acquire some really decent conventional solar lights for a cheap price.
A solar lighting for driveways price can be influenced by a few main characteristics. Lithium-ion batteries are more expensive since they deliver the maximum power from the smallest unit possible. Furthermore, high-output LED lights with a long battery life or other features like motion sensors are likely to be more expensive.
You get what you pay for sometimes, so if you're looking for a powerful, fast-charging, and durable charger, go no further.You may have to pay a little more for long-lasting solar light (how long do they usually last). However, there are still several highly useful and cost-effective solar lighting choices available, such as our top budget pick from this roundup.
You'll want to be able to return any things you buy if they don't meet your expectations. Examine the details of each warranty carefully so you don't find yourself out of luck if the lights you choose don't work out. Most brands also provide warranties ranging from one to three years, which is ideal for outdoor lighting. Indoor lamp-based lights may not be as profitable as outside lamp-based lights in terms of warranties.
Conclusion
Solar lights have a number of functional and aesthetic benefits in addition to the environmental benefits of not needing to be plugged into a power source. However, choosing the correct type of solar light to illuminate your driveway or path is critical to ensuring that it meets your demands.
Solar lighting for driveways is a very effective option for your lightning needs while making the driveway look even more attractive.
Solar driveway lights are small, portable devices that can be placed around your driveway. These lights use the sun's energy to light up your home. As a result, you'll always be able to safely direct cars and visitors to your property.
Solar driveway marker lights are an environmentally friendly solution to ensure that your family and guests can see where they're going as they approach your house.