Best Solar Tiki Torch Lights of 2023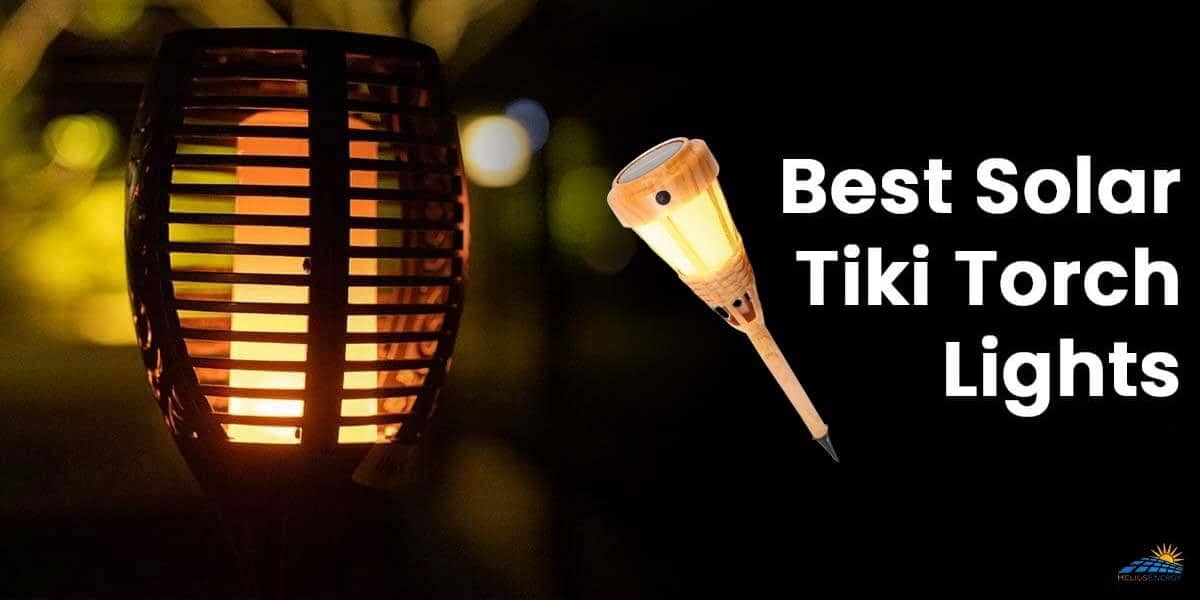 Solar lights that look just like real flames, but without the hassles of real flames? Sign us in! Nowadays, solar-powered tiki torches are all the rage- beautiful, safe, and most crucial of all, utilizing the clean energy of the Sun. These perfect flame solar lights add aesthetic appeal to your house without risking burning everything down to the group.
In this article, we have made a list of the 10 best solar tiki torches with mesmerizing flickering flames and other such vibrant and cool effects.
Get yourself a few Solar tiki torches today; you will never know a better way to relax at night. We have also added a detailed guide on choosing the right flickering solar lights for yourself. But first, let's see which solar tiki torch made the cut.
The 10 Best Flickering Flame Solar Lights
Bottom Line
Pros
Cons
Spec
Best Solar Flickering light 2023
1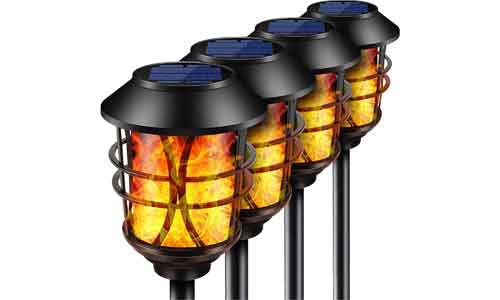 Check Prices
The stakes and poles are made of durable ABS plastic material. Equipped with IP65 waterproof grade, they can withstand rain, snowfall and frosting, they're perfect as outdoor solar lights. Its sun to battery transfer rate is 20% which is more than other solar lights.
✅
Extremely realistic flames
✅
Water and dust-proof
❌
Minor complaints about the flame effect 
Unit LED : 99
Solar Panel Type : Monocrystalline Silicon
Working time : 5 hours on 'Low Light' & 8 hours on 'High Light'
Waterproof : Yes
100% Metal Body
2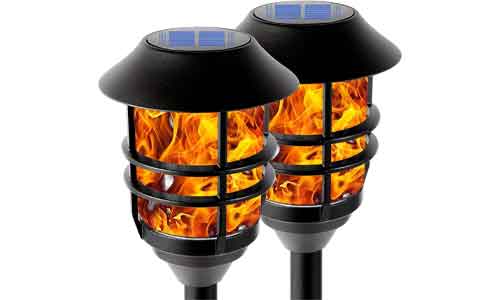 Check Prices
Its, 100% metal design, enhances stability. You can adjust the height of solar torch lights with 3 height options at 23,35,55 inches. Its glowing Duration is 8 hours after 4-6 hours direct sunlight charging. These lights are ideal for gardens, pathways and patios.
✅
IP65 weather-resistance rating 
✅
50,000-hour bulb life
Unit LED : 4
Solar Panel Type : Monocrystalline Silicon
Working time : 10 hours
Waterproof : Yes
Must Consider Flame Torch
3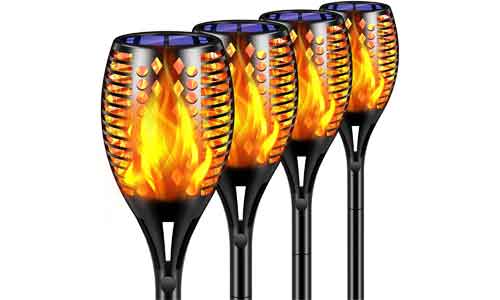 Check Prices
The enchanting solar torch lights with the flickering flame comes with a ground stake, making all the difference as the overall height goes up to 43 inches. By letting the torch light to sit in sunlight fr 6 hours, it outputs 10 hours working time.
✅
Up to 12 hours of working time
✅
96 Bright LEDs
❌
The low setting is very dull in brightness.
Unit LED : 96
Solar Panel Type : Monocrystalline Silicon
Working time : 12 hours
Waterproof : Yes
Tomcare solar tiki torches stakes and poles are made with ABS plastic, so there are no chances of accidentally snapping into two.
These solar tiki torches are equipped with an IP65 waterproof rating so they won't die or require extra care in the stormy seasons.
As far as operation time is concerned, these solar torches run up to 8 hours in summer and 5 hours in winter.
POSITIVES
Extremely realistic flames

Water and dust-proof

Adjustable height

High lumen rate

Contains a high-capacity battery and can run for up to 8 hours
NEGATIVES
Minor complaints about the flame effect 

Potential battery issues
Features
Unit LED
99
Solar Panel Type
Monocrystalline Silicon
Working time
5 hours on 'Low Light' & 8 hours on 'High Light'
Waterproof
Yes
TomCare is a name most people in the world of solar electronics are familiar with, especially in the western world. One of the brand's most well-received items is its waterproof solar flame lights. The TomCare solar tiki torches lights feature a classic torch design with the "head" made of heavy-duty metal before finishing off with a regal black matte.
Barring their durability, these solar flame torch lights can brave the great outdoors with almost no effort, thanks to their rust, dust-proof, and heat and frost-resistant structure.
The Sun to battery transfer rate, also known as the conversion rate in these lights, is up to 20.5%, compared to the commonly noticed 16.5 or 17%. The bottom line is that these will charge much faster, with these amazing features listed above tomcare is certainly a best solar tiki torch light.
This Flickering flame light comes with IP65 weather resistance rating, making the light waterproof, rust proof.
The solar tiki lights are durable due to its 100% metal body. It is also equipped with Auto-ON/ Auto-off feature and its operation time is about 8 hours.
POSITIVES
IP65 weather-resistance rating 

8-hour battery life requires 4 to 6 hours of sunlight

50,000-hour bulb life
Features
Unit LED
4
Solar Panel Type
Monocrystalline Silicon
Working time
10 Hours
Waterproof
Yes
The Flickering Flame Solar Lights are cylindrically shaped rather than contoured. Their frames are correspondingly simple, featuring vertical slats at the corners along with 2 horizontal bands. The rest is wide open, offering a clear view of the beautiful flame pattern. A little more beating can be braved by these, as compared to a simple plastic light.
These solar flame lights come in a two or a four-pack, based on your order. Each of the torches measures 8 inches (height) and comes with their corresponding 8-inch ground stakes.
Each light includes 3 mounting rods, one at 15 inches and the other two at 16 inches. The rods are interchangeable and have the potential to be connected. Thus, let there be more variety of mounting heights.
With 96 LEDs, these solar flame torch lights spice things up for all purposes- especially for gatherings at night or setting up a tent in the backyard.
The lights come with IP65 waterproofing technology that ensures protection during rainy days and in harsh weather states. Auto turn ON and OFF, is convenient and intelligent feature.
POSITIVES
IP65 waterproof

Up to 12 hours of working time

Super bright

96 Bright LEDs

Easy to install
NEGATIVES
No warranty

Only 30 days return period
Features
Unit LED
96
Solar Panel Type
Monocrystalline Silicon
Working time
12 Hours
Waterproof
Yes
The enchanting solar torch lights with the flickering flame from TomCare (once again!) come with an extra ground stake, making all the difference as the overall height goes up to 43 inches.
Featuring those eye pleasers, they will ensure that your house is the brightest and most beautiful while still helping the environment. The flames look gorgeous and realistic.
They are bright and have that cozy feeling of fire camps, flickering beautifully. They can muster up to 12 hours of working time, their light intensity is constant, and they always stay bright, qualifying them as a great solar path light. Let them sit in the Sun for about 6 hours for the solar-powered flame lights to be fully charged. You might want to leave them in for a bit longer on cloudy days.
VP Pagoda solar light measure 12 "H x 7.5 "W x 6.5" D and have a polyresin build with a rechargeable battery.
Powered by solar panels, these solar-powered garden lights absorb energy in the morning and properly switch on after the Sun goes down.
POSITIVES
Water-resistant

Realistic light effect

Stays on till the next morning
NEGATIVES
Dim light

No instruction manual in box
The tranquil pagoda solar LED light can be a great addition to your garden! They are perfect for any area exposed to direct sunlight, be it outdoor patios, gardens, porches, lawns, pathways, or driveways. They will shine for hours once fully charged. It is a beautiful and serene addition to your outdoor living space. With the simplicity and elegant design, they can add a touch of Zen to your garden and patio.
These outdoor flickering solar lights are highly weather resistant, made of high-quality thick ABS plastic, eliminating all worries of rust.
They are safe alternative to real flame effects. Highly suitable for outdoor use, these can work under all kinds of weather, having a waterproof rating of IP44 and a certification for being weatherproof.
POSITIVES
It can be a great gift

Needs 6 to 8 hours of sunlight for full charge

Lasts all night

No wires

Comes with mounting kit
With absolutely zero wires, these flame solar lights are easy to install. They come with a mounting kit for posts. Simply screw in the solar cap lights to the highest point of the railings, and you are good to go!
They are best on 4 x 4, 5 x 5, or 6 x 6 inches wooden posts. There is no tab on the back of the light, and the back will have to be removed before charging. There should be no strong light source near the solar panel at night.
You don't have to worry about rain, frost, snow, or sleet while using these solar lights. Made from high-quality plastic, tough and sealed tight, there is no worry of rust. Every solar light includes 20 lumens with 4 pieces of high-brightness warm-white SMD LED, which are brighter than other solar lights. They measure 4 x 4 x 5.9 inch every light.
These decorative solar tiki torches lights add the perfect tropical island decoration to your yard. These solar tiki torches automatically turn on when the sun goes down and turn off when it's light.
These lights need no wiring; you can just attach the poles that come in the package to the torch "head" and keep it wherever you want.
POSITIVES
Realistic dancing flame design

Easy installation

Dusk to dawn lighting

Tropical island-inspired design
NEGATIVES
Might be fragile

Expensive
These beautiful LED flame solar lights cast a safe and mood-enhancing glow on outdoor landscapes of all kinds, and they are 100% safe! Their flickering effects resemble real-life flames without fumbling around with wicks or oils. Easy to use and perfect for the outdoors, these solar flame lights are quick to install and are powered entirely by solar light.
Your lights will be lit after taking in a day's worth of Sun. These are perfect for pathways, backyards, pools, gardens, patios, fencing, and decks. These flame solar lights can add the perfect tropical decoration to outdoor yard parties or get-togethers. A year-long limited warranty backs these against all manufacturer defects.
The IP65 waterproofing technology in these flame solar lights promises top yearly performance. The Solar light reaches up to 43 inches, working for nearly 12 hours once fully charged.
Solar torches like these usually take about 8 hours to charge fully. The 1 year warranty is but the icing on the cake.
POSITIVES
IP65 waterproof

Bright

1 Year warranty

Easy to install

Up to 12 hours of working time
These charming solar tiki torches light can create a fitting ambiance. Aityvert puts effort into the appearance, the way these lights look, and it clearly shows. Featuring an extra extending stick to let you alternate between heights or in case you need some extra height to get better coverage.
These lights ensure they absorb sunlight directly to drive higher working times. The running time will be varied based on the amount of sunlight absorbed by the panel. These lights hit a sweet spot for those who never bought tiki solar lights. Their price and run time might be the only deterrents.
The high-quality retro black metal with a rust-proof finish qualifies it as more exquisite in an aesthetic sense. No wiring is needed; all you need is a metal piece and screws that will be included in the package.
Install them on the post or any other area you want. These monocrystalline silicon solar panels have high conversion rates of up to 20.5%, making them more energy-saving and long-lasting.
POSITIVES
IP65 proof water resistant

Easy installation

High-quality metal finish

Aesthetic realistic flames
These flickering flame solar lights are a beautiful and romantic addition to your outdoors, looking like dancing figures and warming your nights. These solar post lights tend to emit a faint yellow light while they keep flickering, adding a great ambiance to garden patio yards.
The flicker candle effect is the best choice for an alternative candle lantern. These lights' shape is a unique retro design, giving off an old movie-like or a generally cozy and romantic vibe.
The solar tiki torches lights can be used in the backyard, front yard, along driveways, walkways, sidewalks, as well as around patios or porches. They are completely solar powered and only need exposure to the Sun to absorb solar energy. It is energy-saving and can help you save some dough.
These flame solar lights will never need extra batteries and can work up to 8 to 10 hours if fully charged for 8 hours.
They feature auto sensor control, auto-on at dark, and auto-off at the daytime. They offer IP65 waterproof performance for both indoor and outdoor, as well as Halloween decorations.
POSITIVES
Vivid, realistic dancing flames

IP65 water resistant

Easy to install

Great for outdoor decoration
NEGATIVES
Battery replacement is not recommended

Lesser longevity
OZS 51 LED solar tiki torches lights were designed as per real "flames," made with LEDs, the LED flickering warm yellow light, creating a cozy, romantic, and festive atmosphere. They look like real flames flickering in the wind. They resist all kinds of weather, whether it rains or snows. They will need no wiring or electricity since they are entirely solar-powered.
Remember to power ON first before charging, and let it charge automatically. Ensure the solar panel is placed in a sunny location instead of a shady one, and make sure the solar panel directly faces the Sun.
These lights have an IP65 waterproof rating and are durable ABS plastic, so no more worries about snowing, rain, or frosting.
The installation is easy and takes little to no time. They will turn on at dusk and off at dawn, automatically. You do not need to fumble with the on and off switches once it is switched on at the beginning.
POSITIVES
Versatile in its use

Durable hanging hooks and clamps included

IP65 water resistant 

Easy to install and use
NEGATIVES
Functionality issues for some
These distinctive dancing flame solar lights are attractive, looking like real flames. The warm yellow light makes for a welcoming ambiance. The flicker flame effect of these lights can be the best decoration for outdoor events such as family gatherings, parties, barbecues, campings, and festivals. These lantern lights are solar powered, with no wires required.
They can be put under the Sun to absorb solar energy. Featuring high efficient solar panels and a 2200Ah battery, the flame solar lights can last 12 hours after a full charge. They are energy-saving and can help you save money.
Choosing the Best Solar Tiki Torch Lights With Flickering Flame – Buying Guide
Solar Tiki Torches Vs Regular Tiki Torches
1. Solar Flickering Flame Torches
Tiki solar lights are our favorite lighting option since here, and we don't have to worry about any fire hazard characteristic of open flames, especially on particularly windy days. Oftentimes, the wind bends the torch's flames and ignites flammable objects located close by.
Moreover, flame solar lights can be extremely low-maintenance without the need to refill fuel and replace candles/ batteries constantly. Plus, no more worrying about extinguishing them manually!
Pros
Little to no maintenance
Safe alternative because of the lack of flame
Eco-friendly
Less susceptible to water damage
Reduces energy costs
Will not extinguish through natural causes like wind, rain, or snow
Cons
Takes some time to recharge
It will not shine if there isn't ample sunlight to power it all through the day
2. Traditional Tiki Torches
Traditional torch lights have been around for much longer, so you will often find them in more diverse design options. Moreover, unlike tiki solar lights, they can be kept anywhere, as long as there is nothing flammable right above them.
Pros
More design variety
The flexibility of placing them
Citronella candles and their smoke can repel mosquitoes nearby
Consistent brightness
Cons
Requires constant candle or battery replacement
Safety risk with children and/or pets nearby
Strong gusts of wind could kill the flame
Factors to Consider While Buying Solar Tiki Torch Lights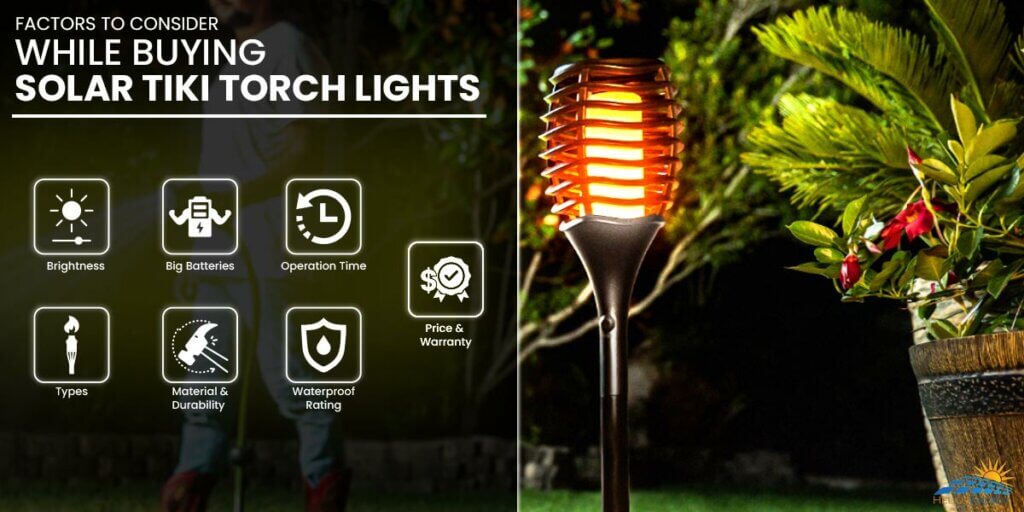 1. Brightness
The best tiki solar lights should offer high brightness and a great illumination range. This is achieved by having high-quality LEDs with powerful batteries. Always look for products that offer the brightest possible light to maximize your nighttime activities and the longest range.
2. Big Batteries
Your solar lights need batteries because the more powerful your batteries are, the longer your lights' operating time will be at night. Always search for the longest illumination period possible. Most models provide up to 6 hours of illumination time with charged batteries. But beware of cheaper products that might provide you less than 3 hours. Remember to check this before your purchase.
3. Operation Time
No one wants tiki solar lights that die off in merely a few hours. That's precisely why operation time is directly related to its solar quality. Manufacturers will usually list approximately how long it will run. The ideal run time is up to ten hours in summer and 5 hours in winter.
4. Types: Staked, Lantern, or Post Light
There are various kinds of tiki solar lights. Depending on your specific purpose and requirement, you can opt for staked, lantern, or post lights. Make sure you know where you buy the lights, and make a call accordingly. Each light will have different specifications, pros, and cons, so make sure you know the kind of light you are getting before deciding on a model.
5. Material, Build Quality, and Durability
How does a solar light perform during winter? Is it rust, dust, and frost-resistant? How does it hold up during the rainy season? Does it need constant maintenance? Does the light "cloud" easily? What is it made of? These are some basic questions you must ask before buying a solar torch.
Some torches work perfectly in summer but die out in winter as they are not equipped to handle cold. Other ones require semi-regular maintenance as they fog up or cloud easily, subduing the torch's brightness. Also cleaning your solar panels once in a while helps maintain efficiency of your solar panels
6. Waterproof Rating
Its water-resistance rating is a major factor in a tiki torch light. Since these kinds of decorative lights are typically installed outdoors, they tend to come with waterproof protection; otherwise, the lights will not survive outdoors for a long time.
7. Price and Warranty
We must consider the price and warranty, which are the most important factors when purchasing tiki solar lights. After all, people will usually first look at these factors before buying a product. Do your research and find models that cover all requirements and offer ample value for their cost. Do not forget to go for a decent warranty!
Conclusion
Tiki solar lights remind us of pool parties, summer vacations, and tropical beaches, making them perfect decorative choices for lighting up your patios, walkways, or decks. Considering their overall performance, we think the TomCare Solar Torches are a win-win. They have the highest efficiency and the highest lumen rating, both very important features tiki torches must have.