Best Solar Pillar Lights – Reviews and Buyer's Guide
Solar pillar lights or solar column lights offer a low-cost option to brighten up the dark driveways, gardens & trees or the exterior of your home. Other than that, they also improve the security of your establishment's environment. You don't have to spend money on electricity because they use sunlight as a power source. The majority of them contain light sensors that turn on at dusk and switch off at sunrise. The lights may last all night on a full charge.
These solar pillar lights are a kind of high-end residential outdoor décor. They come in a variety of shapes, colors, and brightness levels. This arrangement of solar fixtures can also be known as Base Mount, Pier Mount, column mount, and Post Mount Lights. They allow the user to get a high-end domestic lighting ambiance while keeping expenditures to a minimum. Because there are so many solar pillar lights on the market, you should consider factors like brightness, color, material, and others before deciding on a particular product.
7 Best Solar Pillar Lights
Gama Sonic is a world leader in high-end, brilliant, and long-lasting solar illumination for homes, companies, and public areas. The Gama Sonic Windsor Bulb Solar Light is a beautiful style, and its rust-resistant cast-aluminum light is reminiscent of a 19th-century lamp.
The Windsor Bulb is ideal for household use, with a Warm White output of 150 lumens. This option includes mounts for post- and wall-mount applications and is particularly popular in pillar mount or column mount configuration. This enables the user to achieve a consistent look and color temperature across the entire property.
Pros
Low maintenance
No electrical wiring
Versatile mounting options
KMC Lighting's solar lights are fueled entirely by free solar energy. Included are three AA 1.2V 1300 MAH NI-MH rechargeable batteries. Bright filament red produces a soft, pleasant light for your landscape that closely resembles that of a typical tungsten filament lamp source.
KMC Lighting solar column lights are an excellent choice for upgrading your garden lighting without disturbing the earth. It only takes a few minutes to set up because there is no need for electrical wiring; simply place it in a preferred location with direct sunlight.
This solar pillar light can be mounted on flat surfaces such as pillars or columns or at the top of a 3-inch lamp post with an outward diameter of 3 inches. This product is guaranteed to be free of faults in material and workmanship for one (1) year after the date of purchase.
Pros
Easy to install
Efficient technology
Cons
Can get discolored quickly
Lacking in a bit in quality
BlueYang is the best choice if you're seeking energy-saving solar post-flame lights. These incredible solar column pillar lights are ideal for lighting gardens, pathways, yards, patios, decks, and other outdoor areas.
These lights' flame dancing effect creates a beautiful and welcoming atmosphere. It's specially intended to give out a mood-lifting light. These solar pillar lights have an 8 to 10 hour working period on a full charge. Rain, frost, or snow do not affect it because it is composed of IP55 waterproof material.
It is tough and long-lasting due to the tempered glass and ABS substance. It has four big panels that allow it to charge more quickly.
Pros
Easy to install
Extreme weather resistant
Highly efficient solar panel
Solar column lights are energy-efficient and environmentally beneficial; there are no more electricity bills no more wiring, and they are simple to install. They may be placed wherever outside. This product is meant to be simple to assemble and requires no cables. A pier mount adaptor is included, which may be used for both post and pier mounting.
Solar pillar lights will automatically turn on at dusk and turn off at sunrise. Without paying exorbitant electricity bills, an outdoor post light can be powered by free solar energy. The solar pillar light fixtures are IP55 waterproof and lightning proof, allowing them to be used in various outdoor locations and weather conditions. Temperature range: 1°F to 120°F.
Pros
Fast charging
Nice looking
Cons
Poor battery life
Poor lightning at night
It is an automatic and solar-powered light, and you can turn on the power switch beneath the solar panel. Charged with 3x Ni-MH 2300mah rechargeable batteries, this lamp will switch on automatically at dusk.
This product is meant to be simple to install and requires no wire. It has a gentle and warm light. Depending on your geographical location, weather conditions, and seasonal sunshine availability, the filament leads shine to about 100-120 lumens. Just make sure the chosen place gets plenty of sunlight.
The cast-aluminum metal lamp and ripple glass panels require very little upkeep. Wipe the top roof section with a damp cloth regularly.
Pros
Easy installation 
Quality lightning 
No maintenance required 
The Royal Pier Mount Solar Lamp has been a popular choice for many years. The lovely aged Bronze finish provides a lovely touch that reminds you of bold New Orleans street lamp iron. It blends the traditional concept of a light bulb into outdoor solar lamps and lamp posts. It has a 10-year lifespan and produces a 360° light spread, just like a traditional incandescent bulb.
There is no need to run hardwired power or employ an expensive contractor because all necessary gear is provided. Simply place the Royal Solar Lamp in a location that receives direct sunshine, and you'll have dependable area illumination for years.
The Gama Sonic solar LED light requires no electrical wiring to install, making it the ideal light to install while also providing energy and money-saving alternative to electric or gas-powered outdoor lighting. Simply mount the solar-powered light to any existing lamp post with a 3-inch outside diameter.
Pros
No electrical wiring
Automatic dusk to dawn lightning
Cons
Brightness is not up to the mark
It has outdoor lamp kits with a black finish that are large and attractive. Rust-resistant powder-coated cast aluminum and frosted glass panes are used in its construction. It is also water-resistant and safe.
Solar panels are made of monocrystalline silicon, and a specific solar-charged battery helps save electricity. No cables or plugs are required for its installation. There are new LED bulb settings to light up for 8 to 10 hours at night after the battery is fully charged. The LEDs have a 100,000-hour lifespan.
Light control, time control, over-charge, and over-discharge protection are all built-in to the intelligent light controller. Automatic dusk-to-dawn operation is available, or a manual switch can be used.
Pros
Great design
Easy to mount
Cons
Battery capacity isn't good
How to Choose the Best Solar Column Light – Buying Guide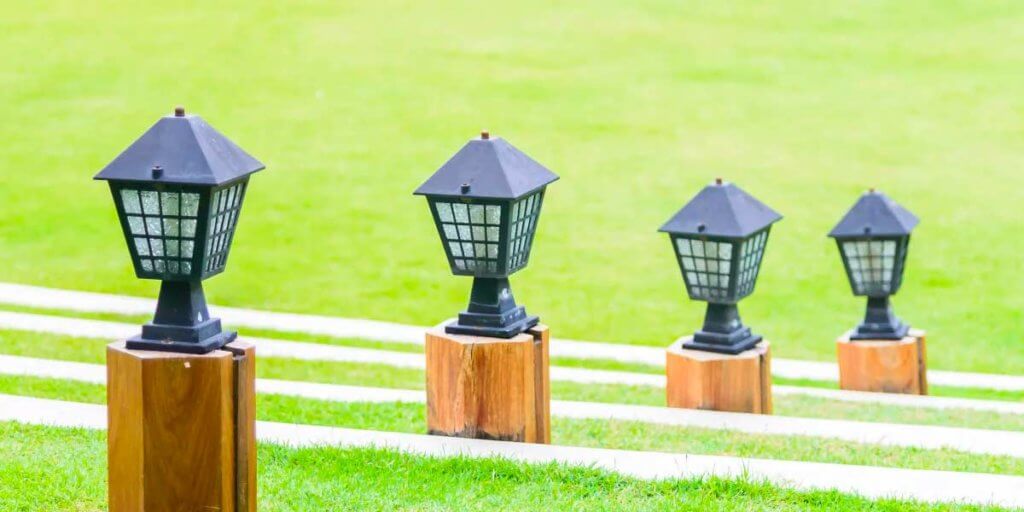 What is A Solar Post Light?
Solar column pillar lights are solar-powered outdoor lighting systems that can be used to light paths, gardens, driveways, and other areas. They will provide ample lighting for moving around outside at night and will also reduce the risk of theft.
These lights also have solar panels, also known as photovoltaic panels, that collect energy from the sun and convert it into electricity, which powers the lights. Solar post lights are simple to install in any outdoor space. They can be utilized as a form of decoration or to improve the look of your yard's landscaping. They are energy-efficient, cost-effective, and environmentally good because they use sunshine to power the lights.
How Does A Solar Post Light Work?
Solar column mount lights collect the energy from the sun, which is then converted into electricity and used to power the lights. They are ideal for anyone looking for a dependable energy source that will allow them to light up their outdoor spaces without affecting the environment. They are mainly made up of four primary components: a solar panel, a battery, control electronics, and lighting.
Solar panels are in charge of turning sunlight into power. Built-in sensors in the electrical control can detect whether or not sunlight is accessible. It will automatically switch on/off the lights based on this information – for example, during the day, it will turn off the lights, and at night, it will turn them on. This will make lighting up the outdoors a simple and painless affair. Batteries are utilized to store the energy generated by the solar panels, which are then employed at night.
Factors To Look for when Buying The Best Solar Column Lights
1. Solar Panel Type and Efficiency
Monocrystalline (mono-si), polycrystalline (p-si), amorphous silicon solar panels (A-SI), and concentrated PV cells are the four main types of solar panels (CVP).
Monocrystalline Solar Panels: This type has a 20 percent efficiency rate, which is sufficient for most purposes. They are substantially more durable than others. They're best used in a commercial setting. They are, however, pricey.
Polycrystalline Solar Panels: These panels have a 15 percent efficiency rating. They are inexpensive. They are, nevertheless, susceptible to high temperatures and have a lower space economy.
Amorphous Silicon Solar Panels: Thin-film solar panels made on amorphous silicon are also known as amorphous silicon solar panels. They have the lowest percentage of all categories, ranging from 7 to 10%. These panels are simple to make, flexible, and inexpensive. They do, however, have a limited lifespan and warranty.
Concentrated PV Cells: They have a higher efficiency than other types, with a 41 percent efficiency rating, making them the most efficient. However, maintaining the high-efficiency rate necessitates using a solar tracker and a cooling system.
If you want to learn more about the different types of solar panels available in the market, you can read our article 'Polycrystalline Vs Monocrystalline Solar Panels.'
2. Brightness
The first thing to examine is how effective the solar lights are at illuminating the outdoors. You should pick a product that can light up a large region. Lumens are commonly used to measure the brightness of lights. Rather than counting the number of LEDs, look for lights with a greater lumen count. The lumen count you chose should depend on the lighting's purpose.
Solar pillar lights with a brightness count of less than 200 should be used in residential settings. A lumen count of up to 100 is excellent for modest lighting in the garden or soft lighting. Choose a light source with a lumen count of 150 to 200 for a brighter light source. For lighting sidewalks and roads, triple-headed types with 150 to 300 lumens are ideal.
3. Light Colour and Temperature
The Solar column lights were available in a variety of colors, including warm white, colorful, and bright white. Warm white has a softer, lighter texture with a tinge of yellow. Bright white light illuminates the ground uniformly without creating any patterns. With a blue tint, though, it is harsher. Depending on your preferences, you should select a light color.
The temperature of a color is commonly expressed in degrees Kelvin (K). With white color, higher temperatures are kept cooler. Warmer amber light is produced at lower temperatures. The kelvin range for residential outdoor lighting must be between 2500K and 4000K. Warmer color temperatures, ranging from 2500K to 2700K, are commonly used on architectural features. For illuminating landscapes and gardens, cooler temperatures are normally preferred.
4. Material
Because solar column lights are typically used outside, they must be able to survive adverse weather conditions such as severe heat, snowfall, and heavy rain. As a result, it goes without saying that the materials used in production should be long-lasting and powerful.
Stainless steel, aluminum, and plastic are common materials for solar post lights. Steel and aluminum are more sturdy than plastic and last longer. Rust-proof and UV-resistant materials are among the materials utilized in solar post lights.
LED bulbs used in solar pillar lights typically last for thousands of hours of operation. As a result, they should endure at least 7 to 15 years. If they are composed of high-quality materials, certain solar PV cells can last up to 25 hours. For a more detailed bifurcation of how long solar lights last, read our article by clicking on this link.
5. Battery
The solar pillar lights' battery is a critical component. It's where energy is stored and sent to the lights when they're needed. Solar column mount lights use a variety of batteries, including Ni-MH batteries, lead-acid batteries, lithium iron phosphate batteries, and lithium-ion batteries.
Lead Acid Batteries: When compared to other types of batteries, lead acid batteries are the most cost-effective and last for 3 to 4 years. Solar post lights have the disadvantage of being big and taking up more space. To charge efficiently, larger solar panels are required. The panels must generate at least 12 V to charge the battery, which can be challenging to do in cloudy weather. This sort of battery cannot tolerate extreme weather such as hail storms that damage solar panels and solar lights.
Lithium-Ion Batteries: They are more expensive than lead acid batteries, but they endure for 5 to 6 years. They require modest solar panels because the battery requires 3.7 V to charge. Even on a cloudy day, the battery can generate this voltage. The disadvantage is that they may explode in harsh weather conditions, and their efficiency may be diminished in cold or hot temperatures.
Lithium-Ion Phosphate Battery: This is a more advanced and pricey battery. It charges at 3.2 V, which means the solar panels on this lamp are smaller and charge more quickly, even on wet days. It requires less upkeep and has a battery life of 9-12 years. It can survive adverse weather, making it safer and more reliable.
You should also note that while you should consider buying a solar light with a Lithium-Ion Phosphate battery, you can always change the solar panel's battery. Read our article 'Can I Use a Higher mAH Battery in Solar Lights?' to learn how to do this.
Benefits of Using Solar Post Lights
Installing solar pillar lights has several advantages. For your convenience, we've included a few of them below. They're ideal for use outside because the light they emit will make it easier to stroll or move around at night. It will also serve as a deterrent to any possible thefts.
Solar column pillar lights have many advantages, including reduced maintenance, cost savings, and energy savings. They are a dependable source of light that does not rely on energy or power use. Because solar post lights use LEDs rather than ordinary bulbs, they last far longer, even when recharged regularly. They are considered environmentally beneficial since they use sunlight to power the light. They will do so because of how dependable and advantageous solar energy is.
Drawbacks of Using Solar Post Lights
Like other products or lighting solutions, solar pillar lights have some disadvantages. These lights do not produce the same brightness level as standard electric lights. Because the brightness emitted is heavily influenced by geographical location, season availability, weather, and other variables.
For Large solar pillar lights to work, they must be exposed to direct sunlight for at least 6 to 8 hours. If there isn't enough sunlight because of snow or rain, the lights won't be bright enough to see. It will also impact working hours because it would be shorter.
Conclusion
Large Solar pillar lights require less upkeep and maintenance. This is one of the reasons why they are so popular among consumers. However, it is advisable that you follow all the instructions to avoid any repairs, issues, or problems while working.
Regularly cleaning and replacing the batteries will guarantee that the solar post lights function properly. If you live in an area with long winters and lots of snow, we recommend changing the battery once a year. If you don't like it, you can change it every two years.
It is recommended to use warm soapy water and a clean washcloth to clean solar column pillar lights. You may simply wipe away the dust or filth that has gathered on lights and panels using it.