Best Solar Chicken Coop Lights
The current situation has compelled the world to live within the four walls of its house. While this may be emotionally draining for many, many use this opportunity to get their pending work in order. As the virus lurks outside their doors, several homeowners use this time to tend to their houses.
If you have a chicken coop, now is the best time to give it that makeover you always wanted to. The first thing to start with is by installing solar chicken loop lights that is a great and efficient alternative to other traditional sources of electricity. They are eco-friendly, and the light they emit is hugely beneficial to help extend your chickens' egg production. This ultimately means that you will be able to gather more and more farm fresh eggs during the winter.
There are many types of solar outdoor lights such as the solar tree uplights, the solar gutter lights and the solar flashlights. The chicken coop light is an outdoor light as well. Solar lights harness the power of the sun and convert the sun's energy into electricity to save them in the battery for later use. These solar lights come packed with dozens of features can be installed anywhere in your house, shed, garage, coops, and low-light areas in your backyard. These solar lights are capable of providing sufficiently bright light up to 150 lumens in a single charge.
If you are, looking to install solar lights in your chicken coop, then we have you covered. This article lists some of the best solar chicken coop lights available in the market. This article will guide you through every product along with detailed specifications to help ease the choosing process.
5 Best Solar Chicken Coop Lights
Choosing the right choice for your chicken coop from a pool of options can be challenging. However, to make things easier, we have listed the five best solar lights for chicken coops currently in the market. We have included the detailed specifications for you to get a better idea. Solar chicken coop lights are an efficient, eco-friendly, and highly affordable solution to all your roosting problems. Some of these lights come with an automatic timer, while some let you control them from a mobile application. The best part is that these solar-powered lights don't take a toll on your utility bills.
Here are the five best solar lights for chicken coops
These versatile solar light bulbs come with a 3m wire for improved flexibility, along with one solar-powered light bulb. Not just outdoors, but these light bulbs are perfect to be hung inside your house as well. The added hook makes it easy to hang these bulbs on backpacks, trees, and patios.
The normal LED sized bulb burns bright with 120 lumens with 12 LED beads. It has a light range of 5 metres which makes it extremely handy during camping trips, hiking, fishing, etc.
It is made up of heavy-duty ABS plastic, which guarantees high durability and longevity. The bulb takes around 6-8 hours to charge fully and will last for 8 hours under a single charge. The Lampelc Solar Powered Chicken Coop Light Bulbs comes equipped with a 3.7V 850 mAH recharge lithium battery. It has dual charging options allowing you to to charge it using the USB port and under direct sunlight.
Pros
Easy Installation
Dual Charging
Portable
Cons
Flimsy Wires
Not Very Bright
These solar lights are the perfect fit to be installed in your driveway, chicken coop, sheds, garage, patios, balcony, and work indoors as well. The SOLVAO solar lights come equipped with an PIR motion sensor for additional security and safety. It has three different modes namely: sensor mode, dim sensor mode, and a steady mode making them perfect to be installed on your fence, wall, deck, or pathway.
The SOLVAO solar lights are compact and waterproof and come equipped with super bright LEDs that shines bright enough to illuminate dark areas.
The installation is easy and requires no tools whatsoever. It has a 3.7 V 1200 mAH lithium battery and the solar panel is made up of heavy duty plastic and polysilicon materials. The intelligent energy saving comes with an auto day/night sensor. The IP65 waterproof weatherproof durable build allows for year-round use in any condition.
Pros
Waterproof
Motion Sensor For Added Security
Easy-Installation
The JACKYLED Waterproof Solar Pendant Lights come with an IP65 waterproof grade material that can brave every weather condition. This double-head solar head provides maximum efficiency as compared to single-head lights and comes with two 16.4 ft. cables.
Each lamp is equipped with 56 LEDs that can provide maximum illumination and has upgraded solar panels that can provide bright light for upto 10 hours. The built-in protection circuit can significantly prolong your battery life.
The JACKYLED Waterproof Solar Pendant Lights are easy to set up and can be installed in your shed, coop, garage, barn, patio, or even indoors. It comes with 5500 mAH large capacity batteries that can provide upto 10 hours of bright lights under a single charge. The solar panels are made of polycrystalline silicone (read the difference between polycrystalline and monocrystalline solar panels) which is highly durable.
Pros
Double-Headed Lights
Motion Sensor For Added Security
Easy-Installation
Cons
Does Not Have Distant Range
Over the years, Bemexred has proven itself to be one of the significant players in manufacturing solar lights. Throwback lighting infused with modern technology has been the highlight of Bemexred all these years. With this brand, you get both traditional solar lighting as well as the old-light feeling.
This indoor solar barn light features an industrial design and comes equipped with the classic Edison light bulb that creates the perfect atmosphere of days gone by. The Kyson Solar Powered Indoor Barn Lights for Chicken Coops is entirely waterproof and is made of heavy-duty ABS plastic and aluminium alloy.
In addition to the replaceable E27 Edison Light Bulb, the Kyson Indoor Solar Barn Light also has an external solar panel on a 3m lead cable followed by remote control up to 5m range and pull cord for easy use. Kyson's solar-powered LED indoor barn light is perfect for lighting up dark areas for additional security.
It can also be used indoors for extra lighting if deem necessary. The solar panels are made up of high-quality ABS plastic that offers the utmost protection from rust, dust, and harsh climate. The 3.7 V 2600 mAH battery provides up to 18 hours of lighting in one charge.
Pros
Easy-Installation
Remote Control
Waterproof
Cons
Short Pull Chain
Single Charging Mode
Also Read: Best Solar Power Fans for Camping
This completely waterproof chicken coop lights can help you save largely on your utility bills throughout the year. The solar panels are made up heavy-duty ABS plastic and polycrystalline silicone to make them last long during heavy rains, harsh winds, and rough winters.
The polycrystalline silicone makes the solar panel absorb 18% more light for faster charging. The solar panels have a larger light range and can provide upto 16 hours of lighting under a single charge.
It comes equipped with an upgraded LED chip and 16 pcs LED that provide high bright light, no light decay, and a more realistic color rendering. The Lovebay Solar Chicken Coop Lights are easy to install and can be setup indoors as well as in the shed, garage, terrace, courtyards, gardens, beach tents, and courtyards. The warm white LED can provide 260 lumens of bright light in a single charge. The smart solar panel will automatically store electrcity during sunny daytime.
Pros
Remote-Controlled
Anitfreeze
Waterproof
Solar Chicken Coop Buying Guide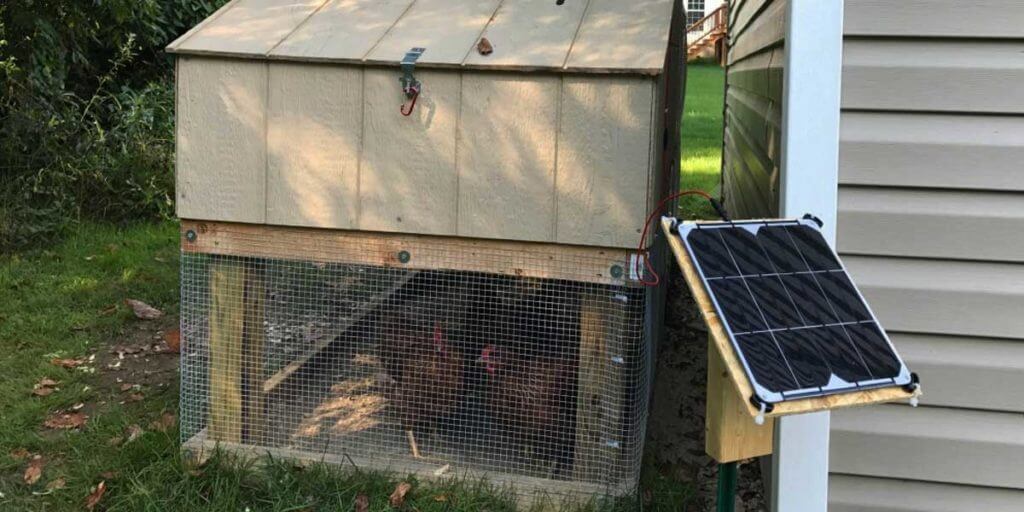 As technology advances by the minute, manufacturers are vying hard to get more solar-powered products in the market. This has led to numerous options being available at our disposal. However, making the right choice from a wide range of options is tough. Although, there are several elements that you must consider before buying a solar chicken coop light.
Here are a few elements you should consider before buying a solar chicken coop light
1. The Size of Your Coop
The first thing to consider is your coop size. This is because you want your solar chicken coop light to cover maximum area for better results. Since these solar lights significantly bolster egg production, you must select a light that is according to the size of your chicken coop. If you have a large chicken coop, you can buy two lights. Majority of the solar chicken coop lights are flexible and has an easy installation process. Your coop size ultimately decides how many lights you'll need to install.
2. Capacity of the Solar Chicken Coop Light
Once you have mapped out the size of your chicken coop, you have to select the light with the suitable capacity. Ensure that you choose a light that provides sufficient lighting throughout otherwise, you'd have to install more lights for the same. However, a chicken coop light with very high power is also a waste of money. Select a chicken coop light which has an adequate battery capacity which is enough to provide sufficient light for up to 8 hours.
3. The Average Daylight In Your Area
The next thing to consider is the average daylight you get in your area. Since these lights are powered directly by the sun, you have to ensure that it gets maximum sunlight throughout the day. If there isn't enough daylight in your area to charge the solar panel, then the solar lights won't be able to enough light throughout the night.
If your area doesn't get much sunlight throughout the day, find out a getsce that gets the maximum sun the day to install the solar panels. In simple words, your panels will have more charge when there's enough sunlight and less on a gloomy day.
4. Wattage Count
A low-power solar light is of no use. Similarly, a solar light with a very high power output is also a waste of investment. You need a solar light that provides the adequate amount of lighting throughout the night to help bolster egg production. A high power bulb will drain the battery quickly. Therefore, always select a bulb that requires less power to operate. A 60 Watt bulb is sufficient in providing adequate brightness and help your chickens bask in the light.
5. Battery
Before moving on read our article, do solar lights need batteries? You need a solar light that will provide efficient and bright lighting for at least 8 hours throughout the night. Therefore, the battery capacity of your selected solar light should be at least 8 hours. A solar light with high battery capacity helps it remain stable and operational throughout the night.
Also Read: How To Connect Two Solar Panels To One Battery
6. Additional Features
Apart from the features and elements mentioned above, there are a few additional features that can be beneficial. A solar chicken coop light should be compact and lightweight so that you can quickly move or hang it anywhere you'd want.
Also, solar lights with easy installation are a significant boost and won't need you to drill holes anywhere. Another critical feature to look for is brightness. A 60 Watt bulb is sufficient in providing adequate intelligence and helps your chickens bask in the light.
Do Chickens Need A Coop Light?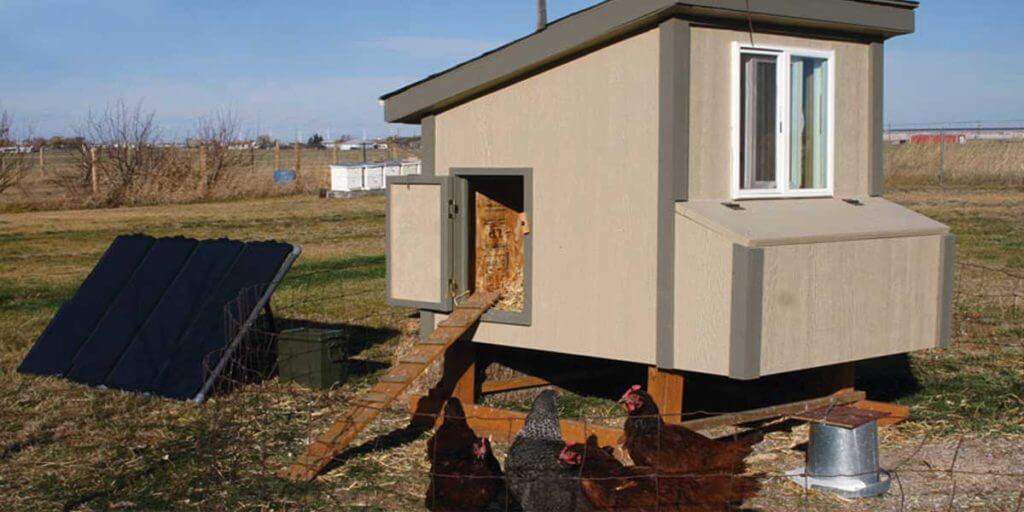 A solar-powered chicken coop light does more than just provide warmth and illumination. These solar powered chicken coop lights are incredibly beneficial in keeping predators at bay during the night. The right solar powered chicken coop light will help bolster egg production and will have you more eggs during the winter.
Artificial lighting is known to significantly wield the egg-production cycle and fasten the egg production process. The lighting applied during daytime can help the chicks perch naturally. These lights help your chickens bask in the light, especially during harsh winters. This device is also intended to vitalise their egg-producing ability. Solar-lights ensures that the coop remains well lit. In addition to that, it provides that your chickens get more time to roost and lay more eggs.
The Bottom Line
We hope our article was able to walk you through everything you need to know about solar powered chicken coop lights. Once you have known about everything you need to consider before buying a solar chicken coop light, you can easily choose amongst the 5 options we have mentioned above.
Not only do these solar lights provide adequate brightness, but also keep your chickens basking in the light while simultaneously bolstering egg production. Also, these solar lights are great for providing warmth, illumination, and helps keep predators at bay during the night.