Best Solar Powered Attic Fan Reviews and Buyer's Guide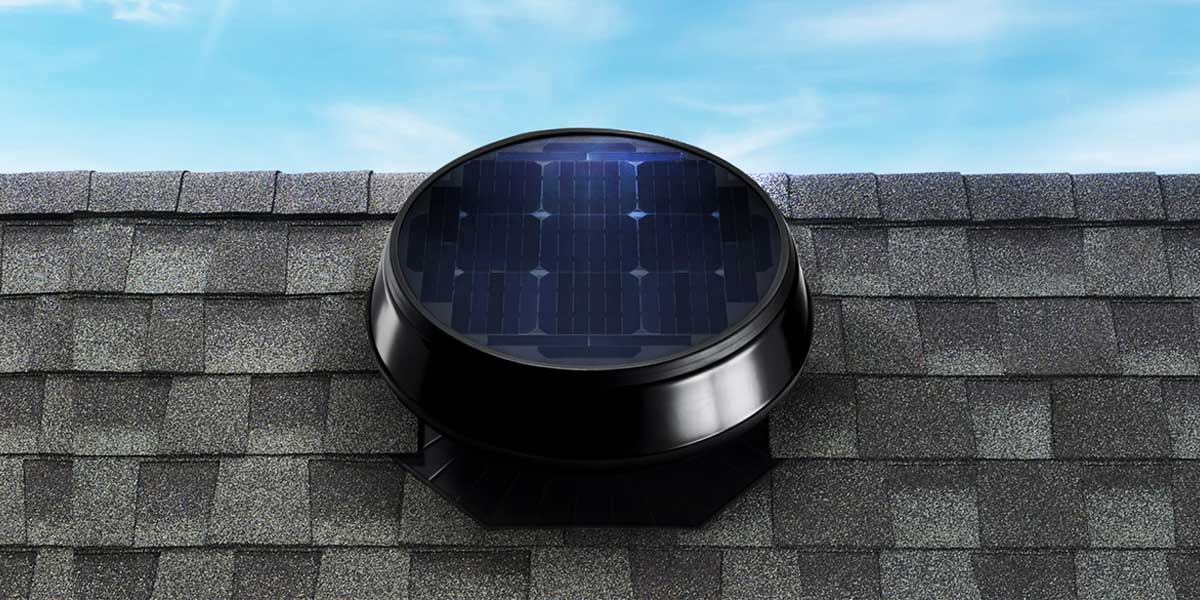 When summer arrives, we all tend to do everything we can to keep ourselves from the scorching heat. To counter the heat, ACs and air-coolers are working non-stop to provide cool air all-around. However, amidst the immense cooling and relief, we tend to overlook the rising energy bills. Everything's going well until the bill arrives at the end of each month and takes everyone by surprise.
The heat and humidity formed during the summer tend to damage everything in your attic. Similarly, it can also add considerably to your utility bills. Instead of using expensive air conditioners and air-coolers, people are slowly shifting towards solar-powered attic fans.
These solar-powered attic fans circulate the air evenly throughout your house and gives you efficient cooling without adding to those rising energy bills. In addition, these solar attic fans also reduce mold formation in the winter while potentially saving you from spending thousands on repairs.
Therefore, we have put together a list of the seven best solar attic fans for you to buy. This article will guide you through the pros and cons of each fan. We have also included a buying guide at the end of this article so that you know what all to look for when getting a solar attic fan.
7 Best Solar Attic Fans
A cooler attic ultimately means lower utility bills, your furnace operates much more efficiently, and the things you store stay intact. However, the summer season tends to overheat the attic, whereas the winter season will make it cold and damp.
This results in your valuables getting baked in the heat, insulation turning to dust, and puts your furniture at higher risk of mold and mildew damage. What happens to your attic is what happens to the rest of the house too. 
Therefore, to keep your attic damage-free this summer, we have compiled a list of the seven best solar attic fans.
During the summers, the Natural light 48W will help keep your house cool at all times while simultaneously reducing the load off your HVAC system. Similarly, it will prevent moisture-build up during winter.
This sturdy aluminum choice runs quietly and has a straightforward installation process. It has multiple applications making it perfect to be installed in a greenhouse, attic, and your RV. You can check our article on best small greenhouse to choose one for yourself.
It comes with a housing which will help it blend in with most households without making the roof into an eyesore. It is an intelligent choice for anyone whose primary concern is the resale value of  the house. Its heavy metal construction works well in limited light.
The Natural light 48-W can cover 1900 cubic feet per minute and can cover 2825 square feet of attic space. It comes equipped with a brush less DC motor, and the included 48-W solar panel keeps the hot air and moisture out of the attic during the daytime.
Pros
Easy Installation
Multiple Applications
Qualifies for Tax Credits
Cons
Warranty Period unclear
Also Read: How To Heat A Greenhouse With Solar Panels
This solar-powered attic gable fan comes with a 40W solar panel built with ultra energy and a highly efficient DC motor. For optimal performance, all you need to do is employ the thermostat.
The total package comes equipped with an AC/DC inverter for a non-stop runtime around the clock. The solar panel is fully adjustable and can be rotated 180 degrees, and supports a 60-degree tilt if required. 
The key feature is the ultra-efficient 3-speed ECM and comes with intelligent app controls.
It supports Up to 2,830 CFM on high at 163 Watts and Down to 1,343 CFM at 22 Watts. These attic gable fan need no installation, and you simply need to plug it in and hit start. Besides, the Smart App Control allows you to turn the fan on and off whenever required.
You can control this fan from anywhere inside the house and keep your attic cooled at all times. Also, the Smart App control comes with a two-option auto adjustment and accordingly adjusts as per the attic temperature. Also, you can see your attic temperature and humidity at all levels. 
Pros
Easy Installation
Smart App Control
Noise-dampening
Cons
The fan is louder than other fans on the list
With the Remington 40W solar attic fan, you can use the power of nature against it. This fan is known to keep attics cooled during summer and remove moisture during winter. 
The 40W solar attic fan is designed explicitly to attics up to three thousand square feet and keep them cool. This comes with the latest noise-dampening technology, which means it'll work quietly in the background without making any noise. 
It also comes with a bonus humidistat and a preinstalled thermostat. The Remington 40W is made up of a high turn only polycrystalline solar panel. This stylish design comes with an in-built solar panel and can also be mounted on your roof.
The Remington works on a brush less DC motor that creates no friction & turns your motor without wear, giving your solar roof fan a longer life. These fans turn on in direct sunlight when attic is above 80 degrees or above 60% relative humidity.
Pros
Built-in Thermostat
Durable and weather-resistance
Easy to install
Cons
Ceases to operate as a solar attic fan once AC input is plugged
The Amtrak 50W comes with high wattage and is made up of a powerful fan motor that guarantees high and efficient cooling. It is made up of a full 50W galvanized steel cover.
This newly upgraded 14-inch attic comes with noise-dampening technology that quietly cools the entire house and keeps it ventilated.
Apart from your roof, the Amtrak 50W powerful solar attic fan can also be mounted in a gable vent, greenhouse, garage, shed, cabin, or RV to protect against moisture damage.
You also get a free optional thermostat upon request. It has a thermally protected fan motor and is easy to install with the help of quick-connect wires, and covers an area of up to 2300 square feet. This 14-inch fan has a large and highly efficient fan blade and offers an easy to open louver.
It also comes with extra wires and brackets for easy installation. It provides free solar energy to keep your house cool and attic ventilated. The 12 volt DC fan blade is configured to work with the solar panel with High-Efficiency Fan Blade.
The fan will turn on automatically the minute sunlight hits the solar panel during the daytime. 
Pros
Built-in Thermostat
Durable and weather-resistant
Wide range of applications
Cons
Non-adjustable solar panel
Slightly Noisy
Also Read: LG Solar Panels VS Sunpower Solar Panels: Which One To Buy?
This 14-inch fan comes with a 30W fan wattage and 20 W solar panels built for durability and high efficiency. It also comes equipped with a smart thermostat with an enable/disable feature.
Weighing at just 30 pounds, the LIVING HYBRID is made from premium quality aluminum, nylon, and steel with solar blades made out of polycrystalline.
It runs a IP68 brushless DC motor, which is entirely waterproof and impact resistant. The 6-bladed fan capacity can cover a distance of 2000 sq. ft. to keep it running throughout.
Once turned on, this Ready Smart Solar Roof Attic Exhaust Fan can run day-in and day-out without any wear and tear. It also comes with adjustable solar panels that can be adjusted to 9, 15, 30, and 45-degree angles.
Other features include a power on/off switch and a screen guard. The fan also comes with a 15-year warranty period and has an airflow capacity of 1750 cubic feet per minute. 
Pros
Built-in Thermostat
Durable and weather-resistant
Wide range of applications
Cons
Non-adjustable solar panel
This solar-powered attic fan lives up to the expectation of the users. It comes equipped with a polycrystalline solar panel which is adjustable, and the best thing about this solar panel is that it is configured with the latest noise-dampening technology.
It also comes with a thermally protected brush less DC motor and an auto-shut-off function. There is an exclusive 20-year warranty on the solar panel and a ten-year warranty on the motor.
With the GBGS solar-powered attic fan, you no longer have to worry about overheating. As the temperature reaches 77 degrees Fahrenheit, the motor starts working right away. This solar-powered attic fan ventilates up to 1750 CFM and can cover an area of 2200 sq feet, courtesy of the nylon-fiber-aluminum blades.
The motor starts working at 77 degrees Fahrenheit and will shut off automatically at 65. It also comes with an adjustable solar panel that can be adjusted to 0, 15, 30, and 45 degrees accordingly. It also has a 90-degree horizontal solar bracket to take advantage of the late afternoon sun to run longer.
Pros
Built-in Thermostat
Moves large volumes of air
Easy installation
Cons
Small for big attics
The Eco House powerful solar-powered attic fan comes with a fully automatic operation powered by solar energy. It is highly effective in avoiding heat build-up in the area currently being ventilated.
This 2600 mAH fan prevents mold, condensation, mildew, musty odors, dampness, and so on. The ECO House solar-powered attic fan has a 25 W solar panel lithium-ion battery which takes around 60 minutes to be fully charged when kept in direct sunlight.
If you are looking for more circulation over an ample space, then the ECO HOUSE powerful solar-powered attic fan can be a budget-friendly option,
The only drawback of the ECO house powerful is that the relative voltage must be above 14V for the fan to start working. With the 2600 mAH lithium ion-battery, this solar-powered fan provides a more stable airflow and a more extended working time post-sunset.
It also has a built-in voltage control unit which makes it durable and long-lasting. It has an easy installation process with 16-feet quick-connect wires and a panel.
The attic fan is covered with high-quality anti-corrosion materials, which keep the fan intact for a long duration. It also has a wide range of applications which makes it suitable to be installed on boats and RVs.
Pros
Budget-Friendly
Moves large volumes of air
Easy installation
Also Read: How To Connect Two Solar Panels To One Battery
Solar Attic Exhaust Fans Buying Guide
Roof Mounted Vs. Gable Mounted Fans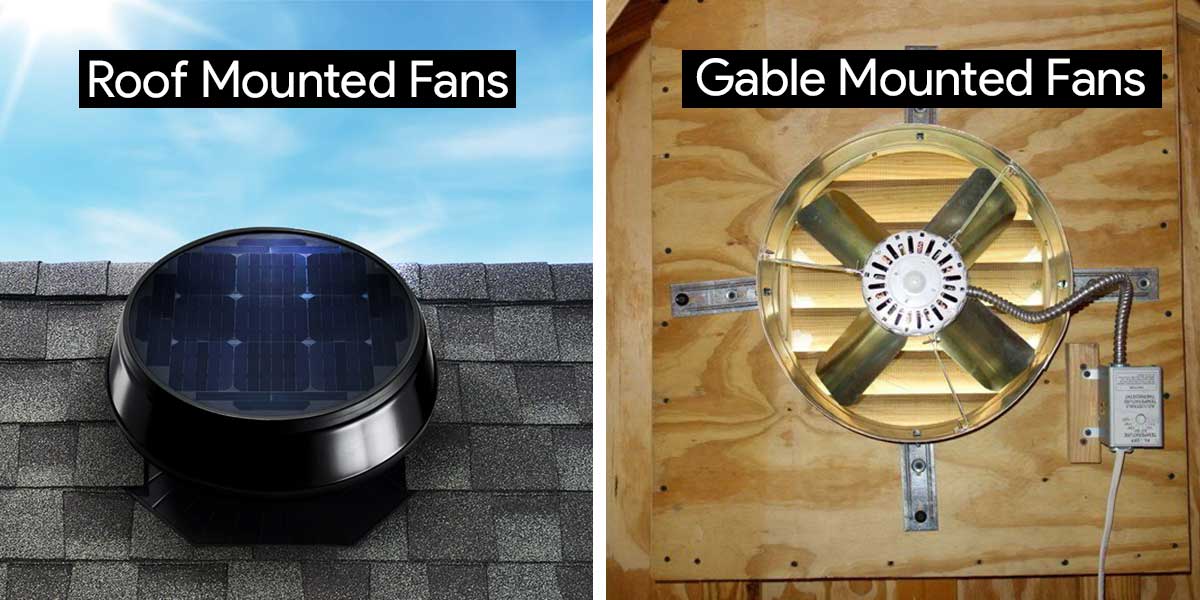 Solar-powered fans nowadays have a wide range of applications. You can use them in your attic, nursery, greenhouse, and even in RVs. However, roof and gable mounted fans continue to remain the most common. But what is the difference between the two?
Roof-Mounted Fans: As the name suggests, roof-mounted fans require a small vent-hole at the top of your roof. This fan rests on either a plastic or metal base over this vent-hole. Once the fan is successfully mounted, you will be placing shingle sheets around and over the base flashing.
Roof-mounted fans deliver maximum efficiency since they are in direct contact with sunlight. Similarly, these fans come in with an adapter allowing them to run on your house's electricity connection at night as well. 
If you do opt for installing a roof mounted fan, you should also learn at what angle to keep the solar panel to get the most energy and how to clean the solar panel on the roof.
Gable-Mounted Fans: A gable fan is the one you install in your house's attic to keep the house ventilated and protect the attic from developing mold, mildew, and other damages. Gable fans keep your materials from wear while simultaneously keeping the house ventilated and at ambient temperature.
These fans are easy to install, and you need only connect the wires and bolt the unit to get it started. Like roof-mounted units, some gable-mounted fans are available with adapters to allow you to run them at night.
Keeping your attic fan, whether roof-mounted or gable, well-maintained will help save on your home's energy costs.
Also Read: Best Solar Gate Openers
What to Look For When Buying A Solar Attic Fan?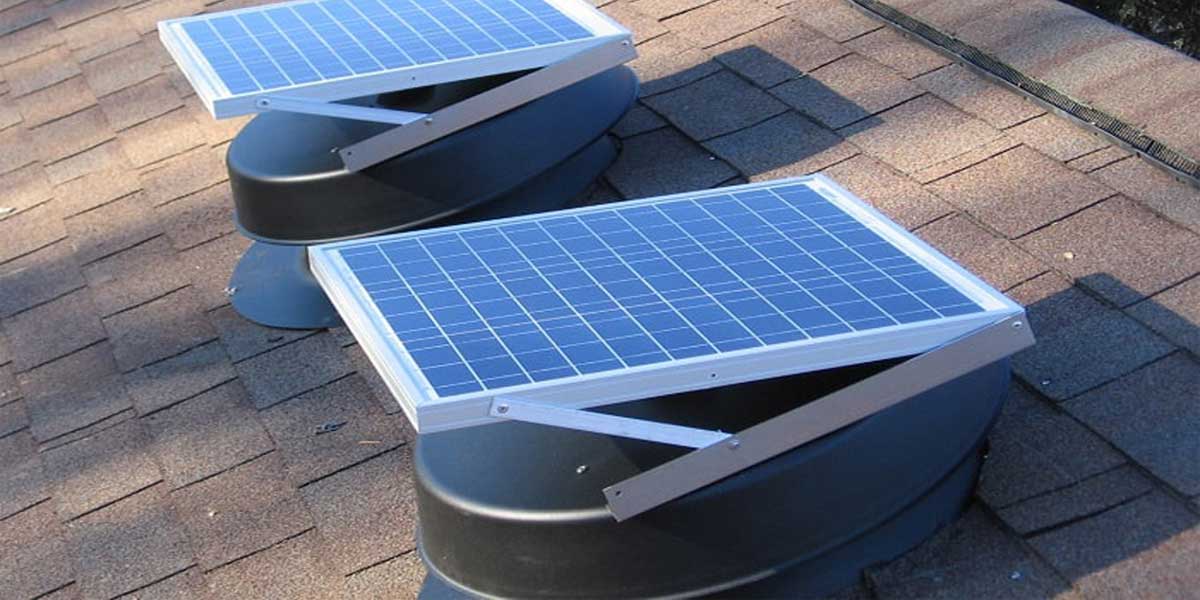 Here are some essential things to look for when buying a solar attic fan:
1. Installation Type
There are two different types of fans that are available. However, you must choose the one as per the requirement as well as the roof structure. If there is already a gable vent present, then a gable fan will be the best choice. But if you have a larger attic with plenty of damage-prone materials, then a roof-mount fan is a wise choice.
The roof-mounted fan is easy to install and has a simple installation procedure compared to the gable fan. Note that it is always advisable to get these fans installed by a working professional.
2. Venting Capacity And Attic Space
Your attic space is the first thing you need to consider when buying a solar attic fan. Along with the attic space, you also have to see the venting capacity of the fan you've selected.
You must draw up a rough estimate of the required attic venting load so that the attic fan is able to reduce and regulate the temperature to all acceptable temperature ranges.
3. Shape Of The Roof
The type of roof you have is critical in determining how much cooling your attic fan can provide. If your roof is in direct contact with sunlight, then a roof-mount fan will be able to work with higher efficiency.
Similarly, if you have a roof that doesn't receive enough sunlight, then your attic is likely to be damaged with mold, mildew, and so on. 
4. High-Quality Fan Blade
Every solar fan makes use of solar energy to deliver adequate cooling and optimal functionality. The amount of area an attic fan covers defers from one fan to another. The higher the CFM, the larger the site will be covered by the attic fan. This means that the more fan blades your solar fan has, the more powerful and efficient it is.
5. Qualifies For Federal Solar Tax Credits
If your attic fan qualifies for federal solar tax credits, it will probably add to your savings and reduce your utility bills and installation charges.
6. Warranty
When you install your attic fan, the fan will have to brave each and every type of weather. In such cases, the last thing you want to do is worry about your fan every time you are expecting rough climate. 
But one of the significant pros of these solar-powered attic fans is that they come with a 25+ year warranty. However, always check your fan's warranty before buying it.
Also Read: Best Solar Power Fans for Camping
Final Thought
We hope our article was able to walk you through every thing you need to know about solar powered attic fans and how they operate. Our house keeps us safe from outside elements such as rain, heat, cold, and dust. However, these particles still manage to make their way into our houses in unexpected ways. Trapped moisture can cause mold, wood rot, and attract numerous insects into your home.
Harmful pollutants such as radon seep in from the ground and tamper with your house whereas unwanted heat and odour can make living uncomfortable This is why it is vital to have an attic fan that can handle the moisture and excess heat simultaneously.
If you are still unsure about which fan to go for, always consult with an energy advisor who will be able to get your home tested for optimal ventilation and cooling and accordingly suggest you the type of fan to go for.