LG Solar Panels VS Sunpower Solar Panels: Which One To Buy?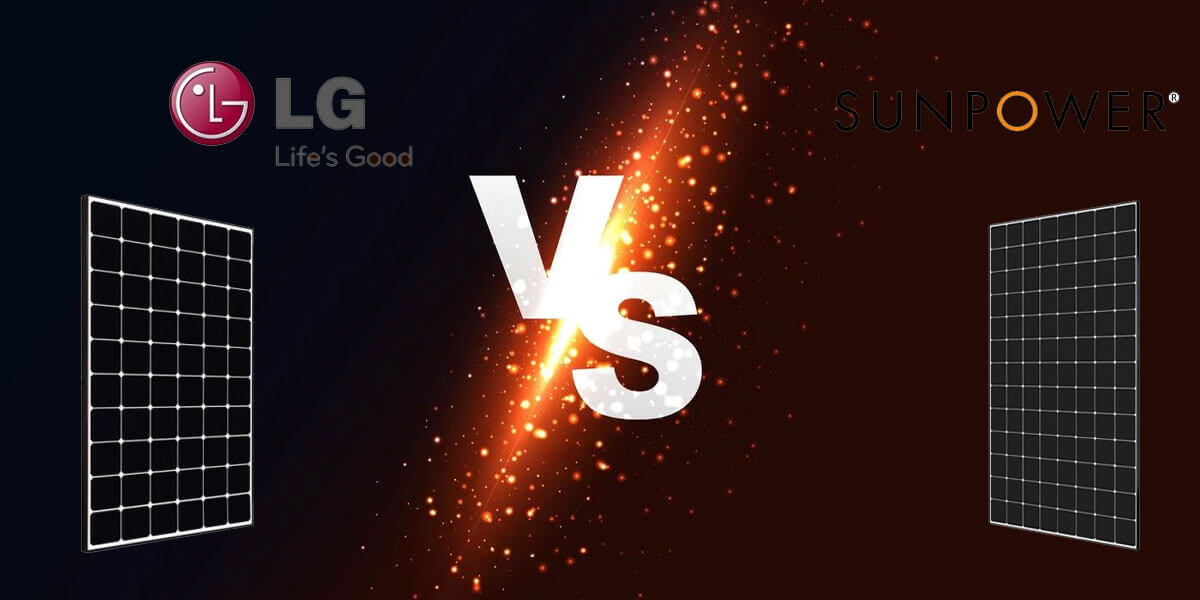 It is no surprise that the decision to switch over to solar power also comes with the responsibility to choose the best solar equipment to run efficiently. With solar energy popularizing rapidly across the globe, many different brands have come up with different models of solar panels with a wide variety of options to choose from.
Choosing the best among the options available in the market depends upon various factors such as cost, production, warranty, performance, etc. Therefore, let's take a detailed look at the two top solar panel manufacturers in the industry, SunPower and LG, about their products and compare the best between the two.
LG Vs Sunpower Company Overview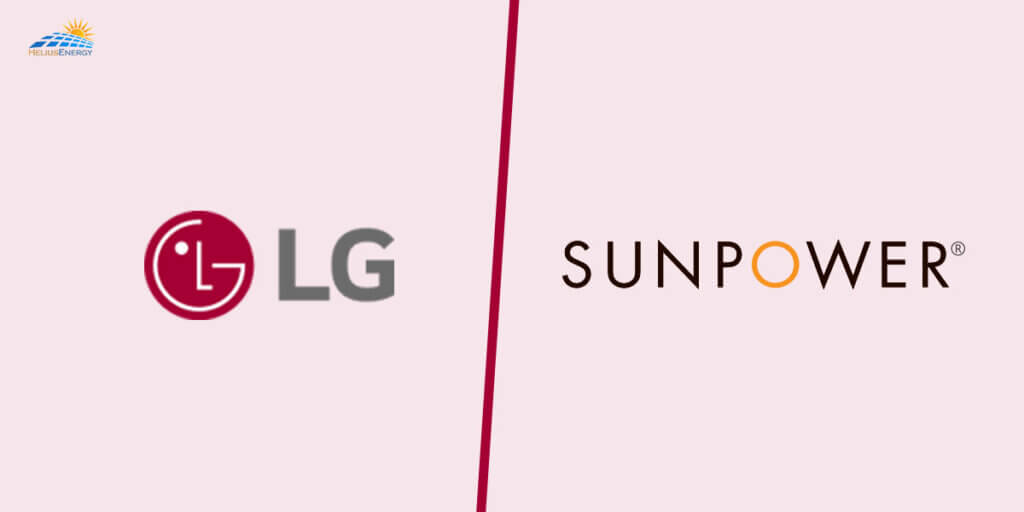 LG Electronics is a multinational electronics company founded in 1958 in South Korea. The company is known for its exclusive production of consumer-friendly electrical home appliances. LG Electronics are popular worldwide for their different models of TVs, radios, refrigerators, and washing machines.
In the recent past, they have made their stand as one of the top companies globally by offering advanced solar technologies such as solar panels, and other necessary accessories, with employment of almost 84,000 people from across the world. 
On the contrary, SunPower, a comparatively homegrown company specializing in solar power and competing with some of the best solar brands such as Zamp and renogy, was founded in the 1970s by Dr. Richard Swanson.
As a leading solar energy scientist, a professor of the Stanford University, and the founder of SunPower, Dr. Richard made a groundbreaking technological advancement in 1997 to power NASA's Pathfinder satellite. SunPower produced a silicon solar cell in 2008 with a world record efficiency of 23.4%.
Importance Of Solar Panels
Solar panels are the brains of the solar systems. The capacity of each panel to produce the amount of electricity generally determines everything from how many panels are required to the payback of your system.
A solar panel absorbs direct sunlight to produce solar electricity by trapping the sun's energy. A solar panel's production is usually based on two factors: efficiency and wattage.
Solar panel efficiency is referred to the amount of energy the solar panel generates compared to how much energy it takes in from the sun.
The more efficient the panels, the more electricity you'll be able to produce. Both the big companies, LG and SunPower, offer a variety of options in this aspect. On the other hand, the wattage is referred to the number of watt-hours the panel will produce in one hour of full sunshine. 
LG Solar Panels vs Sunpower Solar Panels: Comparison Table
| | | |
| --- | --- | --- |
| Brand | LG Electronics | SunPower |
| Model | LG360Q1K-V5 | X21 350 Black |
| Type | Mono-crystalline | Mono-crystalline |
| Efficiency | 20.8% | 21.5% |
| Power Warranty Type | Linear | Linear |
| Wattage | 360 | 350 |
| Power Derating | 0.3% | 0.4% |
| Output Warranty | 25 years | 25 years |
| Product Warranty | 25 years | 25 years |
| Size | 1,700mm x 1,016mm x 40mm | 1558mm x 1046mm x 46mm |
| Temperature Coefficient | -0.34%/°C | -0.35%/°C |
LG Solar Panels vs Sunpower Solar Panels: The Real Difference
1. Performance and Reliability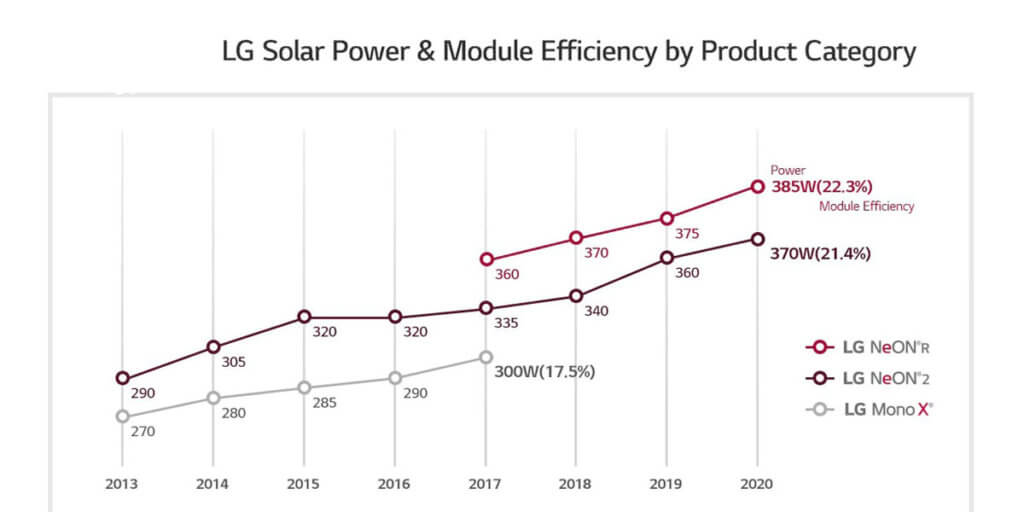 To begin with, LG Electronics offers guarantees on some of their solar panels to degrade no more than 10% in 25 years, depending upon the particular solar panel model you opt for. Therefore, this means that the solar panels will be at least 90% efficient after 25 years.
On the contrary, SunPower solar panel's performance warranty will be almost 92% after 25 years. Although both LG and SunPower offer degradation rates lower than most companies out there, SunPower tops the list in this aspect with an 8% power decline to LG's 10%.
2. Efficiency
Although it's considered that SunPower solar panels are one of the most efficient ones available in the market, LG Electronics are no less in comparison, following the former's footsteps right behind.
For example, the SunPower Maxeon 3 offers a 22.6% efficiency, whereas the LG NeON 2 offers a 22% efficiency. Thus, SunPower solar panels are significantly more efficient than LG solar panels.
3. Sustainability
The sustainability issue usually questions the quality and efficiency of the solar panels. Therefore, SunPower is the only company known to have Cradle-to-Cradle certification, making it the global leader in sustainability with a full closed-loop strategy to take advantage of every stage of the product's life and beyond.
On the other hand, in the case of LG solar panels, there are no visible bars in the front of the cell, making them less objected to cast shadows and hinder the process of light absorption from the sun's energy.
Also, apart from their solar panels' commendable efficiency and quality, their silicon design is of high purity, minimal degradation, less electrical resistance, and higher performance.
4. Warranty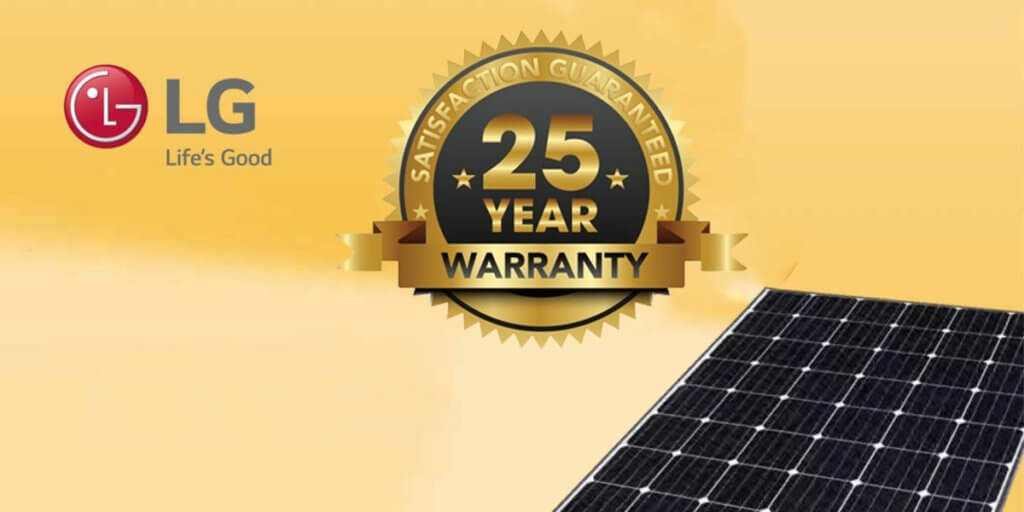 Founded in 1958, LG Electronics are known for their 25-year product warranty, especially on solar panel accessories.
They also produce several other home appliances such as dishwashers, televisions, radios, etc. Interestingly, they also back up their warranties with insurance policies. Thus, this indicates that if someday LG decides to opt-out of the solar industry, their solar panel warranties will be backed up by the company itself.
Similarly, SunPower also offers a 25-year warranty, although it is a comparatively younger company specializing only in solar. In November of 2019, SunPower declared its division into independent companies: SunPower and Maxeon Solar Technologies.
Therefore, while both the companies offer 25-year warranties, LG comes out to be on top of the list with its solar panel warranties backed by LG Electronics.
5. Cost
On average, an LG solar panel cost cheaper than SunPower solar panel cost; therefore, LG Electronics offers cost-effective solar energy products. At about a $0.10 or more per watt difference, this can add up quickly, even on a smaller residential system. 
LG vs Sunpower Solar Panels: Which one is better?
To conclude, it depends on the individual to choose their desired brand of solar panels. However, in the debate of Sunpower Vs LG Solar Panels and which is best suited for their overall designs, compatibility, and performance in general, there are a few things to consider.
Although either one of them can be a great choice irrespective of their little differences, SunPower will be a better option if roof space is not an issue. They offer high panel performance with affordable price ranges. If you'd like, you could also look at the articles listing the best portable solar panels and the best solar kits for homes.
If you're looking for high-end solar panels with a huge reputation and fall under high budgets, LG solar panels will be the best option for you. Thus, no matter what you decide to opt for, both are the leading companies in the solar industry, and either way, you won't be disappointed.