Roller Shades vs Solar Shades | What's The Difference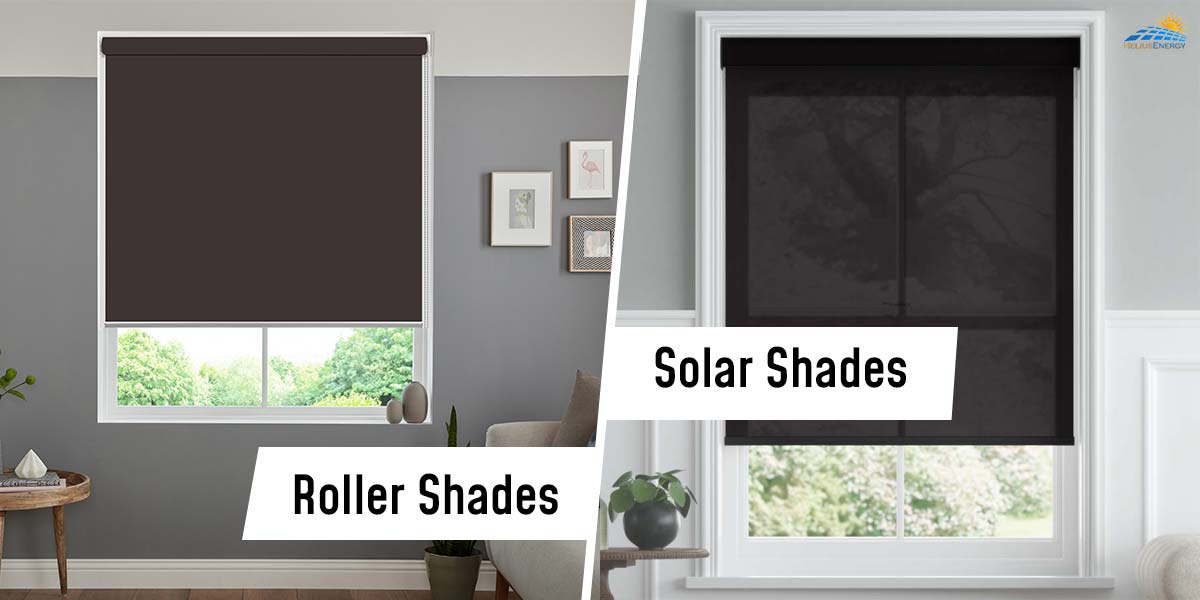 Solar shades and roller shades both work great as a solar screen to protect you from harmful UV Rays. Solar shades and roller shades might not appear all that different to untrained eyes.
Since both operate with a roller and tube function and cover windows in a single, straightforward sheet of material, many people believe they are separate, interchangeable names for the same item.
Although solar shades are technically a subset of roller shades, each one has its own purposes and advantages. To understand our research more clearly, continue reading.
What Are Solar Shades?
Solar shades are just a form of a roller shade. Like other roller shades, a solar shade is made of a single, long length of cloth rather than the slats, cells, or other parts that certain other kinds of blinds and shades occasionally employ.
The primary distinguishing feature of sun shades is the material used to create them. It is a woven material, like a mesh screen, that is made to manage and block UV radiation while preserving some of the views outside your window.
Levels of openness, which correspond to the tightness of the weave and how much light it admits into your space, are used to characterize solar shade cloth. A smaller percentage, often between 3 and 5 percent, indicates a tight weave, which provides more privacy, light blocking, and UV protection.
It also obscures more of the view, though. Those often provide the finest view through a shade with an openness level of 14 percent or more. These more expensive solar blinds are primarily intended to lessen glare rather than to shield skin from UV harm.
In comparison to low-openness shades, medium shades, which range from 7 to 10 percent, provide balance, protection from fading and damage, and a greater field of view.
Solar Shades Pros And Cons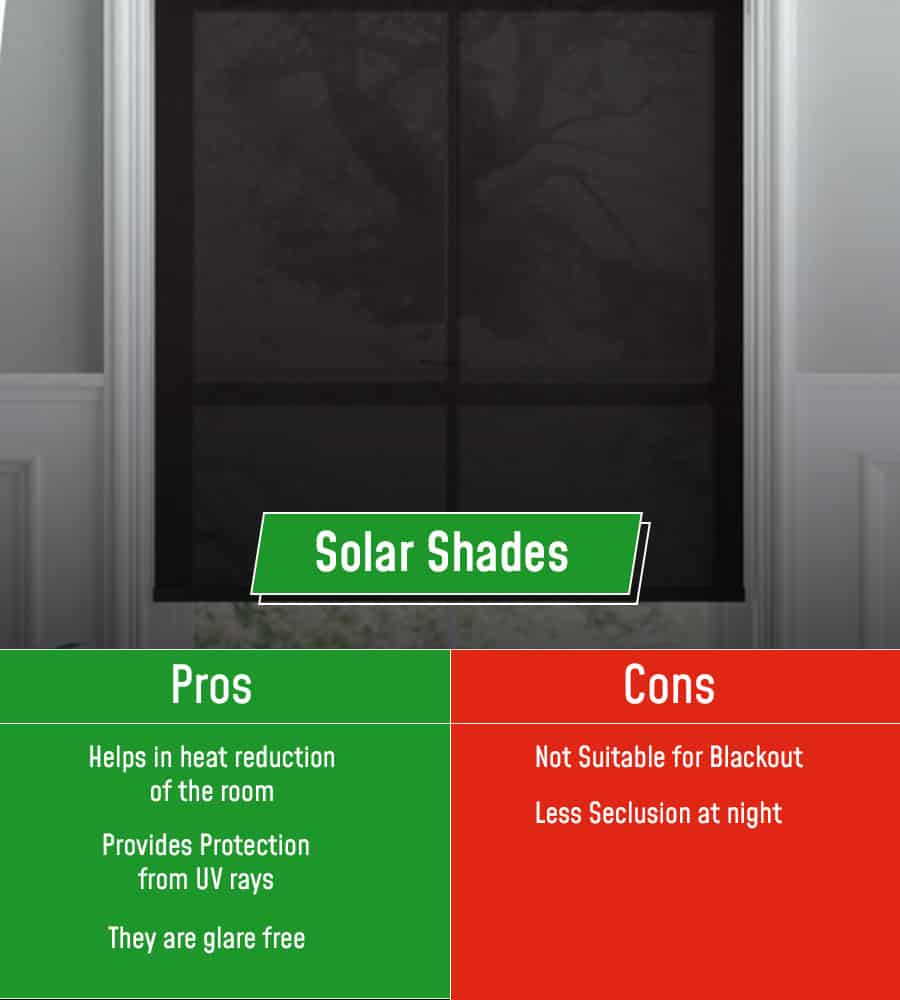 Pros
Heat Reduction: By limiting sunlight from entering the room, solar blinds can help to lessen intense heat.
Protection from UV rays: You'd be shocked at the harm UV rays can do to your area rugs, artwork, and furniture. Items in the room may fade if the sun is permitted to beam directly on your living spaces. Solar shades help in preventing them.
Clear And Glare-Free: The unique solar fabric-based shades filter the light without obstructing the view. You may have the best of both worlds by enabling the sun to be filtered out while maintaining an unobstructed vision.
Energy Efficiency: You just adjust your solar shades to block out more heat and take pleasure in the money you save on your energy bill.
Cons
Not Suitable for Blackout: If you have a bedroom that requires black-out blinds, the UV and sunlight-filtering material won't work. You will thus need to make extra window treatment purchases, such as black-out curtains, to utilize in conjunction with your solar shades.
Less Seclusion at Night: While these solar blinds offer privacy during the day, the opposite is true at night. Unfortunately, even with your solar shades drawn, visitors may see into your home while the lights are on. These curtains are made of a lightweight cloth with a weave that filters light while keeping the view.
Do Solar Shades Provide Privacy At Night?
Solar blinds are made to provide privacy throughout the day by letting you see outside but preventing others from seeing inside. In the evening, the exact reverse is true! When the light is on, guests from the outside may see right into your house.
Even if a solar shade offers solitude during the day, it won't do so at night. The weaving of the shade affects its openness, which in turn affects its visibility, privacy, and light management, which is why this is the case. The percentages of solar shade textiles range from 1-25%.
The opener the weave is, the more light can travel through and the clearer the view of the outside is. The higher the number, the more open the weave. Less light and visibility and greater UV, heat, and glare management are associated with tighter weaves.
What are Roller Shades?
Roller shades are straightforward window coverings with a single, thin sheet without slats or divisions. The fabric of the roller shade wraps around a roller mechanism that resembles a tube at the top. Natural and artificial textiles and various colors and designs can be used to create the shade section.
You may also select the opacity you desire, including black-out roller blinds to make your room dark. Some roller shades incorporate ornamental headrails to cover the roller mechanism and give them a finished appearance.
Roller Shades Pros And Cons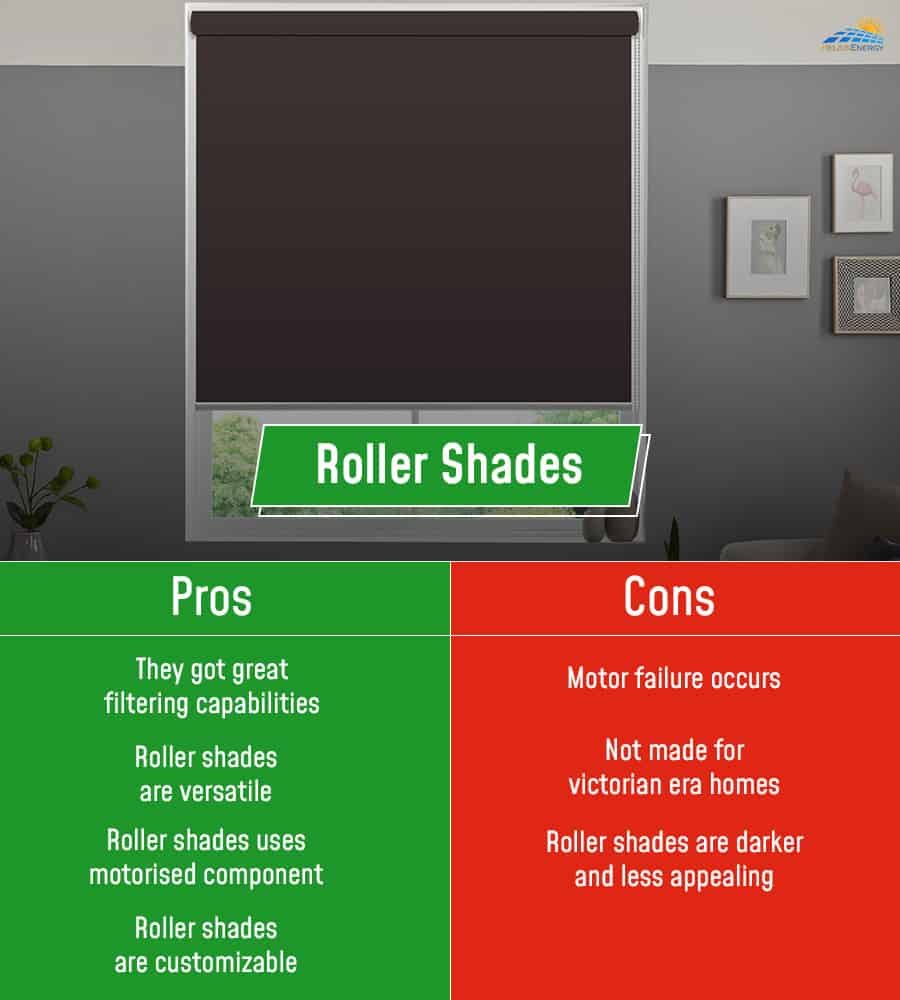 Pros
Great filtering capabilities: The UV rays are effectively blocked by light-filtering roller blinds. They are a well-liked option for workplaces, hotels, and other business settings.
Versatile: Given that they come in a huge variety of hues, textures, and patterns, roller shades are a fantastic option for any area. Additionally, they may be made to order with a variety of materials, from black-out to light filtering. Because of their motorized mechanics, they are simple to install, lift, and lower.
Motorized component: Pushing a remote control button or using your smartphone to manipulate roller blinds is simple. Larger shades are more difficult to manage manually; thus, the motorized function makes it possible.
Customizable: The cordless, smart pull, and continuous loop are modification possibilities.
Cons
Privacy: Although solar-fabric roller blinds might offer seclusion, it is still possible to gently look into the house, especially when the lights are on. Despite being excellent at blocking UV rays, the fabric type might make the windows look darker and less appealing from the outside.
Maintenance of a motor: Motor failure is a common occurrence with motorized roller blinds. If the motor breaks down, it needs to be repaired or replaced by professionals, which can be costly. Maintain the motor's good condition by giving it periodic cleaning and keeping it away from moisture or water.
Not appropriate for Victorian-era homes: Victorian windows cannot be covered with contemporary roller blinds. Owners typically use shutters or blinds to maintain the visual appeal of the home's design if they want to keep the historic appearance of the house.
Roller Shades Vs Solar Shades | Similarities
In terms of interior design for homes and businesses, solar blinds and roller shades are fairly popular. They have been quite well-known in recent years, and you can now find them in various public and private places. Roller blinds and solar shades are available in a broad range of hues, patterns, and textures to complement any home decor.
Functionality of rollers
Lack of pleats and a smooth look
The subtle, modest appearance
Individualized light control
Possible options for black-out functionality
Same methods for installation and measurement
Features including reverse rolls, cordless spinning rollers, metal chain lifts, nylon chain lifts, and many more are available.
Roller Shades Vs Solar Shades | Differences
Roller shades and solar shades are similar in many respects. Still, there are differences in the benefits that each subtype offers, so it's crucial to consider them all before making a purchase. The key distinction between the two is that Solar blinds are made expressly to prevent UV rays, whereas Roller shades are meant to block light.
Roller shades block light; however, Solar shades also block UV rays.
Solar shades are more neutral in color, whereas roller shades come in bolder hues.
Roller blinds are opaque, whereas solar shades may be viewed into and out of.
Solar blinds come in a screen-like material, whereas roller shades come in a larger range of fabric and vinyl-based materials.
Final Thoughts
Customers nowadays like solar blinds like solar screens and roller shades, respectively rather than window tinting. Depending on the practical needs of the area, both may occasionally be employed in the same house. Roller Shades and Solar Shades have a simple, elegant appearance.
Due to their low projection, they are one of the finest options for doors and the only product that controls glare on televisions and computer displays. They have appealing aesthetics as well as useful, simple functionality.
There are hundreds of color, texture, and pattern possibilities available. Finding a product that meets your needs in each space is essential to selecting blinds or shades you'll love.
For instance, a black-out roller blind can work if you want seclusion in the bedroom. Solar blinds are a better option if you want to utilize your home office during the day and don't use it at night.