The Best Solar Animal Repeller (Reviews & Buying Guide)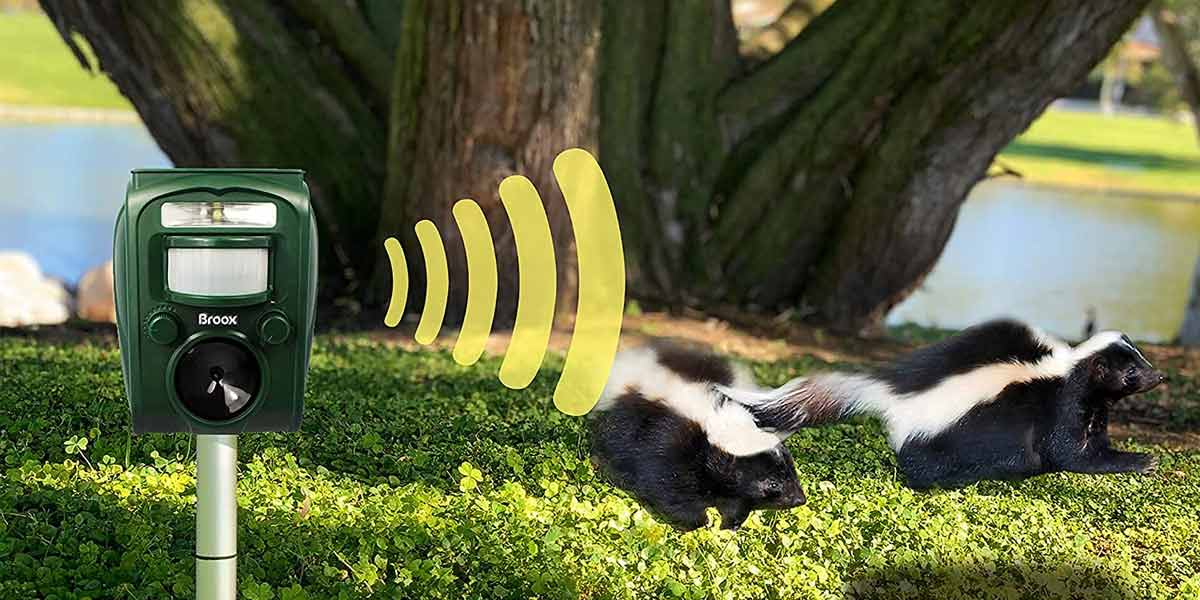 Nobody wants unwanted guests in their homes, especially those who sneak in without permission. The list of these unwanted guests is long and includes moles, gophers, moles, voles, snakes, rodents, and many more. You cannot use traditional methods to kill them as some of these animals are poisonous and can be fatal for your pets and kids. You could try using a solar powered fence, but even they can't completely stop pests from entering.
There is an eco-friendly way to get rid of these animals without killing them, and that method uses solar-powered animal repellers. These devices use ultrasonic sounds to scare away these animals. You'll be surprised by the results if you choose to invest in these items. We have compiled a list of the top animal repellers currently available in the market so that you can quickly take a look and find the right product for your lawn.
Editor's Picks – Top 5 Best Solar Animal Repeller
Let's take a quick look at the top three products in each of their respective categories.
The Best Solar Animal Repellers Reviewed
Following are the top ten solar-powered animal repellers currently available in the market. Take a look and find out the right one for yourself.
Livin' Well is a popular brand that creates a high-quality solar powered animal repeller. This product is a solar ultrasonic animal repeller and is offered as a couple of stakes that can collectively safeguard an area of 5000 feet.
This is enough to safeguard your lawn and a few other lawns in your neighborhood. These are highly effective items. Once you install them, you can forget about the moles and voles that sneak into your garden at midnight.
These items are extremely weather-resistant and built to operate in harsh climate conditions. No amount of rain damages them, and no thunderstorm stops their performance.
Pros
5000 ft range
Weather-resistant
Safe for kids and pets
Easy to install
Affordable price
Note: Solar animal repellers will not repel mosquitos and other annoying insects. To get rid of the insects that are bothering you, you will need to buy a solar bug zapper.
Hoont Cobra animal repeller is configured for open lawns and gardens by scaring away unwanted animals using a powerful water blaster jet spray. Like most animal repellers on the list, you can easily stake this into the ground.
The water pipe can be conveniently hooked into a regular hose pipe using the Quick-Fit connection. It has a motion detection sensor with a range of 30ft. This range is enough for a mid-sized lawn. The 5-second intermittent spray cycle helps conserve water and electricity.
A couple of these can safeguard your entire house. It is extremely durable and comes with a 1-year warranty for further customer satisfaction.
Pros
Provides pest control
Powerful jet spray
Motion detection
1-year warranty
Cons
Uses water instead of sound
Lycoming offers its animal repeller in a pack of 4 stakes. Each unit is equipped with a strobe light and an ultrasonic alarm to scare small and large creatures.
It is a fully automatic repeller that operates without the need for any human intervention. It is made with durable materials to withstand the tough trials of time. However, you won't be getting a warranty at the purchase of this product.
Pros
Stylish design
High efficiency
Affordable price
Fully automatic
Also Read: Best Portable Solar Panels
ZSWJ ultrasonic animal repeller is offered in a pack of four stakes that don't need an expert or professional installation. You can dig a pilot hole and insert them into the ground. No need for wires or any equipment.
Once you turn them on, these items will continuously release ultrasonic sounds to keep snakes, moles, and voles at bay. These repellers take at least 2 to 4 weeks to fully repeal the animals from your garden and, therefore, you have to be a bit patient in this regard.
Pros
6500 sq ft range
Easy to use
Highly durable
Weather-resistant
Again, we have another product by Thanos that has impressed us with its outstanding features. This repeller uses red LED strobe lights that flash to scare wild animals, including deer, skunks, coyotes, and squirrels. Its operation is automatic as the strobe starts flashing at dusk and switches off when the sun is completely out.
The design is also such that it gives a predator-like look to it. It has an IP44 rating for water resistance, and thus it can perform in humid or rainy conditions without any problem.
Pros
Strobe LED lights
Fully automatic
Weather-resistant
IP44 Rating
Thanos is one brand that aims to dominate the market by offering its products in all shapes, sizes, and prices. This particular model comes in a pack of 4 stakes, and each stake has a range of 40 ft.
These items are also suitable for safeguarding large farms due to their large range. However, you should keep in mind that no warranty is offered when you buy this product.
Pros
Highly effective
Waterproof
Affordable price
Belidan ultrasonic animal repeller uses an LED light and ultrasonic alarms to scare away large animals, including dogs, raccoons, deers, and cats. It's equally effective for small-sized animals like mice, cats, skunks, deer, etc.
This repeller can also be charged by external sources and come with a data cable to power up the batteries quickly. It is a highly durable product that can be used in extreme climate conditions.
Pros
Upgraded model
External charging available
Easy to use
Highly durable
Thanos nighttime solar animal repeller is designed to ensure that wild animals such as wolves and coyotes don't wander on your land while you are asleep. This product has bright strobe LED lights to scare the life out of coyotes, weasels, raccoons, and wolves.
Thanos offers this product in a couple of strobe lights to increase its market share. These repellers come with a 60 days refund policy and a 12-month replacement warranty.
Pros
Highly effective
Stylish design
Waterproof
Weather-resistant
12-month warranty
Also Read: Complete Solar Energy Kits For Homes
Thanos has designed and manufactured the most effective ultrasonic animal repeller stakes. This product is offered in a pack of 8 stakes. Each stake operates in a circular pattern with a diameter of 40 feet, and so collectively, 12 of these items can protect an area of one acre.
This item gets rid of animals, including snakes, moles, voles, squirrels, etc. Due to their waterproofing, you don't have to worry about their operation in humid and rainy conditions. This solar animal repeller comes with a 60 days refund policy and a 2-year replacement warranty.
Pros
Huge coverage
Extremely Effective
60 days refund
2-year replacement warranty
How to Choose the Best Solar Pest Repeller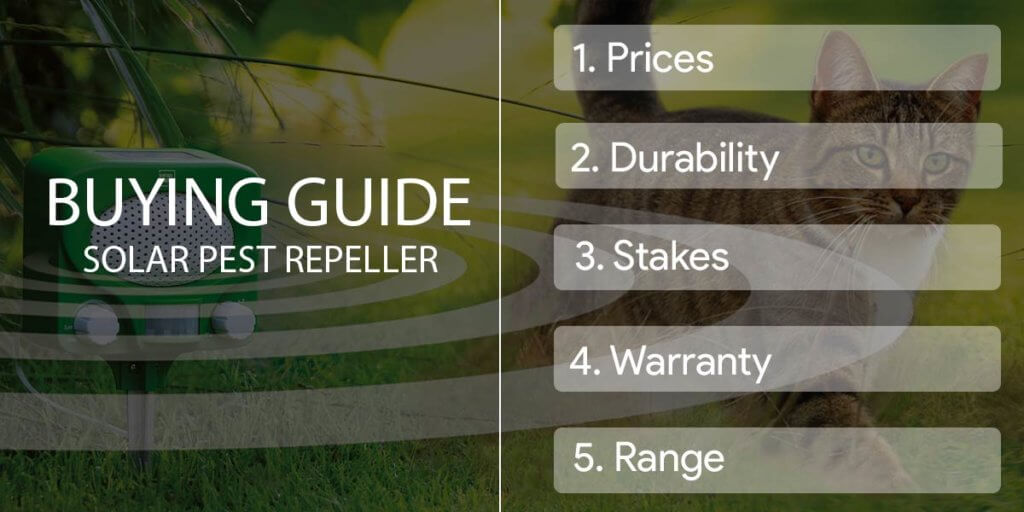 All solar repellers look almost the same from the outside; the inside makes them unique. Yes, these ultrasonic animal repellers are of different types and have qualities of built-in technologies that allow a wide range of customers to buy them at the prices of their choice.
1. Prices
The first and foremost element of a product that signals its quality is its price. This is not always the case, but it is most of the time. If you are looking at an expensive animal repeller, you are probably looking at a top-quality product.
2. Durability
Animal repellers are not built with heavy-duty materials; rather, they are mostly built with plastic. However, certain types of plastics are more durable than others, such as ABS plastic. You should prefer a better quality product for higher durability. So always check for the kind of material used in the product. It is something that the product's manufacturer should reveal before it is purchased. Only then you'll be able to use them in extreme weather conditions without any worry.
3. Stakes
Multiple stakes are installed into the ground to protect larger spaces if one is not enough. You should buy a product after verifying the size of your garden and the range of the stakes offered in a pack. If you are looking to safeguard a farm, you'll probably need more stakes so buy the repellers accordingly.
4. Warranty
As most animal repellers are built with lightweight materials, their early malfunction is more probable. Warranty is what saves your sunk costs and allows you to return faulty products and get new animal repellers within the stipulated time. Thus, it's wise to invest in a product with the longest warranty.
5. Range
The range is one of the key differentiators for deciding the right animal repeller. If you are looking to safeguard your lawn, invest in a repeller offered with a lower range and fewer stakes. Similarly, if you want to safeguard your farm, invest in multiple stakes with the highest range.
6. Battery
The battery is critical, especially if you live in an area with low exposure to sunlight. Invest in an animal repeller that lasts longer once fully charged to keep the continuous cycle of ultrasonic waves going.
Conclusion
Thanos solar-powered animal repellers are simply the best products to repel animals. The reason is that this charger competes in multiple categories and beats the competition. Whether you need a repeller for your lawn or a large-sized farm, whether you need to repel large or short-sized animals, or whether you need to use them in bright daylight or extreme weather conditions, these solar repellers will perform in any situation. Their efficiency, durability, ratings, and results are all indicators that signal you to invest in this charger without any hesitation.
FAQs