Solar Costs Have Dropped 89% Since 2010! To Fall More?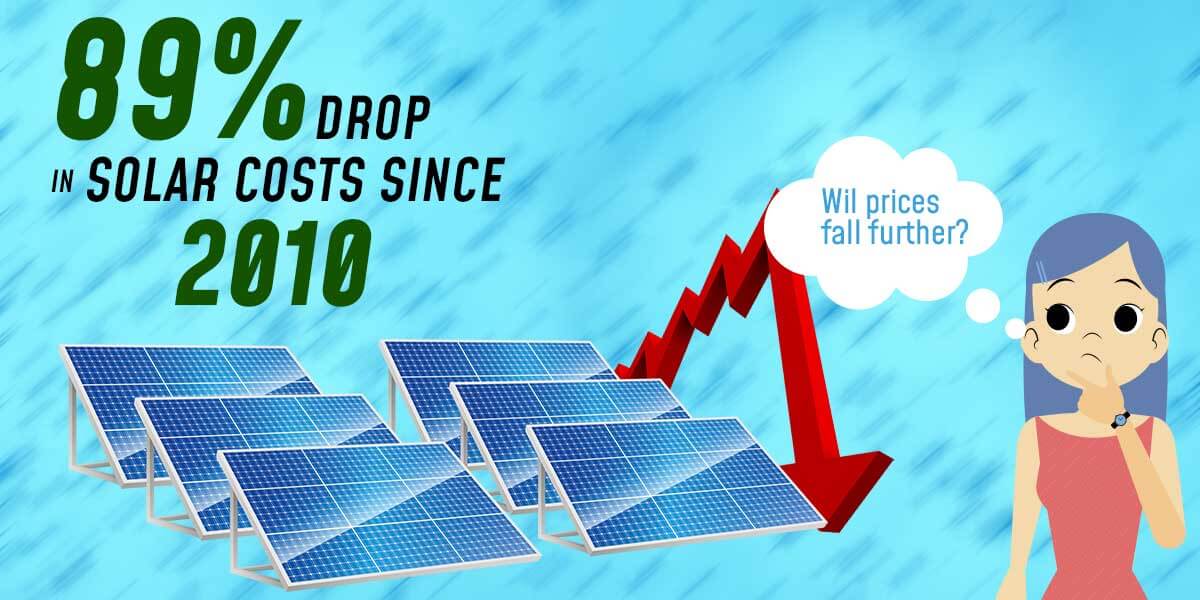 The technology that converts sunlight to electricity has been around for a while, but it was only as recent as the 2000s that solar power truly took hold and became a viable energy alternative. With the advancement of the solar industry, components became more efficient and the cost of solar installation began plummeting.
By the 2010s, solar energy had effectively transitioned from a mere passion project for the tech savvy, wealthy, or environmentally conscious demographic to a more affordable and cost-saving alternative for homes, businesses, and farms alike.
However, the sudden steep decline in the cost of going solar was well documented till its sudden rise once again recently. How have prices of solar panels over time changed, and will solar panels get cheaper? Let's take a look!
How Much Does An Average Residential Solar Panel Installation Cost in 2022?
In 2021, you would have probably required a 6kW to 12kW solar panel system to power your entire house, so that drove estimated installation costs to somewhere in the ballpark of $10k and $27k following tax credit.
The decision to go solar would have saved you anywhere between $500 to $2,000 annually on electricity bills, with the average solar panel payback period being 7 to 12 years. Solar panels usually last half a century, with a 25 year warranty period along with returning your investment in about 8 years.
Power generation through solar channels is roughly 30% cheaper than your good ol' utility electricity, so based on where you decide to install the solar system and the current local cost of electricity, you can bank on saving a hefty $10k to $30k in a mere 20 years.
| | |
| --- | --- |
| National Average Cost of Solar Installation | $16,000 |
| Minimum Cost of Solar Installation | $3,500 |
| Maximum Cost of Solar Installation | $35,000 |
The switch to solar power requires some forethought regarding a few things: the location of installation, power demand, inverter and similar equipment, panel type, inspection and permits, labor costs, and tax credit, are few of them. Here is a broad distinction:
30% goes to the panel, inverter, and parts
15% goes to labor
20% goes to balance of system
15% goes to inspection and permits
20% goes to operational
The price of solar over time has fluctuated, but the cost parameters have remained nearly constant.
What are Hardware Costs and Soft Costs in Solar
The installation cost of solar photovoltaic systems consists of 2 categories: hard and soft costs, or if you want to throw in some jargon, infrastructure and intangible costs: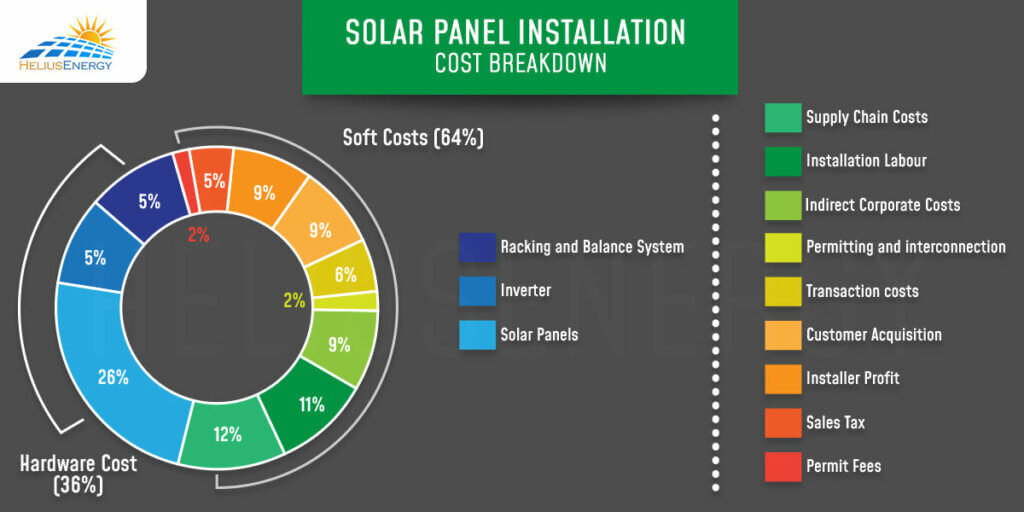 Hard costs (36% of the total cost):
These are exactly what the name suggests- hardware costs. It refers to all the materials required when you install a solar system at your home, from racking and modules, to inverters and electrical wiring. Anything that is tangible and an inherent part of the solar infrastructure, goes into the category of hard costs.
Soft costs (64% of the total cost):
This essentially includes everything barring hardware costs, so this can mean marketing and sales, labor, profits, company overhead, profits, the hassle of applying for permits at the City Hall, and the interconnection applications with your utility provider.
According to a study by the Department of Energy, soft cost breakdowns can look like this:
| | |
| --- | --- |
| Permit fees | 2% |
| Sales tax | 5% |
| Installer profit | 9% |
| Customer acquisition | 9% |
| Transaction costs | 6% |
| Permitting and interconnection | 2% |
| Indirect corporate costs | 9% |
| Installation labor | 11% |
| Supply chain costs | 12% |
Now let's look at the price of solar panels over time and how it has shifted.
How Much has the Price of Solar Decreased Over Time?
Installing a 50kW solar system in 2000 would have cost you $11 a watt on average, amounting to a whole of $550,000. In 2010, the same amount would be $300,000 for $6 a watt. In 2020, the same 50kW solar system would have cost you a mere $112,500 before taking into account all incentives.
Massive incentives for tax payers planning a switch to solar including federal solar investment tax credit and business-centric accelerated depreciation could bring down the cost to $83,250 or less. So, that comes down to $1.70 per watt. 
In short, you are looking at saving nearly $600 in electricity bills every month, generating a hefty amount of savings spanning the lifecycle of the solar system.
As per Bloomberg New Energy Finance's (BNEF) predictions and analyses of solar panel prices trends,  solar photovoltaic module costs have dropped by 89% since 2010, and by 2050, it is touted to drop by a whopping 63%, bringing costs down to 2.5 cents per kWh.
The prices of batteries have also dropped by 84% since the 2010s. As per the predictions, residential solar is forecasted to grow to 11% of the total electricity by the year 2050. What has encouraged this change in solar prices over time? Let's take a look.
What Has Fueled Decrease in Price of Solar Over Time?
With the advancement of technology in the solar photovoltaic field of research, the energy efficiency of panels has also increased. What it means is that you can generate more electricity through one panel, so you will naturally require a lesser number of panels to meet your energy demand.
So, with the advent of better technology and the consequent lowered costs, the popularity of solar also increased exponentially. This in turn led to more solar panel manufacturers coming up all across the United States, making the technology more efficient and thus, lowering the costs further.
A Deeper Look at the 2021 Solar Price Trend Reversal
While the price for solar over time might suggest that solar costs will keep plummeting in the future, that is not the case. With less than 40% of the total cost of solar being hardware costs, not much will change in the overall price of solar going into the future. In fact, if anything, you may expect some increase triggered by local and federal rebates expirations.
In recent years, a shortage of key raw materials, and by that we mean polysilicon mostly, have caused the solar prices to rise. This is predicted to be temporary but it does go a long way to prove that solar prices can greatly fluctuate.
The chaos and uncertainty of the pandemic affected the raw material prices of solar systems, especially polysilicon which is used for making silicon cells. Silver, copper, as well as solar glass prices had also skyrocketed due to acute shortage worldwide and a consequently high demand.
At the beginning of 2021, polysilicon cost around $11/kg, but touched $28.50/kg by the summer of the same year. In June of 2022, prices reached $34.50/kg. 
Could the Solar Panel Price Downtrend Have Bottomed Out Already?
According to a survey, 2022 is expected to see 39% more polysilicon production than the previous year, with supplies worth nearly 300GW of silicon-powered solar products. This is mostly courtesy of the amped up manufacturing industries and reduced factory bottleneck.
This change in the market already reflected on the prices with it being $37/kg in October to $32/kg in the last month of 2021. A forecasted decline to $20-25/kg in the second half of 2022 is awaited.
More efficiency, and modules made with larger wafers having a side length of 182mm and 210mm becoming mainstream, are expected to allow yet another 1 U.S. cents/W reduction in the module prices. In the second half, we can expect a 11 to 15% module price drop, nearly about 23 to 24 cents/W. The question remains, will solar panels get cheaper?
Is the Cost of Solar Energy Estimated to Drop with the Same Pace?
With this rapid advancement and increased supply, hard costs might not see much in the name of increment in the coming years, but the same cannot be said of soft costs.
The latter is subject to inflation, though the Bloomberg report predicts a 34% decrease in the cost of solar by 2030. Sure, it is not quite as dramatic as the 80%+ plummet in prices since 2000, but you can expect prices to go down a little, depending on where you live.
Final Thoughts | Is it Worth Waiting for Solar to Get Even Cheaper?
If it were 2010, the answer would be a resounding yes, but in 2022, the answer is not that optimistic. Waiting 10 years for a 34% predicted price drop might not be worth it, since you might be missing out on the solar investment tax credit and have to pay thousands in electricity bills as you await the arrival of 2030.
The Solar Tax Credit was one of the greatest incentives forwarded by the American government in 2006. This let federal tax payers recoup 30% of the solar system's installation cost solely through tax credit. It made going solar more affordable and an enticing option in general.
It also offered more resources needed by the industry to make manufacturing and technological advances which in turn lowered installation costs. The declining solar installation costs meant that the tax credit incentive proved to be a success, so much so that the government is wiping it out soon. 
2020 saw a drop in the tax credit from 30% to 26%, and in 2023, it is expected to drop again to 22%, with 2024 expecting to see no more than 10% for commercial spheres and next to none for residential projects.
So, in short, even if you waited a mere 2 years, it could cost you 26% more for your residential solar system, and it could cost businesses 16% more. Waiting till 2023 will drive up costs by 4%, which is not an amount to be overlooked!